John Deere Mid-Sized Skid Steer Loaders
Learn what major skid-steer manufacturers are offering, including New Holland, Bobcat, Volvo, Caterpillar, Case, John Deere, and more.
Construction Equipment - May 1, 2006
Excels at Loading
Deere introduced its 300 Series skid-steers in 2004 with patented vertical-lift booms achieving maximum reach at full lift height. Thirty-five-degree bucket rollback reduces spillage in the carry position, and the dump angle is a steep 45 degrees. There are skid-steer hydraulic systems that push a bit more flow than Deere's standard 317 and 320, but none bests 3,450 psi pressure except Caterpillar's 248B.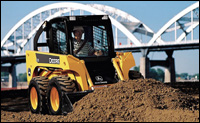 Mid-sized skid-steer models: 2
New models: 317 and 320
Product-line features: The 300 Series skid-steers carry John Deere's 250 Series Power Tech engines. Oil-change intervals are extended to 500 hours with Deere Plus 50 engine oil and filter.