Commercial cleaning rates explained
Updated: December 2012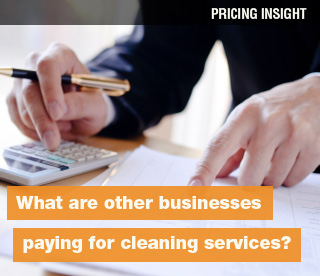 Curious how much other businesses are paying for commercial cleaning services? We can help. We've complied responses from our users that describe cleaning services they chose and what rates they're paying--take a look and you'll be better informed when it comes time to negotiate commercial cleaning rates with your provider.
Generally, commercial cleaning services base their rates on two different types of cleaning: scheduled cleaning services and specialty cleaning projects. Scheduled services include basic day-to-day janitorial duties such as removing trash, vacuuming and mopping common walkways, sweeping debris, and maintaining bathrooms. The amount you'll pay will be based on the frequency of cleanings and number of services.
Specialty services are usually more labor intensive and less frequently performed. These services run the gamut from stripping floors to power washing exterior windows and walls. These types of services are usually priced and scheduled separately from regular cleaning. Usually, you'll need a scheduled cleaning contract to request these extra services, but the costs will be above and beyond your typical rate.
Commercial cleaning pricing tips
Some cleaning services require you to provide your own supplies or cleaning products. Before you agree to work with a cleaning company, find out what is included and what you are responsible for.
Keep an eye out for other costs such as "first-time cleaning" fees which a cleaning company may charge if you're not under a long-term contract, or consumables and cleaning supplies if the vendor doesn't include them.
Basic scheduled cleaning service rates
"$3,600 a month for a cleaning crew of four people. Service includes vacuuming, cleaning 12 toilets, dusting, and removing trash from four floors of a building."


- Educator, Washington D.C.

"$255 monthly. They will clean once a week on Thursdays. Clean entire office, bathroom, and kitchen; services include dusting and mopping."


- Kitchen/Bath Retailer, Marietta, Georgia



"$599/week for twice a day cleaning."


- Business Service Provider, Las Vegas, Nevada



"$40 per visit (twice weekly) includes regular cleaning & supplies."


- Information services manager, Cincinnati, Ohio



"$2,490/month to clean a 72,000 sq ft warehouse/office complex."


- Business service provider, Tampa, Florida



"Monthly billing of $229 for office cleaning once a week. Services to include: dusting all vertical blinds, dusting & cleaning lobby desks, emptying all trash receptacles and removing trash to a collection point. Also, sweeping and mopping all hard surface floors with chemically treated mop head. Cleaning, polishing and sanitizing drinking fountain and water coolers also a priority. Cleaning, sanitizing, and sweeping and mopping restroom."


- Construction Office Manager, Las Vegas, Nevada



"$295 per month for once a week service. Supposed to be white glove service. I provide consumables; they bring own cleaning materials."


- Dentist, El Cajon, California

"$1,225 for a four-person cleaning crew four days a week. Cleaning products are included in the price." [fire escapes and dumpsters]


- Entertainment Office Manager, Los Angeles, California



"$65 per visit for vacuuming (spot clean carpet stains), trash removal (replace torn/soiled liners), low dusting (under 7' ceilings), clean entrance door /outside entrance glass, clean drinking fountain. Restroom service will consist of mopping floors w/a germicidal disinfectant, cleaning commodes, sink, and mirrors. Weekly clean of walls and partitions. Supply all dispensers."


- Construction Contractor, San Antonio, Texas



"The cleaning service prices that Coverall charged us is $260 with a 15% discount on the first cleaning. This includes vacuuming, dusting, dishes, mopping, and various other miscellaneous services."


- Manufacturer, Hialeah, Florida

"Office cleaning contract to dust, vacuum and remove trash, wipe down counters, office equipment, and tables, and clean two bathrooms - $180 per month."


- Office manager, Oaks, Pennsylvania



"Cleaning a 2,500-square foot area once a week for $220 per month."


- Telecom general manager, West Babylon, New York



"$180 per month for all janitorial services. $120 for the initial cleaning."


- Retailer, Dallas, Texas



"$877/month for three suites and common areas. Cleaning three days a week."


- Hospitality Office Manager, Columbus, Ohio



"$150/month. Comes in once a week and dusts, vacuums, cleans bathrooms, and performs the standard cleaning services."


- Dental Office, Clinton Township, Michigan



"Standard 3 days per week for midday cleaning services for $325 per month plus an additional $10 per month for supplies."


- Health care provider, Catonsville, Maryland



"$480/month, twice per week office cleaning that takes about five hours to complete."


- Business service provider, South Portland, Maine



"Initial cleaning service for $110 plus $160 for one month of service (bi-weekly)."


- Retailer, Mount Sterling, Ohio



"$167/month. Mop and vacuum floors, clean bathrooms and kitchens. All done weekly."


- Retailer, Addison, Texas
Special office cleaning prices
"$265/month for 2x week office cleaning plus $450 for carpet cleaning."


- Educator, Roswell, Georgia




"$375 per month cleaning one time per week - $160 initial clean - $400 to strip, seal and wax floors each time."


- Health Care Provider, Lakewood, Colorado



"$1,800. Ceiling and walls washed, floor pressure washing on a 32,000 sq. ft. warehouse. Took two people 4 days and 6 to 8 hours per day to clean."


- Wholesaler, Cumming, Georgia



"$205/month for once a week cleaning and quarterly waxing and buffing of floors and window cleaning."


- Health Care Manager, Colorado Springs, Colorado



"Wood floor care, carpet shampoo, and stain removal for two stores. The price is about $1,800 per month."


- Retailer, Woodbridge, Virginia



"$130/month - general cleaning, kitchen cleaning, inside of windows cleaning - steam clean rugs twice a year."


- Transportation, Ft. Lauderdale, Florida



"$19,000 annually. Clean walls, ceilings, and floor in a 75,000 sq. ft. manufacturing facility."


- Manufacturing Manager, Somerset, New Jersey



"$1,350 for five days per week cleaning including floor buffing for a warehouse."


- Manufacturing Accountant, Upper Marlboro, Maryland



"$780 - janitorial services once a week. Deep cleaning and carpet cleaning of high traffic areas monthly."


- Manufacturer, Rowland Heights, California



"$370 per month for 3 times a week cleaning. This included all cleaning supplies and twice annual carpet cleaning."


- Office Manager, West Palm Beach, Florida

"$294 per month for a twice a week cleaning. This included kitchen cleaning, dusting of all desks/counters/chairs legs/and 1-2 walls, interior window washing, vacuuming for a 5,000 sq foot office, and cleaning four bathrooms. Plus, we will receive carpet steam cleaning once a year for an extra $100."


- Real Estate Office Manager, Norwell, Massachusetts

"$1,400 total for cleaning three chandeliers plus doing electrical work on them if needed."
-

Hospitality manager, Lansing, Michigan



"$329 per month for once per week cleaning of facility of all items within reach (bathrooms, kitchen area, general retail area, back room and office) plus a once per month deeper cleaning of all items higher than reach."


- Retailer, Chester, New Jersey



"$296 monthly for general cleaning with quarterly carpet shampooing and window washing inside and out."


- General Contractor, Corona, California



"Office cleaning for 3,000 square feet, 3x per week = $470/month. Includes a floor maintenance program."


- Facilities operator, Fort Lauderdale, Florida



"$225/month with full cleaning services 3 days a week - great deal, and the company included a year of intense carpet cleaning."


- Health care manager, Modesto, California



"$375/month for cleaning one time per week. $1,100 to strip and wax floors (6,000 sq. ft.). Vendor provides all supplies."
"$650 for "deep" cleaning of office areas, kitchen & bathrooms."


- Designer, Los Angeles, California