Variable data direct mail campaigns
Marketing-printing partnership is taking on-demand customization to the next level on longer runs.
Perhaps you've received one in your mailbox at home: an oversized postcard with a MapQuest-like image directing you to the nearest store. In tests against static mailings, such variable-data direct mail garners dramatically higher response rates.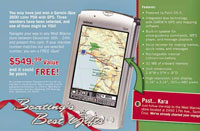 Trekk/Yoffi uses XMPie's PersonalEffect software to create highly customized variable-data print campaigns, including those employing new, dynamic mapping technology. Version 2.5, released earlier this year, is the InDesign Server CS2 version that features fully integrated functionality within the program's uProduce production server.
One such loyalty mailing executed by direct mail/print bureau team Trekk/Yoffi last year, on behalf of California based West Marine, surpassed the two main objectives of every direct marketing piece: It got noticed and it got results. The campaign used a control group that received only name and address personalization. Recipients of the customized map generated 40% higher response rates and went on to spend twice as much on boating merchandise at the store.
With a background in color tradeshop work, including three years at Scitex, Stefan Agustsson, a partner and technical/creative specialist at Yoffi Digital Press, Rochelle, IL, believes that digital presses, such as his firm's Kodak NexPress 2100, can be used for more than short-run printing. Average runs are around 20,000, he says, "but we're seeing more jobs in the 50,000 to 70,000 range." In a record run, Yoffi delivered 250,000 copies of one piece in a single mail drop.
In addition to the two-year-old NexPress, the five employee, 2,800-sq.ft. commercial printer also runs a Digimaster 9110 monochrome machine. (It may soon be traded for another color digital press, says Agustsson.) The company's direct-mail bindery handles tabs and glue dots, as well as basic folding, stitching and cutting operations on Baumfolders, Polar cutters and other Heidelberg finishing equipment.
Yoffi has enhanced its customer relationship management by allying for more than two years with Trekk Cross-Media USA, a 20-person marketing, communication and promotional agency in nearby Rockford, IL. The Yoffi-Trekk partnership produces strategic direct mail programs for more than 40 customers, including Charter Bank, Maruyama U.S., Revere Group, Wolverine Boot & Shoe and more than three dozen others—intensive users of data-intensive marketing who prefer not to be named, for competitive reasons.
Side-by-side testing has shown that response rates for variable-data direct mail campaigns have doubled and, in some cases, even tripled when compared to static mailings. For Charter Bank of New Mexico, Trekk-Yoffi printed personalized postcards to expand its regional presence in the Southwest. The campaign generated $15 million in new investments. Customers began arriving at branch locations holding the postcards just two days after they were mailed.
Yoffi and Trekk use and update client customer data already stored in databases. They are able to deliver highly relevant messages on a one-to-one basis through such data mining. Clients can collect and accurately measure results. Trekk and Yoffi use analytics to enhance client mailing lists. "There's more on the data side for our newer campaigns, such as built-in feedback loops that trigger the next event," says M.J. Anderson, Trekk's VP creative services.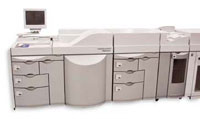 Yoffi is considering trading in its Kodak Digimaster 9110 (right) for another NexPress color digital press. The NexPress was designed by Heidelberg before being acquired by Kodak. The serviceability of more than 40 Operator Replaceable Components (ORCs) was key in Yoffi's 2004 purchase of a 2100. It's built like an offset press—from its imaging cylinders through inline architecture. Each component is subjected to extreme use, temperature and other factors to test for durability. "Reliability is crucial," says partner Stefan Agustsson.
Last year, Trekk became one of the first marketers to integrate customized maps into variable-data campaigns. Yoffi and Trekk use XMPie's PersonalEffect software for all variabledata print campaigns, including those employing the new, dynamic mapping technology. Version 2.5, released earlier this year, is the InDesign Server CS2 version that features fully integrated functionality within the program's uProduce production server. (XMPie became Adobe's first worldwide reseller in January.)
PersonalEffect's uPlan, uCreate and uProduce components work together for the development of business rules, data and design of print pieces. (Demonstrating its cross-media applications, variable output streams can be generated for e-mail, Internet and mobile devices, as well.)
Trekk's designers created the variable fields of the Wolverine mailer using uCreate within InDesign CS. The program allowed them to apply business logic to the document and create the layout with the variable data in the native InDesign environment. "Other solutions force you to compromise your design or data use because you have to use their tools," Agustsson says. "With XMPie, we have none of these limitations because we work in our native environments using off-the-shelf software."
To create the maps, Trekk used customized software that presorted the data on 50,000 names, matched each recipient's home with the nearest retail location, and generated a custom-drawn map of the route to the store. PersonalEffect software incorporated the images into the campaign document as a variable field and was used to make on-the-fly conversions of the driving distance into walking steps to highlight the customer's hiking boot. The project was completed in a matter of days, not weeks.
New lingo for printers
Trekk and Yoffi worked in a structured query language (SQL) environment using custom developed tools to clean, verify and preprocess the data, ensuring that it was CASS-certified prior to mailing and prior to production. (CASS is a U.S. Postal Service carrier-route presort certification program that qualifies mailers for discounts and prevents penalties for errors.) SQL is a computer language used for accessing and manipulating database systems.
The dynamic mapping process incorporated all variable data at the point of printing, where the postcards were printed presorted on the NexPress.
"It's not real time, but we can match the map asset with other requirements at the rendering point," Anderson says. "The software tools generate files in batch process."
"It's a very efficient method—there's no hold up on press," adds Yoffi's Agustsson. The printer runs its NexPress up to 20 hours a day, five to eight days straight, depending on job requirements, so productivity is more important than speed. "Reliability is crucial," he says. "We need to be able to maintain and fix the press ourselves."