Comparing home security services
Protecting your home and family from intruders should be one of your top priorities. While a boxed alarm system could provide basic protection, it likely isn't enough to deter savvy criminals. By working with a reputable home security service, you can get the right level of protection you need to keep your family and possessions safe.
An alarm can help protect your loved ones and valuables, but without reliable monitoring, the actual equipment serves as little more than an expensive noisemaker. A central monitoring station provides the real security that ensures your home is safe whether you're home sleeping or out of town.
What to look for in an alarm company
Start by meeting with multiple alarm companies, either through your own research by or submitting a free request for alarm systems quotes to get matched up with as many as six suppliers. It doesn't matter if they are large national companies or small "mom & pop" operations. Just make sure they're authorized to perform the installation and have relationships with reputable monitoring services.
Each alarm company should visit your home to assess every room you want to protect - just make sure they schedule an appointment first so you know you can trust them. Don't consider any company that doesn't visit your home first. You need them to determine where the equipment should go, take note of the number of doors and windows you have, and check if you're a better candidate for hard-wired or wireless systems.
Let the alarm company know which system features are most important to you. If you have pets, you probably want motion detectors that allow them free movement without tripping the alarm. If you like to let fresh air in, make sure they install special contacts that allow you to keep the windows open 6 to 12 inches and still set the alarm.
Also, find out what options they can offer to control your system from the outside. While you need to punch in a passcode when entering and leaving the house, key fobs will let you control the system with the push of a button. You could also use key fobs to trigger a panic alarm if you feel you're being followed.
The central monitoring station: key to your security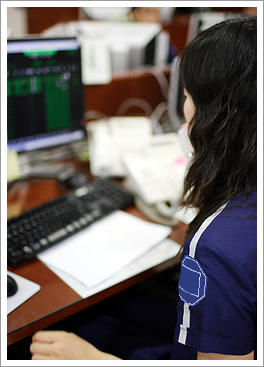 Alarm service reps help ensure your home and family is protected.
The central monitoring station jumps into action when an intruder trips the alarm. The control panel in your home sends the relevant details to the monitoring station over standard phone lines. Within 10 seconds, the station will call you to check if anything is wrong. If they reach someone at your home, they'll ask for the required passcode to confirm they belong there. If the person can't provide the correct passcode, or they don't get an answer, the monitoring station immediately sends authorities to the scene.
While having dependable home security equipment is important, fast and reliable service is an essential attribute of a full-service home security system. Most national central monitoring stations are required to contact authorities within 45 seconds of the alarm going off. And should they lose power, it's not a problem. A reliable backup source - either a second station or a backup generator - will provide plenty of reserve power to make sure that your home is protected without interruption.
One of the ways that your home security system remains effective is to keep tabs on false alarms. If authorities are called to the scene when it isn't necessary, it prevents them from being available for other emergencies. There are a few ways alarm companies make sure the authorities aren't bothered unless it's absolutely necessary:
An audible delay feature gives you 30 to 45 seconds to disable the alarm before the central station sends the authorities over.
Dual-tech sensors require two separate components - a PIR and microwave signal - to go off at the same time. This prevents pets from accidentally triggering the system.
Cellular backups can alert stations that monitor a home security solution when there is a problem with the phone lines. If they discover the lines were tampered with, the monitoring station dispatches police to the scene.
Get no-cost BuyerZone home security services price quotes today - it's quick, easy, and most importantly, free.