Indoor Hot Tubs: The Advantages and Disadvantages
Did you know that for $800 or less you can have a luxurious indoor hot tub? The lowest priced indoor hot tubs can be found for well under $1,000, though the more bells and whistles you add, the more the price goes up. Some installations will run well over $10,000, though the most expensive tubs are those that will seat up to 10 people. Small hot tubs that are perfect for three or four people, and are less expensive than you'd expect.
As with everything you buy, there are pros and cons to an indoor hot tub.
Advantages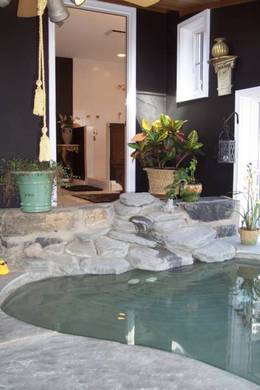 One of the most important benefits of having a hot tub indoors is the fact that the whirlpool is not exposed to the outdoor elements. Rain, sun, wind, heat, and cold all contribute to the breakdown of materials in the tub. This also means that you can enjoy your hot tub in any weather, even sub-zero winter months.
Since the indoor tub doesn't have to sit outside in the elements, it will last longer. The expanded lifespan is definitely a good reason to have a tub indoors rather than outside.
An indoor hot tub will also afford you some privacy. You can relax knowing that you can soak in peace without worrying about prying eyes or nosy neighbors.
Disadvantages
While the advantages are great, don't forget the disadvantages.
An indoor tub can be a problem if the room your hot tub is in isn't vented properly. Years of warm, humid air can cause the growth of mold or rotting wood. The room must be vented and the materials used resistant to moisture.
You may also need to build a whole new room for your indoor hot tub, one that can handle the weight and size of a hot tub. You could be looking at another few thousand dollars, just to get the space ready.
Indoor hot tubs can also be hard to fill and drain. Outdoor tubs can usually be filled with a hose and drained onto the ground. When a hot tub is indoors it may need to be drained into the septic system - a large problem if you live in an area without city sewers. Septic tanks on private properties are not designed to handle the type of chemicals and the amount of water in a hot tub.
If done properly, indoor hot tubs can be a luxury. Before adding a hot tub inside your home, make sure you can handle the construction, the drainage, and everything that comes with adding a large new appliance.