Visionary Practice Series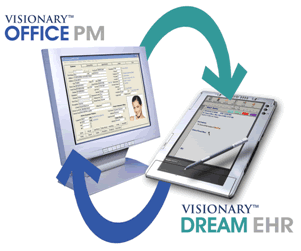 Visionary's Practice Series is an integrated Clinical and Billing solution. Our Practice Series includes Visionary Office PM, Dream EHR, Visionary Star (document imaging) and Visionary CARE (chronic care management module) for a complete solution - bringing the office together.
In today's HIPAA compliance and decreasing reimbursement every practice needs to bring their front office, middle office and back office together. You can't afford not to share information in a seamless, timely manner.
All Visionary applications are easy to use and address different tasks throughout the office eliminating duplication of data. Visionary Office PM manages demographics, scheduling, insurance, billing and collections, while the Dream EHR is in control of clinical data, prescriptions and lab reports.
More Visionary EMR Information
Whether you're a large physician association or a single provider practice, Visionary understands the challenges you face in selecting a system that fulfills the needs of your entire organization. You need Visionary Practice Series designed with the physician's workflow in mind. Visionary's Practice Series strikes a balance between technology and human interaction giving the end user an intuitive, easy-to-use, secure system with wide-scale physician and non-physician acceptance.
Visionary - Your Practice Made Simple.
Ready to Compare Electronic Medical Records Price Quotes?