Why Buy Medical Inventory Management Software?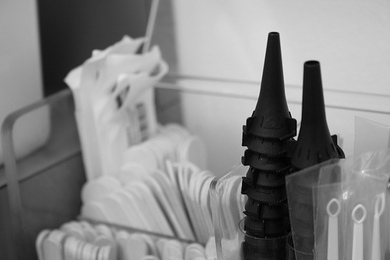 In today's economic environment, organizational efficiency is crucial for success and survival in the marketplace. Inventory management software can help to:
Reduce waste
Lower inventory costs
Enable your medical practice to quickly make informed decisions about inventory purchasing
Here's how:
Reduce inventory costs
How much money does your office have tied up in inventory at any given time? How much of that inventory is going to be used this month, next month, or in the next three months? Without software to manage your inventory and generate accurate reports on current stock, tracking your inventory and accurately replenishing stock becomes either a time-consuming process or a shot in the dark.
Medical inventory management software can help you streamline your stock data and improve inventory ordering by implementing just-in-time processes. By ordering only when an item hits a critical inventory level, you can use your budget when you need it and only on the items you need. You'll never over-stock or under-stock a critical item again.
Track inventory shrinkage
In a regular business, shrinkage is expensive. In medical practices, it can be catastrophic. By using inventory tracking software, you can quickly and accurately discover if and where shrinkage is happening and identify causes and remedies before it becomes a serious problem.
Simplify recalls
Product and device recalls can be a hassle to deal with. But if your inventory management software tracks serial and lot numbers, you'll have the information you need to deal with the return of recalled products... right at your fingertips!
Without software to manage the process, recall audits mean extra paperwork and time. If you use software to manage your inventory and record recalls, you should be able to print off the documentation you need quickly and efficiently.
Expiration date tracking
Knowing which products in your inventory have looming expiration dates and which lots of product to use first can eliminate waste. It also helps you control costs associated with expiring inventory. The time-consuming process of searching through existing stock becomes a fast and easy procedure that ensures you use the product you've ordered before it expires.
Spend more time with patients and less time in the stock room
While every medical practice or clinic is a business, patients are the real reason doctors, nurses, and staff members go to work each day - and have a job to go to. By eliminating tedious inventory control and stock management in your office, you can focus more energy on your patients, knowing that the stock room is organized efficiently and cost-effectively.
Where to turn and what to pay
While the decision on the provider you select will ultimately be determined by your specific needs, there are a number of top medical inventory management software solutions to be aware of, including: ProActive Inventory Manager, Fishbowl Inventory, Bellwether, and SupplyPro. With many available as both in-house (client-server) installations and web-based platforms, some companies will allow you to try the service for free (up to 30 days in most cases) before purchase.
Expect to pay a total of $1,800 to $12,000 for the in-house variety, including the number of licenses you'll purchase and any hardware upgrades necessary. That said, some of the above-mentioned solutions can be found for under $2,800 and allow up to five users, while others start around $4,400 and get more expensive from there, also depending on licenses.
Ready to Compare Medical Practice Management Software Price Quotes?