DS-160 Folder Inserter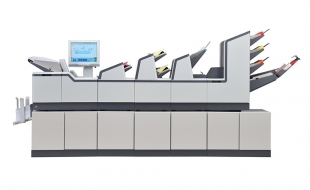 The DS-160 delivers the ability to easily create professional, top-quality mail pieces. Completely modular, the DS-160 is designed to grow with individual business needs.
The system uses Neopost's proprietary and robust IMOS operating system and automatically adapts to accommodate a wide range of envelope sizes and address locations.
The system's color touch-screen and simple, easy-to-use, graphical interface provides operators the ability to set-up and run the most complex jobs easily and with total control.
Increases productivity high-capacity feeding
Automates and simplifies the final mail processing step
Delivers reliable content control and security
Offers user-friendly graphical interface
Reduces operating costs with an eco-friendly solution
More Neopost Letter Folding Machines Information
FEATURES
SPECIFICATIONS
Capacity
Processing speed as fast as 4,500 documents per hour
Job memory: unlimited
Document feeder capacity: 500 or 1,000 sheets
Document Handling
Document Handling
Documents: 5.5" x 5.5" to 9" x 16"
Envelopes: 3.5" x 6" to 6.48" x 10.37"
As many as eight sheets, letter, z-fold, single, double-parallel, no-fold
Ready to Compare Letter Folding Machines Price Quotes?