DS-160HP Folder Inserter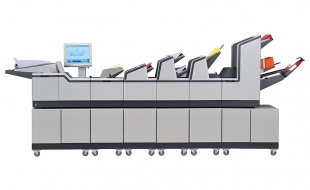 The DS-160HP is a robust folding and inserting system that can be customized to meet the workflow requirements of a wide range of mailing applications.
Neopost's DS-160HP powerful IMOS operating system, with unlimited job memory, auto set-up to eliminate hours of manual adjustments and a unique, all-inclusive scanning module that reads almost any type of document coding, delivers a new standard in tabletop inserter productivity.
Increases productivity high-capacity feeding
Automates and simplifies the final mail processing step
Delivers reliable content control and security
Comes with state-of-the-art user interface
Reduces operating costs with an eco-friendly solution
More Neopost Letter Folding Machines Information
FEATURES
SPECIFICATIONS
Capacity
Processing speed as fast as 5,500 documents per hour
Job memory: unlimited
As many as 17 feeders
Document Handling
Document Handling
Documents: 5.5" x 5.5" to 9" x 16"
Envelopes: 3.5" x 6" to 6.48" x 10.37"
As many as eight sheets, letter, z-fold, single, double-parallel, no-fold
Ready to Compare Letter Folding Machines Price Quotes?