DS-35 Folder Inserter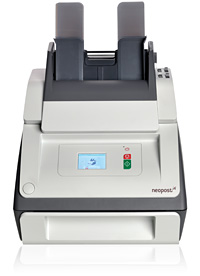 Neopost is proud to present the DS-35 Office Friendly Folder Inserter Solution. It simplifies and automates a variety of low-volume folding and inserting office mailings such as daily invoices, monthly statement runs, legal documents and other mailings. Any small office or department within a company can benefit from this solution. Some key features are...
State-of-the-art full color touch screen
15 programmable jobs
2 sheet and 1 insert/BRE feeders
No. 10 up to 6 x 9.5 envelopes
secure'n feed double detection
Cascade or linking feeding for continuous processing, when one feeder empties, the next one automatically starts
Balanced input and output capacity
Counter
Semi-automatic feed mode up to 5 sheets
Tip-to-tip sealing
Small footprint
More Neopost Letter Folding Machines Information
FEATURES
SPECIFICATIONS
Speed
Up to 1,350 envelopes per hour
Envelope Specifications
Min
Max
Width
8.8"
9.5"
Height
4.1"
6.5"
Quality
19# bond
30# bond
Capacity
100 envelopes of 20# bond
Document Specifications
Min
Max
Width
5.6"
8.9"
Height
7"
14"
Quality
18# bond
30# bond
Capacity
100 sheets 20# bond (5 sheets 20# bond for daily mail)
Folding Capacity
Up to three sheets 8.5"x11" tri-folded, five sheets 8.5"x11" single folded, and two sheets double parallel folded (20lbs)
Physical Dimensions
Footprint 17"W x 26"L
Weight
81 lbs
Power Requirements
Voltage 120(+6-10%)
Frequency 60 Hz
Operating Conditions
Temperature 60° - 95° F
Humidity 20% - 70%
Ready to Compare Letter Folding Machines Price Quotes?