DS-75 Folder Inserter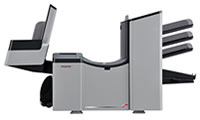 Productivity Made Easy
The DS-75 Folder Inserter system is the ideal productivity tool for any office or mailroom environment thanks to its unique low level noise and compact footprint. It draws its strengths from the successes of its predecessor the DS-70 with several enhancements providing additional value in key areas. Highlights are...
Greater Productivity
Increased processing speed
High capacity document feeder holding up to 725 sheets of 20lb. paper
High capacity vertical stacker holding up to 500 envelopes
Greater Mailing Application Flexibility and Support
Increased folding capacity
Support for barcode reading in personalizing transactional and marketing mail
Enhanced Ease of Use
New graphical color touch screen designed for novice users
Semi-automatic envelope separation setup
Sealing liquid level detection
Automated sealing capability
It is productivity made easy.
More Neopost Letter Folding Machines Information
STANDARD FEATURES
SPECIFICATIONS
Speed
Up to 3,600 inserts per hour
Annual Volume
480,000 cycles
Envelope Specifications
Min
Max
Width
5.5"
9.8"
Length
3.5"
6.4"
Quality
20 lb. bond
30 lb. bond
Document/Daily Mail Specifications
Min
Max
Width
5"
9"
Width if Production Fdr.
5.5"
9"
Height
3.5"
9"
Quality
16 lb.
62.5 lb. bond
45 lb. bond if folding
Insert Dimensions
Insert ready for insertion should be at least 1/2" less than envelope in width and at least 1/4" less than envelope in height
Fold Formats
1/2 Fold (single fold)
C Fold (tri-fold)
Z Fold
Double Parallel
No Fold
Thickness
1 to 8 sheets (20 lb. bond) tri-folded or up to 10 sheets folded in single-folded (.1 or 2.5mm thick depending on application)
Physical Dimensions
18"W x 51"L x 29"H
Weight
3 stations 165 lbs.
Power Requirements
Voltage 115V AC
Frequency 60 Hz
Ready to Compare Letter Folding Machines Price Quotes?