DS-85 Folder Inserter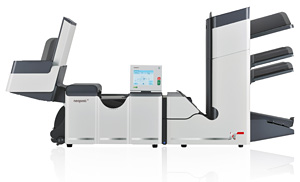 The DS-85 Folder Inserter is a powerful machine that can adapt to your growing business needs. With its modular design, your investment is protected, and you can rest assured knowing that your DS-85 can support all types of mail folding applications.
flexFeed® technology - load any size document in each of the 6 feeders
With powerFold®, you can crisply and silently fold up to 10 pages in single fold and 8 pages in tri-fold
Linked feeding allows for continuous feeding of up to 2,900 sheets
Avoid stoppages and maximize efficiency with the intelliDeck
5.7" super bright Reversible full-color touch screen for easy job set-up using a wizard approach
Add optional 1D, 2D Barcode and/or Optical Mark Reading Solution with a special reading scanner to ensure each recipient gets their correct documents
Standard High Capacity Vertical Stacker to increase your productivity by holding up to 500 finished envelopes
Standard carrier envelope hopper holds 500 envelopes
Optional High Capacity Document Feeder holds 725 sheets
More Neopost Letter Folding Machines Information
FEATURES
SPECIFICATIONS
Speed
Up to 4,000 inserts per hour
Envelope Specifications
Min
Max
Height
3.5"
6.35"
Width
6.3"
9.75"
Document/Daily Mail Specifications
Min
Max
Height
3.5"
14"
Width
5"
9"
Quality
16 lb. bond
67 lb. bond
Insert Dimensions
Insert ready for insertion should be at least 1/2" less than envelope in width and at least 1/4" less than envelope in height
Fold Formats
1/2 Fold (single fold)
C Fold (tri-fold)
Z Fold
Double Parallel
No Fold
Thickness
2.5 mm
Physical Dimensions
16.5"W x 72"L x 36.5"H (6 stations)
Weight
242 lbs. (6 stations)
Power Requirements
Voltage 115V AC
Frequency 60 Hz
Noise Level 68 d.b.a.
Current Draw 2.5A
Operating Conditions
Temperature 50° - 104° F
Humidity 30% - 80%
Ready to Compare Letter Folding Machines Price Quotes?