How to Choose a Commercial Color Copier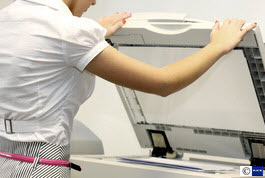 Commercial color copiers are built to provide high-volume, high-speed copying. Sometimes referred to as "multifunctional products," they can do far more than just copy and are commonly used for a combination of printing, faxing, scanning, and document distribution. Almost all of them can be easily connected to your computer network, and many are now even accessible via mobile devices and in the cloud.
But the price gets more expensive with each tech add-on, some of which may be either inadequate or extraneous when stacked against your business needs. So understanding your copy-related business requirements is a critical first step to ensure the highest return on your investment. From there, you can easily determine where a commercial color copier will fit into your organization.
Here's a quick rundown on some of the primary features popular with a wide range of businesses when choosing a commercial color copier.
STEP 1: Determine your estimated usage and monthly volume.
Some dealers will tell you that, generally speaking, the more you pay for a color copier, the lower your cost per page will be when amortized out over the life of the machine. If your print volume is low (200 to 400 color pages per month), you may want to consider a smaller unit, even though the cost of toner and supplies will be higher per page.
But if you plan on printing more than 500+ color copies a month, a mid-range machine will incorporate a number of cost- and time-saving features that will make it far more cost-effective in the long run. These features typically include collating, stapling and binding, distribution, and automatic duplex copying (two-sided printing).
BUYERZONE DEALER TIP: Mid-range color copiers, and even some basic models, have cost-saving security features that protect your documents and network while restricting the quantity and type of copies an individual user can make. By limiting the ability to print color to individuals within a workgroup or specific job function, you can easily save on your consumables and other monthly print costs.
STEP 2: Figure out what output features are most important to you.
Common output considerations are typically centered on pages-per-minute, versatility, and paper handling.
Pages-per-minute (PPM) – Ranging from print capabilities of 20 PPM on the low end up to 65 PPM available through professional models, the speed and efficiency with which a color copier can print is often an easy way to select certain models and omit others.
If you're routinely under pressure and have a number of copy jobs stacked up one after the other, you may want to consider a commercial copier on the higher end of the scale. But if you only use a copier for the occasional flier or pamphlet, you can save a lot of money by going with a machine that offers a slower output speed.
Versatility – Not everything you're going to copy will be a single letter-size sheet. This variety of source materials has led to a diverse range of versatility options. Most significantly is the combination of flatbed scanner and automatic document feeder.
The flatbed will allow you to copy almost anything, from the side of a box or container to a book or other bulky item. An automatic document feeder takes a stack of originals (usually letter- or legal-sized) and runs them through the machine without forcing you to manually place each sheet on the flatbed. An automatic document feeder usually holds at least 30 sheets but deluxe models will often incorporate one that accepts up to 150 pages at a time.
Paper handling – Many businesses, both large and small, are producing an increasingly diverse range of printed marketing collateral, from menus and ad fliers to newsletters and product information sheets. Often requiring a variety of paper stock, many modern commercial color copiers will provide paper trays for two or more types of stock.
This may seem like a small feature, but with the simple push of a button, it saves you the time and hassle that would normally be spent swapping out paper in a single cartridge. Most machines will provide standard trays that hold 250 to 500 sheets of paper. But higher capacity models are available for those with extended print runs, including trays that accommodate 1,000+ sheets in a single bay.
STEP 3: Ask about "all-in" pricing.
A professional color copier dealer can help you choose the best machine for your operation and, more importantly, find the one that will provide the greatest return on your investment in the long run.
Normally, the service contract provided through these companies covers the copier and parts. However, some dealers may be willing to provide "all-in pricing," a plan that encompasses not just parts, service, and labor but also your consumables like toner, staples, and paper. Though smaller businesses may find it cheaper to buy their consumables through an office-supply store, the one benefit of all-in pricing is that it distills the cost per print down to a single, easily-comparable number.
Ready to Compare Color Copiers Price Quotes?