Deere's New 872G Pleases Operators
This big motor grader gets good reviews from our pro operator
The six-wheel-drive John Deere 872G is relatively new to the Deere line. And to say that it has a commanding presence would be an understatement. Weighing a hefty 38,240 lbs., it's one of the largest models Deere has ever produced. Plus, its powershift design provides eight speeds when traveling forward and reverse.
On an unseasonably warm day in early June, we set up a demonstration at our 300-acre test site to run the 872G through a few typical grader applications. Needless to say, we were impressed when it arrived for this installment of Hands-On Earthmoving.
Previous models, including the Deere C-Series graders, were great machines. But the new G-Series models feature enhancements over their predecessors in four key areas (not counting the Tier 4, emissions-compliant engines). Notable upgrades are: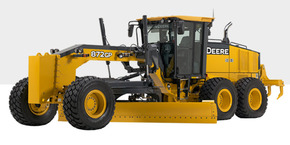 Photo courtesy of Deere.com
Automated cross-slope
Improved blade clearance
Push-button start
Electronically-controlled high-pressure common-rail fuel injection
Roomier, well-proportioned cab
Our operator's first comment was an appreciation for the machine's standard air-conditioning system, which, he said, pushed out plenty of cold air — even with the doors open. He commented favorably, too, on the roominess of the cab and the good forward visibility and comfort it affords.
In addition, there's plenty of interior cab space, which allowed storage of a cooler easily within arm's reach of the operator.
Customizable moldboard
Our test machine was fitted with a 14-foot moldboard, 27 inches tall and 1 inch thick. But this was only one option, with 16-foot, 13-foot, and 12-foot moldboards available as well.
Changes in moldboard geometry included pushing out the blade's cutting-edge radius and opening up its top radius. According to Deere, these changes cause material entering the blade to begin rolling sooner and to encounter less resistance as it moves up and across the blade. Complementing these changes is a lowered blade-pitch pivot, designed to minimize vertical movement of the moldboard when the operator makes pitch adjustments.
The big change for the draft frame was to raise its front ball-and-socket mounting almost 6 inches to yield a larger throat opening (between the top of the moldboard and the bottom of the circle), thus reducing the potential for material plugging in this area. The higher draft frame also helps keeps the circle level when the operator rotates and makes the circle much simpler to control when making fine-grading adjustments.
Lots of power, good manners
To get a feel for the power and controllability of the 872G's 214-hp engine, we asked our guy to make a number of V-ditching passes. He chose a large, flat area in which to do this, but cautioned us that the material under foot was a heavy, sticky gumbo that "will push a machine around if you try to take too big a bite."
"Overall, I was impressed with its power," our operator said. "You could see that I pretty well had the moldboard loaded up with that sticky material, but it moved right through. The six-wheel-drive makes a big difference, because the front wheels are grabbing, and you're not trying to push them through the cut."
Was there anything in particular you noted about the machine?
"The controls are easy to use, and the operator's compartment is well laid out. In the old John Deere graders, you had the instrument cluster right in your face. And the hydraulics are smooth —much better than the 772C's."
According to Deere, the hydraulic system features a pressure-compensated/load-sensing design that gives the feel of having individual control circuits for blade functions. Compared to older models, the system is able to respond more quickly and provides finer and more consistent adjustment even when multiple functions are engaged.
On the whole, we walked away impressed. But given the manufacturer's history, we didn't expect any less.