Help! I Just Want a Copy Machine!
Running a small to mid-sized business is hard enough without having to wade through the endless (and seemingly identical) selection of office equipment. With available features that now include mobile and cloud connectivity, multi-layered security protocols, and output rates of up to 65 pages per minute, modern copiers produce printed materials that are as good as, if not better than, a professional printing service. But what if you just need a basic copy machine?
If you're considering a new copier for your business, there are a few critical performance functions to pay attention to (and a whole lot that you can simply ignore). Here's where to focus your attention.
Color or black and white?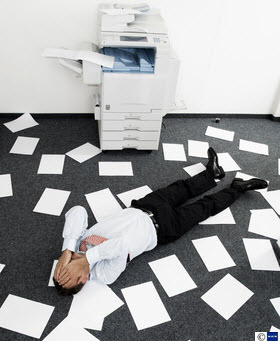 What do you plan on using your copier for? If the answer is simply interoffice duplication for record-keeping and similar functions, black and white is definitely the way to go. It provides quality reproduction at the lowest available cost, typically setting you back between $200 to $700 for the machine itself.
But if you plan on using your copier to print fliers and other forms of advertising, especially those that may contain your logo or other elements of your brand identity, you may want to consider a color copier. Basic color copiers feature stunning image reproduction, compact size, and a simplified user interface that will allow you to avoid costly professional print services by producing nearly the same results in-house. Depending on the add-ons you select, you can expect to pay anywhere from $500 to $2,700 for a basic color copy machine.
A big part of this decision often includes consumables – in particular, toner. Depending on the machine you select, black and white toners with a max print yield of 2,000 to 5,000 pages can run anywhere from $45 to $170 each. The print yield for a color copier is a little higher, but you have to buy each color separately (including black). The black toner for a color copier has a max yield of up to 23,000 pages with a cost around $60 to $80. Color toners (usually cyan, yellow, and magenta) put out up to 8,500 pages for around $120 to $150 each.
What is your copy volume?
If you currently have a copier, you're in luck. You can estimate your volume by consulting the counter. If you've never owned a machine before, estimate your needs by tallying up your copy shop receipts. Then tack on an extra 20 to 30 percent. Having this figure in advance will not only help you purchase the right machine but also evaluate any support services you may be considering through a dealer.
But there's another important reason to know (and overestimate) your print requirements: it enables you to stay within the monthly duty cycle. Also known as the manufacturer's recommended monthly volume, monthly duty cycle is the measurement of the total number of pages a machine can produce each month. Think of it as the "red line." Though it's not harmful to reach this output on occasion, you don't want to consistently be at the max as it can lead to jamming and other costly breakdowns.
What will you copy onto?
Many businesses use a copy machine to produce everything from fliers, menus, and invitations to signage and similar forms of point-of-purchase material. But not all machines can handle the full range of paper stocks. When evaluating copiers, it's best to work with a professional dealer who will allow you to run a test print on the machines you're considering.
In addition, if you routinely alternate between standard letter-sized paper stock and other forms of output, including transparencies, legal-sized paper, or cover stock, you may want to consider a machine that accommodates a number of paper trays. This enables you to easily switch between print stocks with the simple push of a button rather than physically reloading the stock for each job. It may seem like a simple thing to do, but the time involved with this chore adds up quickly.
By means of comparison, a basic machine with a single paper source runs between $200 to $500 depending on whether you opt for color or black and white. A copier that features at least two trays will run between $400 to $1,300, again depending on your choice of color or black and white.
BUYERZONE DEALER TIP: Standard paper capacity for a basic copier is around 250 to 500 sheets. But if you anticipate long copy runs, look for trays with paper capacities of 1000+ sheets.
Two-sided or one-sided?
If you like to save paper, whether to cut costs, reduce environmental consumption, or a combination of both, printing on both sides of a sheet will enable you to cut your paper usage in half. Unless you plan on manually feeding each set back through the machine twice, your copier will need to be equipped for two-sided printing, commonly known as "duplex copying" or "duplexing." This feature can add $1,000 to -$2,500 onto the cost of the machine, actually bumping you up into the mid-range series. But as many business owners will tell you, if you make a lot of two-sided copies, it's well worth the money!
One more thing to keep in mind: if you're leasing a copy machine, you're contract is based on prints, not sheets. So, aside from the paper itself, two-sided printing won't save you any more on your lease.
Ready to Compare Color Copiers Price Quotes?