Is color copier leasing the right choice for you?
Color copiers represent an ever-increasing segment of the $24 billion copier industry, with sales of 1.5 million units each year, by some estimates. Within this niche, mid-level business color copiers can cost anywhere from $4,500 to $11,000, with high-end models going as high as $40,000. Due to the high base cost and rapidly advancing technology, color copier leasing is becoming a more attractive option for many businesses, especially when compared to purchasing a machine outright.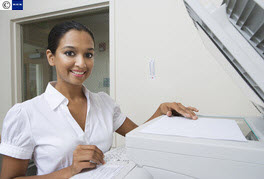 The primary reason is that color copier leasing lets you avoid significant capital outlay. In addition, because the technology changes quickly, color copier leases often include provisions to trade up to a newer model, allowing you to upgrade without buying anew. Some leases even allow you to walk away from a machine, increasing your financial flexibility if you can't afford ongoing monthly payments.
As with most products, however, leasing is more expensive in the long run.
Many leases charge on a per-copy basis and may include monthly copying minimums. To avoid this, make sure your copy volume estimates are accurate. Low-balling your estimate may save you a few dollars a month on the lease up front, but you'll likely overtax the copier and have to deal with more repairs and downtime than you'd like. Plus, you may get hit with overage charges for each print that goes over your monthly allowance. And overestimating is just as bad – it can come back to hurt you by driving costs up when you don't meet the contract minimums.
Color Copier Leasing - Buying Tips
Hybrids can help: Unless you need print-quality color accuracy, a black and white/color hybrid is probably the best choice. Hybrid copiers operate in b&w mode most of the time, switching to color only when necessary. In doing so, they drastically reduce consumption of expensive color supplies.


Test-drive it: When deciding between two or three copier models, ask the dealer to bring the machines to your location for a demo. If an in-house demo is not possible, make sure you visit the dealer to see how the machines work, taking a sample job with you (including the stock you would normally use) to evaluate.


Compare multiple suppliers: Before you settle on your color copier lease, compare offerings from multiple vendors. BuyerZone can help you find multiple copier vendors in your area.
Service agreements
Another benefit of color copier leasing is that typical leases include the maintenance required to keep your copier running smoothly, including parts and labor. Unfortunately, "parts" has a different definition from vendor to vendor. Parts that break during use are almost always covered, as are parts that wear out over time. This includes fuser rollers, cleaning blades, and other parts often bundled in preventative maintenance kits. Make sure you get a comprehensive list of what is and is not covered so you can compare plans accurately.
Unfortunately, consumables like paper and toner are not usually included. For color copiers, this can be a significant expense, as each color (black, yellow, magenta, and cyan) must be purchased separately with an average cost for each toner ranging between $60 to $150 and a max yield of 8,500 to 23,000 pages.
Some dealers may try to get you to choose an all-inclusive lease that covers toner and other consumables, but you may be able to save money by buying those products at an office supply store instead. Some copier dealers may falsely claim that you must purchase your consumables through them. This is illegal, so stand your ground.
Emergency repairs
Find out whether your color copier lease covers emergency repairs. If you opt for a "pay-as-you-go" plan, you should know exactly what your costs will be beforehand. Be sure to get a written commitment on response time (the typical maximum is four hours) as well as the hours that service is available. This is particularly important if you expect the copier to see a lot of use during evenings and weekends.
Finally, ask about loaner service. Many vendors will provide you with a replacement copier of equal or greater specifications if yours requires significant repairs. This is one of the biggest benefits of a lease, as it keeps your productivity on track while your copier is out of commission.
Ready to Compare Color Copiers Price Quotes?