How to Pick the Best Document Management Company
When choosing a vendor to help you transition to electronic document management, it's easy to get overwhelmed. There are dozens of companies out there who will claim to have the best solution for your situation - and they probably say that to any potential customer who walks in their door.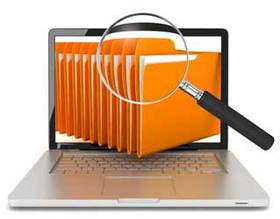 Document management systems can also range from simple off-the-shelf software packages to enterprise-level custom installations that cost tens of thousands of dollars. How do you make sure you choose the best document management company for your business?
Here's a quick overview of the two types available and a brief rundown on three leading providers.
Two types of services
As you search for the best document management companies, you'll probably encounter two very different approaches: traditional client-server systems, where you run the software on your own computers, and application service provider (ASP) models, in which your electronic documents are stored at the software company's data center and you access them over the Internet.
Both models provide excellent reliability and most of the same features. One important distinction is that client-server software involves a larger up-front purchase fee, while ASP software is usually priced per user per month.
Leading providers
While there are an endless number of document management providers to choose from, there are also those who have established their companies within the industry by providing quality, reliable service and ease-of-use. A few of these companies include:
WorldView - Offering customizable workflow solutions, scan capture, outlook integration, and a web-based central platform WorldView enables users to easily collaborate with other team members and perform any of their day to day business functions form any PC with Internet access.


ContentVerse - With a focus on the effective utilization of personnel and available capital, Computhink has created ContentVerse as a means to manage a limitless variety of documents and information. With features that include the ability to add content automatically or manually, the automated sharing of information and updates, automated purging, and live feedback through an ability to edit documents on the fly, this platform is one of the easiest collaboration tools for employees within a single location or spread around the globe.


VisualVault - Dedicated to secure, efficient document and records management, VisualVault has an extensive selection of forms and workflows that greatly simplify the process itself. Also including advanced architectures and role-based personalization, this platform enables to you customize the visual dashboard based on an individual's specific function, enhancing both productivity and the level of security.
What you can expect to pay
Pricing for document management services is often on a per-user and per-month basis. Plans start around $25 to $50 per month for basic and advanced packages, with additional discounted rates available for larger corporate clients.
Ultimately, the best document management companies are those that treat your business like a partner, taking the time to understand your needs so they can offer a solution that you'll be happy with. And the first step in finding the best partner for your document management needs is using BuyerZone's free document management system price quote request service to get connected to qualified suppliers in your area.
Ready to Compare Document Management Systems Price Quotes?