Save Time and Space with Document Scanning Services
There are numerous benefits to digitally archiving your documents, not the least of which is a vast reduction in storage space. But many businesses interested in electronic document management face a significant hurdle: mountains of paper for conversion and minimal equipment and staff to get the job done. This need, in combination with the drive toward a more sustainable operation, has given rise to document scanning services.
These specialized companies use high-speed equipment to scan your paper files and store them electronically in your document management software. Common scannable materials include: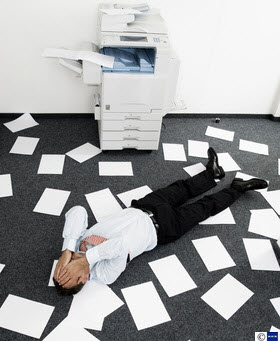 Single and double-sided documents
Computer reports
Books and manuals (bound or unbound)
Maps, drawings, and other wide-format documents
To save hard-drive space, many operations provide options related to the scan resolution, typically ranging between 200 dots per inch (dpi) and 400 dpi, with higher resolutions available for custom jobs. Once scanned, your documents are cataloged through a process of indexing and formatting, assigning a series of keywords to properly identify the subject and specific content, similar to the system used in a library.
This process has also given way to another service known as optical character recognition. Commonly known as "OCR" it has become one of the most widely used forms of character recognition in the vastly expanding digital realm. Using specialized software, it electronically converts scanned images into encoded-text that can be cataloged and quickly accessed through a simple database search.
Key questions related to document scanning services
To find the provider that will be best for your operation, there are a number of considerations to take into account. For example:
How will you get the paper to them?
The most common approach is to hire a moving company to pack up your records and deliver them to the scanning company. However, depending on the sensitivity of the material you need scanned, you may want to choose a provider that comes to your location.
On-site scanning services bring trucks full of scanning and sorting equipment into your office. You can monitor the process to ensure your records are handled securely. Plus, your documents are only unavailable for the short window of time that they're actually being scanned, greatly reducing the impact on business operations.
BUYERZONE DEALER TIP: Confidentiality agreements are quite common within the industry. Almost every modern company has some form of proprietary data that requires protection for competitive positioning. Have your legal department or attorney draft the appropriate paperwork and ensure that everyone working with your documents has signed the agreement, whether they're working at your facility or an off-site location.
How do they get files back to you?
The goal of a document scanning project is to get your paper records into an easily-accessible document management system. The best providers can deliver the files back to you in multiple formats: electronically via FTP, shipped on CDs, DVDs, or even cataloged on portable hard drives. If you choose an ASP-based outfit - a dealer that manages and distributes document management software in addition to scanning services - the provider may be able to upload the files directly into your system.
You'll also need to choose the format of the returned documents. The most efficient scenario is using a scanning service that's familiar with the software you've chosen. This ensures the data will be easy to import into your system.
BUYERZONE DEALER TIP: Make sure you get "test files" before the entire batch is scanned to ensure compatibility with your system. Upload them as you would any of your regular documents and make sure they work exactly as they should. If you encounter any problems with indexing or search and retrieval, notify the document scanning service immediately.
What do they do with the paper?
This is a touchy subject, and one that may actually be out of your hands in certain cases. Once your documents have been scanned, the scanning company can shred them, put them in long-term storage, or return them to you. Legal, medical, and financial companies have strict record-keeping requirements to ensure the privacy of clients and patients.
As a result, these firms often opt for in-house scanning or have the original paperwork returned upon completion. But it's important to know that if you don't absolutely need the hard copies returned, you can save money by having them shredded at the scanner's location.
Find the document scanning service that's right for you
There are a number of cost-saving benefits and advantages related to document scanning services. But they can also vary from industry to industry. So when you're shopping around, look for vendors with demonstrated success helping businesses like yours.
Get references to other customers in your industry, and ask them how that particular vendor handled the service aspects you're considering. Low turnover and employees that have been with the company for a number of years are also good signs.
Unless you plan on using the service long-term (a process that can save your staff considerable time and resources), you'll probably want to choose a document scanning company that can provide the hardware you'll need to keep up with future paperwork. Once you supply them with an estimate of the number of new pages you'll have to scan each month, they should be able to recommend a scanner that can keep up with the workload.
What you can expect to pay
Though the cost will vary from provider to provider, professional document scanning services tend to fall within a certain price range. Here's what you can expect to pay for common services:
Single and double-sided documents li 3.5 cents to 15 cents per image
Computer reports - 5 cents to 9 cents per image (with the cost-effective bi-tonal option being common for this format)
Books and manuals (bound or unbound) - 6 cents per image (and up) for destructive book scanning and 15 cents per image (and up) for non-destructive scanning
Maps, drawings, and other wide-format documents - 5 cents to 15 cents per image
Note: many providers will have a minimum page requirement (2,000 to 3,000 pages are common examples). If you have less than that, an additional charge may apply (typically $100 or less). They may also assess fees for document prep like staple removal, page orientation, and paper clip removal. Prep fees are often around 1 cent per page handled.
For a list of quality dealers in your area, submit a free request for document imaging quotes. We'll connect you with leading providers. From there, it's simply a matter of evaluating the estimates and choosing the best dealer for your document scanning project.
Ready to Compare Document Management Systems Price Quotes?