The Benefits and Advantages of Document Scanning Solutions
Document scanning isn't just for archiving anymore. In fact, it's now become a central aspect to many business processes that rely on the efficient and accurate storage of documents. Shown to dramatically improve productivity in a number of areas, document scanning solutions have the capability to put all necessary business information at the fingertips of your employees through a simple search.
In particular, there are a number of specific advantages to be on the lookout for when evaluating document scanning vendors - all of which provide overall cost-savings and security. These primary advantages include:
Response time and operational efficiency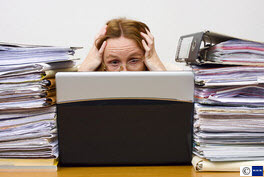 One of the biggest hidden costs that paper-intensive businesses face is the time it takes to work with paper files. Employees spend hours walking to and from central records rooms to find and replace documents. But with digital storage, it's much easier and faster to find the necessary information.
This expediency enables you or your employees to answer questions from customers or respond to inquiries in a fraction of the time it would take to consult the same records on paper, without ever leaving their desks.
Accuracy and consistency
Document scanning solutions eliminate the costs of lost documents, and can even provide savings in the form of reclaimed office space that had been used for paper storage. Using the latest software, most professional scanning services include optical character recognition (OCR) as part of their service. This ensures documents can't be misfiled or misplaced and allows for easy access through an accurate catalog of keywords.
A related benefit is the ability to enforce consistency through document workflow management. Although this is something that typically matters more to larger companies, you'll be able to take advantage of consistent filing, naming conventions, and workflow as you add new employees or cover for vacationing staff.
Minimal storage
By eliminating the need for those bulky (and dare we say unattractive) filing cabinets, you can accommodate more employees within your layout or use the extra space for other purposes. That's because, depending on the resolution you select, nearly 10,000 sheets of paper can fit on a single CD, and nearly 30 million sheets of paper on a 2-gigabyte backup drive.
Digital documents can also be stored off-site or online using cloud-based data storage services, further eliminating the need for physical hard-drives and floor space. However, if you are considering cloud-based storage, it's worth noting that this option is still far from secure and should be carefully analyzed before you upload any sensitive material.
Disaster preparedness
Life is uncertain. And with nothing more than a paper record of your business transactions or vital data, you risk losing it all to a fire, flood, earthquake, and other natural disasters. This antiquated system also leaves you vulnerable to theft and other malicious destruction of your property at the hands of dishonest or disgruntled employees.
With digital records, you can establish a range of security options, making documents read-only to prevent unauthorized alteration or deletion. And more importantly, it's exponentially easier to keep one, two, or even three backup copies, on-site and off-site, to minimize any problems with data corruption, bad drives, power outages, or other common technical glitches.
Security
The need for security has become one of the primary advantages of document scanning solutions for sensitive information that requires restricted access. By converting these documents to a digital format, you instantly secure them against theft and unauthorized access through advanced security that includes:
Multiple levels of password-protected access for groups and individuals
Encryption of document contents
Audit trails, showing who has accessed or updated documents, when they did it, and how long they took
Ready to Compare Document Management Systems Price Quotes?