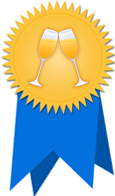 The End of the Year Edition
The 12 Best Blogs of 2012
2012 will go down as the year that social media, content marketing and mobile took over. For any business, it's crucial to keep up with the times so that you can create the best user experience for your customers. In order for you to do that, you need to have reliable resources to turn to for information.
This past year, I've researched and selected the best business blogs in a variety of niches. And in this edition, I'm featuring the "best of the best;" the blogs that not only stayed on top of current trends, but also the blogs that predicted what trends were coming next.
Below are the 12 best blogs of 2012. We've selected and ranked each blog based on their content freshness, social media presence and most importantly, their engagement with readers. In addition to reflecting on 2012, each winner has offered their 2013 predictions.
Congrats to all the winners and Happy New Year!
#1 Marketing Artfully
Best Business Marketing Blog
Blog founder Tara Jacobsen looks back on 2012:
This year was a game changer for small business marketing. Companies have come to the realization that there has to be more of an online component than just a brochure website to compete. I see a real divide in what small business owners need to do based on their industry.
For example, a restaurant should be on Facebook where there is good B2C interaction but they also need to be on Yelp; they need to have table toppers promoting their social media plus be posting pictures and videos of their customers and staff.
On the B2B side, social media is more of a placeholder, showing that you are an active business and that you have a connection with the internet world. I have no feeling that SME will score big using social media to drive sales. What I do think they can do is increase branding and put new customers in the top of their pipeline or sale funnel, who can then be nurtured into paying business.
Best blog post of 2012:
Work Quotes with Pictures: Labor Day Quotes
2013 Prediction:
I am a public speaker and have told every group that I spoken to this...I believe in my bones that within the next two to three years, the first contact that anyone has with your business will be a photo or a video.
People are so overwhelmed with data and information that they cannot possibly consume a 1,500 word article or blog post at the start of the sales cycle. You will need to chunk it down to manageable graphics or short videos that prove a value to them before they will want to find out about you or your business.
Right now, video means YouTube, and pictures mean Pinterest and I don't see that changing dramatically overnight. With that in mind, small business needs to get plans in place to generate photos and videos that are customer rather than company-centric.
However, these videos and pictures are not commercials. They do not have to be production quality. What they do need to be is informative and valuable to the viewer. I would bet on 100 okay quality videos outperforming one production quality video exponentially.
#2 B2B Marketing Insider
Best Business Marketing Blog
Blog founder Michael Brenner looks back on 2012:
Businesses are starting to realize that the world has changed and that their marketing hasn't kept up. Some marketing leaders are re-defining the role of marketing and they are responding by transforming their organizations to more closely match a publishing model.
This "Content Strategy" approach attempts to deploy their resources across the organization to create the content that customers are looking for, to move them into the purchase funnel, and to convert them to loyal customers.
But these resources are not just in marketing. They sit across the entire organization.
And so, in order to become a social business, marketing leaders are realizing that they need to ignite their company to create great content. They need their employees to become content creators, to build their personal brands and to influence the influencers of their customers.
Best blog post of 2012:
What is a Content Strategy and Why Do You Need It?
2013 Prediction:
Leading organizations will continue to define and fill new roles in their organizations to meet these emerging needs. Chief Content Officers, Content Strategists and Social Ambassadors will become the "hot jobs" in marketing in 2013.
#3 Smart Company Growth
Best Small Business Blog
Blog founder Karl Walinskas looks back on 2012:
In 2012, big social networks such as Facebook, Twitter, and Google+ became white noise for businesses faster than expected. This is my opinion, and I think this will continue into 2013.
People feel like they have to put these links to their FB page on their website, but in large part these pages offer nothing new to visitors. In addition, getting followers has become the latest social media gaming target (you can buy 5000 followers on Twitter for $5 at fiverr.com).
Google+ has been a failure with people signing up and engagement has been poor. How marketers are using Twitter is not so much the game of pushing content that no one reads, but in monitoring the chatter using online tools, and then trying to connect with the person who is routinely showing interest in your business.
Competition from other social bookmarking sites that are comers sites like Pinterest and Reddit are seen as less corporate and offering users more untarnished opinions on what's hot, and they splinter the social media marketplace of secondary sites.
Best blog post of 2012:
Repurposing Content: Leveraging Your Ideas, Copy & Media to Grow Your Business
2013 Prediction:
Video Content will continue its upward domination for business sites. The statistics on attention span and YouTube are just undeniable. People spend an average of less than 2 minutes on a website but more than 20 minutes in an average YouTube session.
The world has gone rich media with video and audio. Companies whose websites continue to be brochure-ware will plummet in their utility and effectiveness online. Text-only websites will be seen as low rent, even when they're well-done.
Sites that engage visitors with "how-to" video and video blurb tips on a routine basis will build stronger relationships with customers and continue to exponentially build traffic. If it hasn't happened yet, somebody will build a tool that can high-speed scan rich media like video and audio to analyze content and sentiment; right now the internet only knows the tags we use associated with this media.
The mining of this data will be one more use of business intelligence for advertising.
#4 Dianna Huff's B2B Marcom Writer Blog
Best B2B Blog
Blog founder Dianna Huff looks back on 2012:
B2B Websites have to be unique in order to grow: Unique design, unique content, unique voice. This whole trend of using WordPress themes, stock images and "me too" copy is a death knell for small businesses.
A small business' most important asset is the fact that it is small - and different. To hide this asset under mass-produced design, images and copy is a travesty.
Best blog post of 2012:
Effective Marketing Isn't Easy - or Cheap
2013 Prediction:
A holistic approach to marketing will begin to take root. Instead of a reliance on "free" social media, companies will begin to realize that sales happen the "old fashioned" way - via relationships that happen over time. Marketing, not sales, will lead the way.
#5 Vital Design Blog
Best Business Marketing Blog
Blog staff members look back on 2012:
One of the biggest trends we're seeing is that small businesses are quickly wising up that they don't just need websites; they need highly effective SEO and conversion rate optimization strategies too.
We often hear from people who tell us that they have this great looking website but it's not converting sales leads. The reason for that is twofold:
You're lacking SEO, so not many people are landing on your site.
You don't have a conversion rate optimization strategy, so the few people who land on your site don't convert into sales leads.
We've been sharing a lot of information with clients to help them understand the importance of a CRO Strategy.
Best blog post of 2012:
2013 Prediction:
I think we're going to see even more small to mid-size businesses turn to SEO, not just at a one-off, best practices level, but as a part of their monthly marketing budget.
Savvy businesses know that search is essential to being found (classified ads are dinosaurs), and as businesses with limited marketing budgets get priced out of pay-per-click, SEO's dominance is only going to grow.
#6 B2B Marketing News
Best B2B Blog
Principal at Arketi Group Mike Neumeier looks back on 2012:
In 2012, business-to-business organizations embraced buyer-driven marketing. This is a way of thinking that places buyers at the center of all marketing priorities. If a program, strategy or tactic does not clearly impact the buying decision, then it's not relevant, and not deserving of execution.
Business-to-business marketers focused on meeting buyer needs by building personas, matching content with both the buying cycle and the sales cycle, and eliminating the old batch-and-blast mentality. By understanding what buyers care about, how they make their decisions, and how they want to receive information, marketers can develop a more personal relationship with buyers which will ultimately lead to more sales.
Best blog post of 2012:
Stop Selling. Start Listening.
2013 Prediction:
In 2013, business-to-business organizations will seek to truly leverage the full potential of the marketing automation solutions they invested in during 2012. This is a make or break year for marketing automation within many mid-size B2B companies.
Organizations will either start to use the full power of marketing automation or they will cancel these services. It's going to be all in or all out for a lot of companies.
#7 Flooring the Consumer
Best Business Marketing Blog
Blog founder CB Whittemore looks back on 2012:
In 2012, businesses saw more overlap between online and in-store experiences. Customers started taking multiple paths - including mobile - to find us, and we must be consistent across channels.
Best blog post of 2012:
Flooring The Consumer Explores Getting Found In-Store, aka the Customer Retail Experience
2013 Prediction:
This [above trend] will get more and more critical. The winners will be those businesses who understand that online and IRL are inextricably linked and who think about customers in terms of specific personas at different stages of a purchase cycle who need to feel that we are trustworthy.
#8 Fearless Competitor
Best B2B Blog
Blog founder Jeff Ogden looks back on 2012:
The world is noisier and it is becoming harder and harder to break through the noise. The need for engaging content in 2013 is far more important than ever. Who will have the creativity and guts to rise about it all?
Best blog post of 2012:
The Problem with Kids: How Your Products and Services are Truly Perceived
#9 A Leg Up - About Small Business Technology
Best Small Business Blog
VP and Senior Consultant Alex Lesberg looks back on 2012:
In the small business technology world, one of the most significant trends we saw in 2012 was that solid state drives (SSD) finally became a viable option for small businesses. Unlike the ubiquitous spinning platter hard drives of the last 20 years, solid state drives use flash memory, have no moving parts, and represent the most significant performance upgrade in personal computing in a decade.
Until you've used a computer with a SSD, you don't know what fast is.
In 2011 and earlier, the enormous cost per gigabyte and dubious reliability of SSDs relegated them to the enterprise and enthusiast spaces, but in 2012, SSDs became affordable enough and reliable enough to the point where we now recommend them to all of our clients and blog readers.
Best blog post of 2012:
All-in-One Desktop PCs: Are They a Good Fit for Your Small Business?
Honorable Mentions
The following award recipients didn't get a chance to chime in and offer their reflections or predictions - but they couldn't be more deserving to make this list.
#10 CK's (B2B Blog)
Best Business Marketing Blog
Best blog post of 2012:
Mobile Marketing Video: CK's 3-Step Framework For Integrating Mobile Into The Marketing Mix
#11 The Global Small Business Blog
Best Small Business Blog
Best blog post of 2012:
#12 Small Business Bliss
Best Small Business Blog
Best blog post of 2012:
Are Promotional Products Worth It?
There you have it, the 12 best blogs of 2012. Congratulations to all the blogs selected! Don't forget to collect your Best Blogs & Sites of 2012 badge.