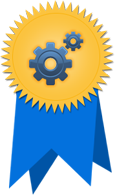 The Best Business Technology Blogs of 2012
The kids aren't the only ones who have "back to school" shopping to do. Summer is practically over, and business professionals need to think about what types of technology they want to be working with come the fall. And there a lot of business technologies to choose from!
That's where technology blogs come into play. The technology experts at these blogs help business owners daily, offering advice on an array of technology topics, including retail technology, computer software, or even telecom equipment.
The problem is there are thousands and thousands of blogs to choose from.
Well, that's where we can help! After careful research and reading through our readers' nominations, we've selected 10 great business technology blogs that you should bookmark ASAP. We've selected and ranked these blogs based on their content freshness, age, social media presence, and most importantly, their engagement with readers.
Sites like TechCrunch or ReadWriteWeb are great for every day technology reading, but these 10 blogs provide valuable tips and expert advice on the latest business technology trends, including: cloud computing, mobile POS systems, computer encryption, and more. The top five were even kind enough to offer their predictions on what the next big tech trend will be in their industry.
Congrats to all the winners!
Infosys has been around since 1981, a time when business technology was about to take off. Over the years the company has built themselves to be a global leader in business technology. Their blog, InfyTalk, is an extension of that leadership.
InfyTalk delivers videos, expert perspectives, and opinions on the latest business technology trends. But what makes this blog really stand out is that each post is written in colloquial fashion. Staff writers want to inform readers without boring them; so they write engaging content and attach a vibrant graphic in every post. Readers will not only be educated but they'll be entertained.
What's the next "big thing" in your industry?
The world of business is changing at an unimaginably rapid pace and in directions uncharted. Businesses, from across verticals, are looking to equip themselves to hurdle these challenges and thrive, while also charting their strategies for tomorrow.
We believe that to future-proof their businesses, enterprises must take cognizance of 7 key trends that are rapidly increasing in influence, and present great scope for innovation-led differentiation and growth: digital consumers, emerging economies, sustainable tomorrow, smarter organizations, new commerce, pervasive computing and healthcare economy.
We believe that realizing the full potential of these drivers is critical for tomorrow's enterprise to forge ahead of its competition.
The "cloud" is one of the best technological advancements to business telecommunications since the mobile phone. Proven to help businesses save money, increase productivity, and be more efficient, it's no surprise that the cloud has taken 2012 by storm.
But what else is there to know about the cloud? That's what Cloudscaling is all about.
The blog's main author, Cloudscaling co-founder and CTO Randy Bias, strives to help readers fill in the blanks when it comes to the cloud. Readers will find an array of content on cloud applications, cloud strategies, and most importantly, cloud security.
What's the next "big thing" in your industry?
We're seeing a clear distinction emerging between two types of cloud infrastructure: virtualization clouds and elastic clouds. Virtualization clouds support traditional enterprise workloads built on platforms like SAP and Oracle. They're characterized by traditional enterprise hardware brands in architectures similar to traditional client/server datacenters. Vendors include VMware, Savvis and Terremark.
Elastic clouds, by comparison, support new workloads built on platforms like Python and RoR. They're characterized by upstart brands in architectures that look nothing like client/server. Vendors include AWS, GCE, Quanta and companies building on the OpenStack platform.
It's important for enterprise buyers to understand how these two types of cloud infrastructure are different and the workloads for which each is optimal.
This blog's slogan sums up exactly what TheTelecomBlog.com is about: "telecom news, thoughts, analysis and provocative opinion." According to Jeff Wiener, President of Digitcom.ca and blog editor, this blog educates readers on everything relating to the telecom market – even the ups and downs. Not only will readers find plenty of content on both the mobile and enterprise space, but they'll get the content daily.
"Our writers are passionate about telecom and technology, and we publish anywhere from 3 to 5 posts per day," Jeff adds.
What's the next "big thing" in your industry?
The telecom buzz word for the last year, and likely to be for the next few years, is "the cloud", and IP communications. What this means to the enterprise telecom space is a gradual move toward Hosted PBX and SIP trunking.
Advancements to today's retail technology have been BIG. So tremendous, that it's hard to keep up with everything. However, the Retail Pro Blog does an excellent job at making sure you know what to really pay attention to.
"We aim to inform and keep our readers in step with retail industry news and retail technology trend reports," says Alexandra Frith, Marketing Manager at Retail Pro International. Alexandra also adds that their news coverage focuses on matters that are relevant to specialty retail merchants world wide, giving something of value to retailers regardless of their geography.
And it does. Readers will find informative content on important retail technology trends such as mobile transactions, EMV technology, mobile integration, and more.
What's the next "big thing" in your industry?
A newly redefined focus on Customer Experience has been trending in the industry for a while now. It has been growing, maturing, and it is definitely here to stay. I expect to see a lot more technology providers responding to this trend by delivering products that further customer experience initiatives in retail businesses of all sizes and help create an efficient, personable, and extraordinary shopping experience for the consumer.
This blog was created with one idea in mind: to provide readers with information on small business technology. And the blog does an exceptional job of doing just that. Each post is relevant to current events, easy to comprehend, and full of real-life examples.
"We already offered a weekly tip which is sent out to all our customers via e-mail, but we wanted something that went into more depth and covered larger issues," explains Amber Kelso, Marketing Director at Infinitech. "Through our blog, we offer in-depth articles regarding current technology news, our personal reviews on products, and how businesses can use technology to increase sales, be more efficient, and benefit their employees."
Staff writers aim to deliver well-informed posts that are packed with actionable pointers. So much so, that Amber hopes readers actually use the information to make educated decisions regarding technology purchases and projects.
What's the next "big thing" in your industry?
The biggest tech trend that we see in our industry of IT consulting is managed service contracts. Managed service contracts are a flat-rate, unlimited technology support option versus the more traditional break-fix hourly rate.
More and more companies (especially small to medium size businesses) are realizing that outsourcing their IT support is more economical than trying to hire a full-time IT employee. In most cases, they save upwards of 25% a year on technology when it is outsourced through a managed service contract.
#6

TechEye
Telecom Technology Trends
Business owners are shifting to telecom technologies that will cut costs, improve productivity, and increase remote capabilities.
Although not technically a blog, TechEye certainly reads like one – in a good way. This site delivers technology news on important topics such as software, mobile, and security, but with an edge.
For example, readers will find themselves absorbing the same great reporting they would on any other news site; but it won't be delivered as such. You're sure to find words like "shenanigans" and phrases like "bottomless pit" that you might not expect in a business tech blog.
Quality content with an engaging and entertaining tone, it's no wonder it made our list.
Sample post: Hacker forces Apple and Amazon to change security policies
#7

Small Business Tech

Small businesses rely on the tools and equipment they work with to grow their business. As a result, it's crucial that the information they are getting is accurate and relevant. That's what blog owner Andrew Lindstrom delivers.

Readers can expect to find helpful information on small business tech topics such as operating systems, software, website development, and more.

Sample post: Using Best Mobile Marketing Apps to Boost Your Small Business
#8

Retail Technology Blog
Retail Technology Trends
This year's retail trends emphasize how much the industry's technology has advanced with the hopes to improve the Consumer Experience.
Retail technology can get confusing: there are a lot of technologies to consider and trends to plan for. That's why reading a blog that breaks down the news is really helpful. Retail Technology Blog's author, Deepak Sharma, tries to do that every time.
Deepak knows retail technology. He's been working at Tata Consultancy Services since 1998 and has professed a passion for everything Microsoft and Internet related. On his blog, Deepak delivers weekly roundups of the biggest stories on retail technology. What makes his blog particularly beneficial is that he offers his opinions as well, to help readers sort the hype from reality.
Sample post: Digital Shopper Relevancy
#9

IT Business Edge Blogs

IT Business Edge works hard to stay on top of business technology issues so staff writers can deliver it to you as it happens. The content you'll read on their blogs will be nothing but informative, because each writer combines in-depth research and critical thinking in every post.

What makes this site really great is that it's a number of blogs wrapped into one. Each writer has his or her own blog which focuses on a specific business technology topic: data security, integration, data and telecom, and more.

Sample post: MDM, MAM and the Security and Management of Mobile Devices
#10

Tech.pinions

Staying informed on the latest business technology trends is important. But if it's at the risk of getting sloppy information, it's useless. Tech.pinions won't let that happen.

"Our goal is insight and perspective, not breaking or reporting news," says Ben Bajarin, Tech.pinions contributor. "You will not come to Tech.pinions to find breaking or timely reporting of news. Rather you can come to Tech.pinions to find insightful perspective from trusted industry sources about the news or tech industry landscape."

This site is great for any business owner to follow because there is no one else you can trust more on business tech topics than the experts in the field.

"We seek out authors who are professional industry observers, experts in their field, company executives, and many other kinds of insightful individuals," explains Ben.

Sample post: Why We Need More Specialty Tech Retail

There you have it! Ten great business technology blogs and sites that will keep you "in the know" on today's ever-changing tech world. Trust me, it's important to stay "in the know."

Congratulations to all the blogs selected! Don't forget to collect your Best Business Technology Blogs & Sites Badge!

Want to nominate your blog for a Best of BuyerZone Award? Email Sylvia Rosen at BestofBuyerZone [at] Gmail [dot] com.