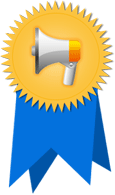 The Best Content Marketing Blogs of 2013
Content Marketing was the business strategy of 2013; from retail, to lead generation to finance, industries everywhere were using content marketing. And guess what? It's not going anywhere.
However, if you're still struggling with building a content strategy, keep reading because the following list of content marketing blogs can help you succeed.
Below, we've highlighted 10 great content marketing blogs. We've ranked the list based on the blog's content freshness, age, social media following, and most importantly, their engagement with their readers.
Each of the following blogs provide valuable tips and expert advice on tough content issues, including content promotion, writing techniques, content for mobile, and more.
Congrats to all the blogs selected!
Our top content marketing blogger is Heidi Cohen, President at Riverside Marketing Strategies. Heidi has had a passion for creating valuable content since she was eight. Now, you can find her passion on her blog, which has become a platform for her to share her years of experience.
Her colorful background in news writing, multimedia production and marketing, is what makes her posts so valuable for readers; she's tested and experienced all the strategies she discusses in her posts and knows what can work for marketers.
What's your biggest tip for making a piece of content go "viral"?
Focusing on getting your content to go viral is the wrong approach for most content creators. Instead, aim to optimize each piece of content every time. Here are 5 steps to maximize each effort:
Create pillar content. Write content that establishes you as a thought leader in your niche that visitors actively seek.
Craft a headline to maximize reach. An amazing headline can increase the audience for strong content by a factor of 10 or more. Need help? Check out BuzzFeed, Upworthy and Cosmopolitan.
Add a photograph for eye candy. Even better, include people in the image because humans are programmed to look for other humans.
Optimize content for consumption. Skip the huge hunks of text that cause reading blindness (aka THDR or Too Hard Didn't Read). Help people get through your content with use of short paragraphs, bolding and outlining to facilitate content snacking.
Distribute your content broadly. Don't assume that if your content is great, its audience will find it. Place content across owned, social and third party media.
It's no coincidence that Content Insights Blog makes the list, as Colleen Jones, Principal of Content Science, is the mastermind behind it. Colleen has been the content composer for a number of businesses, from Fortune 500 companies to savvy startups. And that's what this blog's posts reflect as well.
Colleen and her team of experienced marketers provide advice and strategies that can be applied to a variety of business models. In addition to providing content tips for lots of businesses, it's delivered in a variety of ways. Whether it be a presentation, a YouTube video or in-depth piece, you'll get the tips you need in the way you want them.
What's your biggest tip for making a piece of content go "viral"?
To make content go viral, focus on what people already know or believe so they can instantly react by sharing the content. Viral content is not the place to educate people about a complex topic or to challenge their deeply held beliefs.
Timing also plays a key role. Remember when Oreo took advantage of the Super Bowl blackout with the perfect tweet? That's timing. And, Oreo would never have been able to take advantage of that timing without a robust content capability — the ability to create meaningful content quickly. Years of work paid off in that one tweet.
Sometimes, you just need to get to the point and get the scoop on what is really working. Well, Helena Zwarts' blog delivers just that. Straight-to-the-point tips and advice on the latest content marketing strategies, backed up with real examples.
What makes Helena's blog content particularly engaging is that her blog is a "community hub", where you'll not only read her opinion on important topics but you'll also get insight from other experienced marketers
What's your biggest tip for making a piece of content go "viral"?
With the new landscape of online marketing and the new "word-of-mouth" social media, it has become vitally important to create content that will make an impact. Therefore, you must be clear about your marketing goals and your target audience, because your content needs to pull at the heartstrings of your site visitors.
It is a privilege and priceless to enjoy a "wow" moment with my customer-friends when they experience the power of social media marketing. For more on this, read my new article about a working social media strategy.
Ardath Albee, a B2B Marketing Strategist and CEO of her firm, Marketing Interactions, Inc., isn't just focused on making her content go viral. Instead, she's focused on the step after that: what did the campaign deliver? Her 28 years of experience in business management and marketing has allowed her to get close to the magic content formula; the content formula that turns prospects into buyers.
Readers will find her posts filled with thought provoking issues that will probably encourage you to throw your content strategy out the door. In each post, she takes the time to analyze well-known campaigns and explain the pros and cons, giving you the measurements to grade your own campaigns. And she does it with "sass".
What's your biggest tip for making a piece of content go "viral"?
If you want your content to get noticed and shared, you need to tackle the tough stuff and be a bit controversial. You need to write about things in new ways and share ideas that help people think about concepts and topics differently than they have in the past.
And you need to go deep.
Get down to sea level and share the specifics. This is what makes the difference between content that gets conversations going and content that goes unnoticed.
In content marketing, the important part isn't the marketing — it's the quality content you're trying to market. And that's why Tina Haapala's blog is on this list. Tina started her blog in 2009 as a way to mentor writers and help them write better. No matter what your content strategy is, you have to make sure the work is flawless.
Tina's blog can help you do that.
It's easy to get caught up in promotion and marketing planning but it's crucial to stay focused on creating quality content. On this blog, each post is filled with writing tips and ideas derived from Tina's own experience.
Honorable Mentions
The following five blogs are no doubt the most well-known in the Content Marketing Industry. However, we've selected the must-read sample posts of 2013.
#6

Copyblogger

Let's face it. Not everyone gets to write about exciting topics. Still, you have to write about it. Well, if done it should be done right! This post can help get you there:
#7

Blog Marketing and Blogging Tips by Kristi Hines

"To allow guest posts or not to allow guest posts" – That has been the question ever since Google started to crack down on any link building activities. Still, many business blogs would prefer to allow guest posts to save employees from racing to meet a quota every month. In this post, Kristi demonstrates how she analyzed her own blog's results.
#8

Content Marketing Institute

By this point, it feels like there is a new social network that comes out on a daily basis. And to be where their clients are, businesses will create a corporate account for each one. Well, that is completely unnecessary. The following blog post explains what social networks you should be on, and how you should be using them for content marketing activities.
#9

The Buffer Blog

It's almost 2014; an entire new year of writing and blogging ahead. Sometimes, to get the creative juices going you need some inspiration. Well, the following 16 tips can help.
#10

The Daily Egg

Quality, quality, quality. In content marketing, the focus should always be on quality. In this blog post, you'll learn the secret behind making sure your content is only quality.

There you have it! The best content marketing blogs of 2013 that can inspire you in 2014 and help your content go viral. Big congratulations to the blogs selected, and don't forget to collect your Best Content Marketing Blog Badge!

Also, if you have a whitepaper, webinar, or other piece of content to educate buyers, expand your reach in the B2B marketplace by working with us! We'll syndicate your existing content to our exclusive network of engaged B2B decision-makers. Find out more about our Content Connect Program.
To nominate your blog for a Best of BuyerZone Award, email Sylvia Rosen at BestofBuyerZone [at] Gmail [dot] com.