Wheel Loaders Buying Guide
Wheel loaders are a core component of many construction fleets. For digging, hauling, and scooping, they offer outstanding power and reliability. Here's what you need to know before purchasing a wheel loader.
Sizes
Wheel loaders come in a very large range of sizes. Most BuyerZone users choose either small loaders, around 50 to 80 horsepower (hp) with operating capacities of 2,000 to 5,000 lbs, or mid-sized wheel loaders that provide 100 to 300 hp and operating capacities up to 30,000 pounds or more.
The upper end of the wheel loader market consists of huge machines designed for use in mining or other large-scale hauling activities. These loaders can range from 500 to almost 1,500 hp and boast operating capacities measured in tons - 20 to 40 tons in a single scoop. In most cases, mid-sized loaders can get the job done.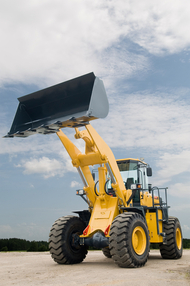 Often, the physical size of the machine will limit you: if you need it to fit into a garage or through narrow passages, make sure you know what those size limits are before you choose a specific model.
What do you need it to do?
Full-sized wheel loaders can handle many different jobs thanks to a range of available attachments. The most common choice is a bucket: these can range from smaller, tougher rock buckets to huge buckets for scooping up light fill.
Wheel loaders can handle more than just buckets, though. They're popular in scrap yards, where they can lift large bundles of junk metal with grapples, and lumber yards, where they can handle massive logs with ease.
If you plan to regularly switch between attachments, a quick coupler makes switching more efficient. However, a coupler can also reduce overall capacity and breakout force, so it may not be worthwhile if you rarely change attachments.
Other considerations
Older loaders use hand and foot levers to control the various functions - newer models feature much easier-to-use "pilot controls:" dual joysticks that provide full control with less stress on the operator.


Cabs are becoming more like automobile interiors: they're larger, provide better sight lines, and can include extras like suspension seats, climate control, and 12-volt outlets for cell phones or other accessories. These aren't just frills: keeping the operator comfortable increases productivity.


New wheel loaders are required to meet Tier-3 emissions standards set by the EPA. This makes them less polluting and can help reduce your average operating costs, as well.
Choosing a dealer
Buying a wheel loader is a significant investment - you can expect to pay anywhere from $50,000 to $150,000 for a new small to mid-sized loader. Due to this investment, you'll want to choose a dealer who will be around to support your purchase for years to come.
Look for dealers with significant experience in construction equipment. Find out how long they've been in business, how many manufacturers they work with, and if they offer a full range of accessories such as additional attachments, trailers, and replacement tires and parts.
Ready to Compare Wheel Loaders Price Quotes?