Vending Rewrites the Rules
Restaurants and Institutions
The push to foster more-healthful eating habits is shoving traditional snack foods from vending machines. Especially in schools and employee-dining operations, soft drinks, candy and fried snacks are giving way to bottled water and juices, and lower-fat baked snacks and crackers.
"Obesity is a huge issue right now. This is a way to provide [employees] something they can do every day ... it can really change habits," says Patty Guist, director of Associates Programs and Services for Louisville, Ky.-based healthcare company Humana Inc., which launched a successful healthful-vending program for employees two years ago.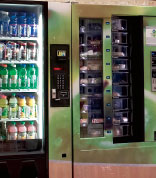 Canteen Vending Services' Balanced Choices program offers better-for-you foods, snacks and beverages, and nutrition information.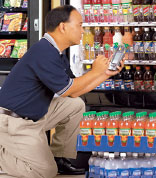 Aramark has extended its Just4U healthful-dining program to vending for corporate-feeding clients.
While many foodservice directors and providers say health-minded snack sales are growing, the share of the U.S. food-and-beverage vending market now accounted for by better-for-you options is difficult to assess.
The scope of the challenge, however, has been documented: A study reported in the October 2006 issue of the Journal of the American Dietetic Association (JADA) finds that 43% of 1,500 middle-school students purchased foods or beverages from vending machines during a given week; of that group, 71% purchased sugar-sweetened beverages, making them the top choice.
Sweetened drinks outsell bottled water, the second-most-popular beverage option, by a margin of 3 to 1, according to the JADA article. However, Chicago-based researcher Euromonitor International finds that vending sales of bottled water, energy drinks and low-calorie carbonated beverages are increasing as consumers become aware of the high sugar content in more-traditional choices, according to the firm's 2006 report, "Retailing in the U.S."
Prodded by nutritionists, parents and, often, state legislatures, schools are undergoing healthful-vending changes. Thirty-seven percent of school nutrition officials say that their districts made "significant efforts" to offer more-healthful vending choices in 2006, according to a survey conducted by the Alexandria, Va.-based School Nutrition Association.
Voluntary Controls
Snack and beverage manufacturers also are on board, offering more-healthful versions of traditional snacks, such as creme-filled sandwich cookies and fried cheese-flavored snacks. In October 2006, The Alliance for a Healthier Generation (a joint initiative of the American Heart Association and former President Bill Clinton's William J. Clinton Foundation), announced an agreement with five major snack manufacturers to provide lower-fat and lower-calorie options for school vending. A similar agreement, covering guidelines for beverages stocked in school vending machines, was struck last year between the Alliance and the American Beverage Association.
Business-and-industry (B&I) operations also are making concerted efforts to strip at least some fat, sugar and calories from vending choices. In the employee cafeteria at General Mills' headquarters in Minneapolis—where foodservice is managed by Gaithersburg, Md.-based Sodexho—more healthful choices have been added to vending machines as part of Sodexho's "Your Health Your Way, On the Go" program.
One machine is completely "wholesome choices," says General Mills' spokesperson Kirstie Foster. In other machines about 20% of options are more-wholesome choices. As do executives at Humana, General Mills executives view the healthy vending program as one part of an overall health-and-wellness education program for employees.
Philadelphia-based Aramark last year extended its "Just4U-Food that fits your life!" healthful-dining initiative to vending as well. Nearly all of the businesses Aramark contracts with have implemented the Just4U for Vending program, says Brian Zaslow, Aramark vice president of B&I marketing.
"The vending machine always was the typical place for indulgence. It doesn't mean you can't have a candy bar once or twice a week, but if you want Just4U items, we provide them," Zaslow says.
Depending on what each Aramark client requests, Just4U items account for one row or as many as 25% of the options in corporate snack-vending machines. Just4U cookies are the most popular healthful item, followed by salty snacks.
Canteen Vending Services—a unit of Charlotte, N.C.-based Compass Group, The Americas Division—offers Balanced Choices, a vending system that can include a computerized center providing nutrition information on foods and beverages available for purchase. Clients can determine the percentage of better-for-you options provided.
Cost Considerations
Despite growing interest in healthful vending options, some foodservice operators say cost and availability of appropriate food items can be problematic. Organic and lower-fat choices can cost twice as much as regular items, and not all vending operators do offer the products.
"There is a natural impediment on the part of the vending operators who fear they will lose base business. And packaged-goods companies limit the number of healthy items [they offer]," says Richard Wyckoff, former Aramark president who now is a food-industry consultant based in Gladwyne, Pa.
To get around the problem of higher prices for healthful foods and drinks, Humana basically eliminated its commission on healthier snacks in order to make them available to employees. In fact, when it started its "Check Your Choices" vending program in 2004 with Aramark, its foodservice provider at the time, it lowered prices on better-for-you snacks while pricing traditional snacks the same.
Using a formula that varies by type of product, some healthier snacks were lowered by about 20 cents each. Baked potato chips sell for 50 cents a bag while regular potato chips are 70 cents a bag. All-fruit juices, previously $1.25 per bottle, were lowered to $1 each.
Humana has maintained the lower prices for healthier snacks over the last two years. "They traded the commission for nutrition," Wyckoff says.
Actually, Humana increased overall vending machine sales by lowering prices on better-for-you products.
"It really didn't cannibalize our sales of other items: sales of all items in the machines went up 19% [in the first year]," says Humana's Guist. Humana plans to expand the healthy vending program to more corporate locations soon.
But for other businesses and schools to succeed with healthy vending programs in the future, vending operators and packaged-goods companies need to work together more closely, Wyckoff says.
"It is truly going to be a matter of leadership on the part of companies that recognize the change in the market and are proactive instead of prescriptive," he says.
Ready to Compare Vending Services Price Quotes?