Leasing Gym Equipment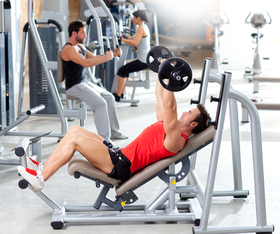 For small and medium-sized businesses, leasing gym equipment may hold many advantages over a straight-out purchase. Companies that provide exercise equipment leasing point out many benefits, including:
Leasing fitness equipment enhances federal tax benefits.
No cash outlay is required.
Fitness equipment leasing allows flexible payment terms.
Rates are fixed, rather than adjustable.
Leasing gym equipment preserves bank credit for other purposes.
Potential delays in opening the fitness and exercise center are eliminated.
According to a published report by The Principal Financial Well-Being Index in 2012, employees wanted more out of their wellness benefits and 19% cited on-site fitness centers as their preference.
Cisco Systems in San Jose, CA has 37,500 employees and has been named Number Five of the top 46 healthiest companies to work for in the country as announced at the end of October, 2013. The employees at their corporate office can take advantage of the extensive gym and equipment. Hasbro ranked in Number One in smaller companies with under 20,000 employees and their on-site gym is one main ingredient in the rating.
Leasing Gym Equipment for Small Businesses
Large corporations see multiple advantages of on-site fitness centers: IBM asserts that employees who make regular gym visits file annual health claims 17 percent lower than other employees, and Prudential states that participating employees take 43 percent fewer disability days. Of course, small and medium-sized businesses lack the options of the CDC, the Mayo Clinic, IBM, or Prudential.
The option of leasing gym equipment allows smaller enterprises to get into the fitness game quickly, adding a hugely popular employee benefit without a significant capital investment. In addition, leasing lets you stay on top of changing trends in the fitness industry. With a lease arrangement, you can simply exchange older machines for the newest models as they're available.
If your company is on an extremely strict budget, some providers will provide reconditioned older equipment for a fraction of the cost. Another option for a smaller enterprise is to contact equipment manufacturers, who may wish to test some of their new items with a small group of fitness enthusiasts.
To start, you'll need to evaluate several equipment leasing providers to see what they can offer and how much it will cost. To find the best providers in your area, try BuyerZone's free request for equipment leasing price quotes. We'll connect you to leading suppliers, and you decide what the best deal is for your unique situation.
Ready to Compare Equipment Leasing Price Quotes?