Employee Background Check Buyer's Guide
Background checks have become a standard part of the hiring and leasing process. Popular for their ability to mitigate risk among a wide range of businesses, many are readily available and accessible through the Internet and can be tailored to include a wealth of different factors.
Most background check services allow you to easily upload documents and personal data via the web and then deliver the results by email to your laptop, smartphone, tablet, or web-enabled device. This aspect of the service makes them highly beneficial to managers and landlords that work remotely or are frequently away from a centralized desk.
It is important to know that the use of certain types of background material is prohibited by state and federal law, making is essential to legally conduct background checks during the screening of every individual.
Three common uses
While background checks can be used for a variety of different purposes, three of the most common applications involve:
Employment screening
Tenant Screening
DIY Screening (vetting housekeepers, gardeners, nannies, and other household employees)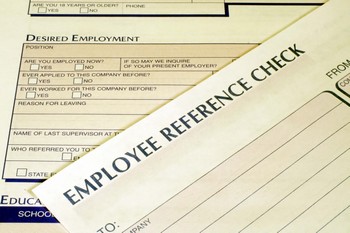 Employment screening
Background checks are an essential tool to help filter out prospective employees that may have criminal records or other issues that could lead to the potential harm of coworkers or customers. Providing a widow into a candidate's behavior and integrity, pre-employment screening can include a number of different components. Most common among these are criminal background checks, drug screens, and employment history verification.
You may opt to screen for military service and even credit history, though these last two require the candidate's consent. In addition, teachers and other employees who work around children are frequently run through that state's sex offender registry.
Tenant screening
Included as part of the application process on most rental applications, tenant screening incorporates a range of public records related to credit history, criminal records, and evictions. With this information, property managers can make a more informed decision on the level of risk involved with a potential renter. In addition to the primary data included with a tenant screening, property managers can also opt to receive information on bankruptcies, sex offender status, and local county criminal records.
DIY screening
The people you allow into your home and around your family have access to the most personal aspects of your life. For this reason, it's especially crucial to screen potential housekeepers, nannies, and groundskeeping staff for any elements that may result in harm or danger to you and your loved ones. In addition to the elements found in the other two types of background checks, DIY screenings also typically include a trace on the candidate's social security number and a more extensive screening for criminal records.
These additional measures list all names, aliases, and addresses (including maiden and married names) connected with the social security number provided. In addition, they expand in-court criminal records to a broader territory, including any potential records that may have resulted from felonies in another state or adjacent county of the current state.
Types of Reports
Background check providers frequently offer a range of options related to an individual's history. While some are concerned with felonies and related criminal activity, other types of services are simply used to verify claims made on a resume or during an interview. In this way, background checks save hiring managers and HR staff countless hours verifying credentials, work status, and personal references.
Among the most common types of background check reports, you'll find the following:
Criminal background checks
SSN and identity verifications
Driving and motor vehicle records
Employment and contingent workforce verifications
Drug and health screening
Credit reports
Education verifications
Personal references
Global screening
Criminal background checks
One of the most standard components on any background check, criminal screenings incorporate felonies from county, state, and federal records. Depending on the individual, these files may include arrest records, convictions (for both felonies and misdemeanors), outstanding warrants, sex offender status, and prison terms. The level of service varies from state to state due to the inclusiveness of county records. But when you have the option, the best criminal background check is the one that is most inclusive, factoring in the widest range of county records throughout the United States.
SSN and identity verifications
Another standard element to almost every type of background check, social security number verifications are the easiest way to confirm an individual's identity. Provided through the web like most other background check services, SSN verification has the potential to expedite pre-employment screenings, reducing the turnaround time by 50%.
Common attributes include previous residences within the allowable timeframe, all names associated with those addresses, and any aliases resulting from marital status, transliteration, and other legal changes to an individual's name.
Driving and motor vehicle records
Though not commonly used for leases and rental applications, employers frequently screen potential employees through DMV records when they will be responsible for driving a company vehicle, given the liability involved.
Driving histories provide insight on accidents and traffic violations, as well as infractions, felonies, and misdemeanors that may not appear elsewhere. These can include reckless driving, a suspended or revoked license, DUIs, and driving without a valid license. In addition to infractions, DMV records can also be used to confirm the license class and type that a candidate holds as well as expiration date and any restrictions associated with it.
This feature is often included with mid-range and deluxe packages. Basic subscribers to a background check service may be required to pay extra for DMV records.
Employment and contingent workforce verifications
This type of background check report incorporates a number of different factors commonly used by employers for hiring decisions. Often including criminal records and SSN/identity confirmation as well as verification on work experience, education, and character references, the specifics for inclusion vary from employer to employer and usually from job to job.
Employers aren't the only ones to use this type of service. Many people perform a background check on themselves. In doing so, they know exactly what a prospective employer may find and can be ready to defend any potential obstacles to their hire during an interview.
Employment and contingent workforce verifications are often included with mid-range and deluxe packages. Basic subscribers to a background check service may be required to pay extra for some aspects of contingent workforce verification, such as confirmation on references and work experience.
Drug and health screening
An advanced measure for many employers and an absolute necessity for others, pre-employment drug and health screenings are commonly used by businesses when considering an individual for the operation of heavy equipment, public transport, and aircraft. Some states also provide discounted premiums for workers' compensation insurance to employers that take steps to ensure a drug-free workplace. One of the most basic steps in this process is the screening of new employees.
Depending on the level of inclusiveness required, drug and health screenings may include multiple panel, lab-based or instant drug tests as well as instant or lab-based alcohol tests, and even physical examinations to ensure a level of fitness equal to the job requirements.
A number of organizations exist to ensure standardized best practices that result in fairness during the process. These include the Drug and Alcohol Testing Industry Association (DATIA) and the Substance Abuse Professionals Administrators Association (SAPAA).
This feature is almost always an add-on service and may require the contracting of a third-party vendor that performs the screening with medical personnel at a collection site.
Credit reports
When incorporated into a background check, credit reports only include credit history not the individual's current score. The difference between the two is that the history factors in values related to payment history, especially missed or late payments, as well as debt versus available credit. In contrast, the credit score, commonly referred to as the FICO score here in the United States, is a three-digit indicator of credit worthiness, ranging from 300 to 850. It's used by lenders to qualify an individual for loans or other forms of credit.
Credit reports can be used by financial institutions to vet the financial responsibility of prospective employees. Within other industries however, the use of financial data for hiring is often viewed as an inaccurate gauge of an individual's capability and is forbidden for such purposes in Hawaii and Washington State.
Education verifications
Used by employers in the later stages of the hiring process, educational verification can confirm most of the degrees and certificates listed on a candidate's resume. Shown to greatly reduce the burden on HR and hiring managers, this type of report can further reduce administrative costs by saving the time-consuming process of working with a variety of schools.
Educational verification is usually part of a deluxe package with most providers, but can also be added onto basic services. It typically includes verification within 2 to 3 business days (for domestic credentials) on the name of the institution, the name of the degree or certificate, and the date it was conferred.
Personal references
A far more specialized aspect of background verification, the confirmation of personal references is another way many businesses save the time and expense associated with verifying the reputation and capability of an individual. Focused primarily on aspects of conduct and integrity, character reference reports can be tailored to investigate work ethic, teamwork, strengths and areas for improvement, as well as the overall type of personality the candidate possesses.
This service may be included as part of a deluxe package but often requires additional fees due to the specialized and time-consuming elements involved.
Global screening
With the growing reliance on a global workforce, verifying an individual's history often requires a worldwide search. Due to the specialized nature of this type of background check, you may have to contract a provider that specializes solely in this type of verification. Select background check providers have established networks that allow them to quickly solicit data from more than 200 countries throughout the world.
Information can include international criminal court records, credit history, and address verification. Licenses and credentials earned in another country can also be confirmed as can employment, driving records, and personal references.
In short, every aspect of a domestic background check is available for international candidates. The primary difference is in the delivery. While some aspects can be verified in as little as a few days, an entire profile may take weeks to confirm.
Top Providers
Some background check providers specialize in detailed services like personal reference confirmation or global screening, but most offer a standard selection of verification services. In general, you'll find two specific types:
Full-service firms: Full service firms generally handle the entire process for you, providing a comprehensive report of their findings. More importantly, their research complies with the Federal Fair Credit Reporting Act (FCRA), a set of guidelines that ensures the legality of the background check process and accuracy of the information provided.
Online platforms: In contrast, online background check websites provide a wide range of self-service information gleaned from public sources. The information they provide may be less complete and typically does not comply with FCRA guidelines. As a result, many publish disclaimers on their home page warning against the use of information for 'making decisions related to consumer credit, employment, or tenant screening due to information that may not be current, accurate, or complete'.
Depending on your intended use and legal obligations, it's important to select the type of firm that provides the levels of service and protection you require. Among top providers in the industry, you'll find the following:
InteliUs
Instant Checkmate
PeopleSmart
eVerify
hireRight
PeopleFinders
InteliUs
Results provided are subject to the availability of public information related to criminal records, marriage/divorce status, lawsuits, liens, bankruptcy, and contact information. When available, InteliUs also provides age and date of birth, address history, aliases, social networks, and the names of neighbors. Easy to use, search queries can be entered directly on the background check landing page.
Reports are available instantly online and cost between $40 and $50. Customer service is provided through a toll-free care center, with staff available during business hours (PST).
Instant Checkmate
Another online background check service provider, Instant Checkmate provides the full range of publicly-available data on an individual, including arrest records, contact information, licenses, and address history. Though the service is initially easy to use (offering input fields directly on the home page), it's a bit slow, "processing" all data on four different screens before allowing you to proceed.
Two types of reports exist, with basic searches reportedly available for $1 and premium reports available for about $20. Toll-free phone support is offered 24/7.
PeopleSmart
Providing comprehensive reports based on public records, PeopleSmart's stated goal is to help people "find and learn about others." Reports include information related to social security number, DMV records, employment and education verification, address history, and criminal records.
Three different packages are available:
Basic ($30): Includes criminal and sex offender records
Standard ($55): Includes county level, non-digitized criminal records
Premium ($80): Verifies resume claims for management level positions
Though not qualified as a consumer reporting agency as defined by the FCRA, PeopleSmart does offer more in-depth services than competing vendors. Phone support is available during business hours (CST), with electronic support and issue-reporting available 24/7 via their website. Those needing FCRA-compliant background checks for pre-employment verification or tenant screenings are linked to PeopleSmart's affiliate, GoodHire.
eVerify
As an official website of the Department of Homeland Security, eVerify is a division of U.S. Citizenship and Immigration Sevices. They provide free data on a prospective employee's work eligibility, confirming information related to U.S. passports and visas, immigration and naturalization, social security, and state-issued driver's licenses or ID cards. When available, eVerify provides a photo for comparison, taken from official documents.
Though eVerify is a free service, it reportedly requires a somewhat lengthy application process, with an agreement that must be filled out, submitted, and approved before an employer can begin verifying individuals.
One of two results are provided: "Employment Authorized" or "Tentative Non-confirmation" if the information does not match official records. No additional information is provided as part of this service.
HireRight
One of the most popular full-service agencies in the market, HireRight is designed to provide pre-employment screening that complies with all existing regulations. Offering an international reach, they reportedly have more than 100 different types of screening services that pull data from nearly 240 countries throughout the world, supporting applicants in 20 languages.
Packages vary from basic to all-inclusive:
Economy ($30): Providing results within minutes, the Economy package is FCRA-compliant, ensuring all data provided is accurate and up-to-date - a rarity among instant databases. Results include address history, social security number validation, and a national criminal record search with local verification.
Advantage ($55): The mid-range option, this package provides data taken from a selection of county courthouses based on the individual's residence, a national sex offender search, and address history.
Advantage Plus ($70): FCRA-compliant, this option includes all potential criminal records taken from the National Criminal Database, as well as a selection of county courthouses related to the individual's residence within the past seven years.
All services require the creation of a customer account.
PeopleFinders
Drawing from public records, PeopleFinders is not FCRA-compliant but provides background information that may include full name and aliases, address history, marriage and divorce records, bankruptcies, contact information, relatives and neighbors, and criminal records.
Providing information on a subscription basis, PeopleFinders offers a 24-hour, 7-day, or 30-day membership. Additional fees may include $1 for a basic report and $40 for a more comprehensive background report. Monthly membership fees range from $15 to $25. Customer care is available via phone during business hours (PST).
Hiring Tips
As you begin to compare background check providers, it's important to keep in the mind the legal obligation you have when requesting and reviewing confidential information. In most cases, compliance with the Fair Credit Reporting Act (FCRA) will lead you to the best providers. But that doesn't stop others from over-promising on what they are capable of delivering.
Legal background checks
Many background check services offer an extensive range of pre-employment verifications, guaranteeing information on everything from criminal records to social security verification. And while some are capable of providing reliable information for general purposes, be wary of using these services for pre-employment or tenant screening. Pulled from public records, the information provided through non-FCRA sources is likely to be inaccurate or, at the very least, outdated.
The FCRA also requires employers to obtain written consent before forwarding personal information to a consumer reporting agency for the purpose of a background check. A background check includes all information related to that individual's character, such as driving history, criminal records, and employment background. In addition, not all personal information is legally available through a standard background check.
Individuals have a right to privacy with regard to some personal information, including certain financial data, genetic information, military service, and medical history. Financial information, military service, and medical history can be obtained with permission. But again, the employee has to sign a consent waiver detailing the information that will be collected before you can proceed. It is never advisable to solicit or use genetic information for the purposes of hiring or tenant screening.
Transparency and legality are important. You will more than likely have to provide a copy of the report to the subject if you decide to use it as the basis for an employment decision. In doing so, you will be giving that individual the opportunity to review the findings and refute anything contained within the report. Failure to provide this report can lead to a lawsuit - a consequence that makes the accuracy of the information contained within the report of vital importance.
In addition to notification, there are certain limits on the information an FCRA-compliant organization can collect. For example:
Criminal records: While there is no time restriction on conviction records, arrest records must date back no further than seven years for positions that pay an annual salary of less than $75,000. This is one area that varies widely from state to state so it's worth checking into the requirements for obtaining arrest and conviction information in your state.
Bankruptcies: Bankruptcy filings must be within the past 10 years to be FCRA-compliant.
Educational history: In many states, educational records are confidential. This encompasses all transcripts, recommendations, and financial data associated with that institution. Though some schools may confirm basic information to a background check service, many will only provide it to the student. This is almost always the case with detailed transcripts.
Medical records: As a result of the Americans with Disabilities Act (ADA), a prospective employer may only ask whether that individual is capable of performing the specific duties associated with the job in consideration. Employers are restricted from basing decisions on medical conditions or disabilities.
Negative information: Under FCRA guidelines, any negative information more than seven years old cannot be used for screening purposes. This includes social and personal references, organizational memberships, motor vehicle reports, drug screens, and criminal history.
For more information, the U.S. Equal Employment Opportunity Commission has published an excellent resource on the use of personal background information for employment decisions.
Be selective and reasonable
The appropriateness of search parameters is among the most common advice provided by background check professionals. Though these services make it easy to conduct an exhaustive search, it's not always necessary.
Make sure your inquiries correlate to the specific position. As with salary requirements and security access, each position should have its own level of requisite background detail. For example, the information you'll need for a money manager will be vastly different than a department store clerk. Don't go overboard when it isn't necessary.
Background check services
Depending on your budget, the volume of background checks frequently required, and the statues enforced within your state, there are a number of options available for cost-effective background confirmation.
Considering again the three most common applications mentioned in the Introduction , possible vendors may include:
Employment screening: eVerify and HireRight
Tenant screening: SmartMove (an online service providing credit report, national criminal and eviction information, and customized leasing recommendations)
DIY screening for senior caregivers and nannies: eVerify and eNannySource (a web-based service that provides profiles on available caregivers and also conducts NCRA-compliant background checks upon request)
Ready to Compare Employee Background Checks Price Quotes?