Managing the Call Volume of Your Business
When your business is in the market for a call center, it may be a difficult choice with so many providers available. Your business goals and the needs of your customers should be at the forefront of your decision making process. When trying to determine if your business is ready for a call center, consider your call volume.
Define your magic number, or amount of calls that warrant the outsourcing of this task. Compare the cost of hiring an extra employee, to the current rates of a call center. Also consider, missed phone calls, and customers who can successfully be reached by employing a call center, even if you have closed business for the day.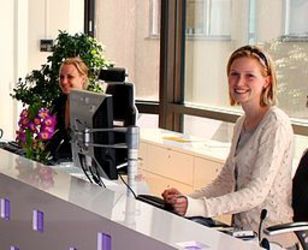 The key to your partnership will be the success you experience as a result of hiring such a company. A professional call center, equipped to handle your call volume and well versed in the focus of your business, will benefit your day to day business.
One size does not fit all
Before selecting a call center service, it's important to forecast the volume of calls your business generally receives. For example, a business with an extremely high call volume and large staff will require a highly developed call center. A properly trained staff, well versed in call distribution is imperative when choosing to outsource this service.
Keep in mind, that a larger call volume requires additional phone lines and receptionists. Find the right fit for your business, and discuss options before agreeing to a price. Many call centers will offer price packaging tailored to your specific needs. Expect to pay
Satisfying the customer
When choosing a call center, your main focus is a system that will meet business and customer expectations. Keep in mind whether or not your customers expect their call to be answered on the first ring, and how long is too long to wait on 'hold.' Although hold times may be inevitable for businesses experiencing high call volume, they should be kept to a minimum.
Choosing a completely automated call center may be less costly, but customers who expect personalized service may be put off by a completely computerized system. Depending on your clientele, automated systems could have a negative effect on your business. When given the choice choosing between an automated system or a live-person call center, your clients will opt for a personalized service.
The call center
One option, when adding a call center to your business, is to provide a designated area of the building for the call center staff. This is a great solution when you are ready to outsource the work, but still want the staff to be close at hand. There are a variety of remote call centers to choose from, that can be re-located anywhere in the world. Be sure that these remote services will be consistent with the quality and brand image you have established for your company.
Cost
Price packages can range from $99 per month, to $599 per month, depending on your needs and additional services. Call center services generally charge on a price per-minute or per-call basis. A per-minute structure is the most popular, as most business calls last longer than a minute. However, a per-call structure is more economical for business.
Automated systems are generally more inexpensive in this regard, as a bulk of the calls can be directed to voice mail, eliminating the need for a live person to answer the call. Other factors involved in pricing, are whether or not the operators will be making calls or taking calls.
Your choice
The goal, when choosing a call center, is to strike a happy balance between saving money and meeting customer expectations. In the end, a profitable, success business is what matters. A good call center service will provide an established point of contact, who can quickly rectify any problems and ensure that the training of the call center staff. Communication between you and your customers, and you and your call service, is imperative.
Satisfaction
When your business shows growth as a result of hiring a call center you'll be confident that you found the right match. Client feedback will keep you informed of how your call center is handling your business. A strong knowledge base of products and services, along with courteous and prompt phone calls, Your customers are your best judge of effectiveness and will gladly inform you of how you're doing. A seamless call center relationship will leave clients unsure if they are speaking with a company employee or an operator.
Ready to Compare Call Center Services Price Quotes?