Making a Partner of Your Call Center
Technology continues to transform the way people and businesses communicate. More and more large corporations are hiring call centers to manage their calls and taking advantage of the advanced benefits this provides.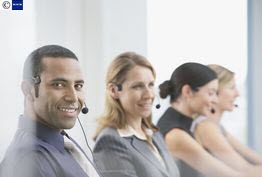 A standard call center is tasked with the responsibility of managing inbound and outbound telephone calls for clients, from a centralized workplace. Inbound calls that typically involve product inquiries from consumers, and outbound calls that range from market research, appointment scheduling, and billing. More advanced contact centers incorporate technology like cloud storage, email, online chat, and mobile applications to communicate with your customers. Call centers are also available as a premise-based technology, software as a service (SaaS), or cloud computing service.
Hiring a call center
When you're ready to hire a call center for your business, be sure to choose one that will to meet all of your needs. Whatever your business type, size, or location, be sure it is customized to provide you with the full benefits for your investment.
Improved customer service. With a proactive account management feature, a call center can assist you with maintaining current customers and finding new ones.
Training. Call center operators are equipped with knowledge about your business. Trained in the latest trends, regulations, and industry performance, they will enhance customer satisfaction.
Increased productivity. Fielding telephone traffic can be costly and time consuming for your existing staff. Hiring call center allows your staff to tend to other business.
Efficient. A growing trend among call centers is to implement attractive incentive plans, like recognition, cash, and awards, to ensure efficiency and pride in their work.
Quality service and professionally trained agents. Quality call centers provide their agents with comprehensive training, allowing them to develop the skills necessary to serve your customers.
Access to your account - anytime, anywhere. Advanced technology allows call centers to offer visibility tools to clients for generating reports or monitoring recorded calls.
Technical support. Call centers offer back-end support services like network engineering and administration, assisting with support services from troubleshooting to help desk-assisted instructions.
The benefits of a call center on your overall business productivity, will take some time to surface. In time, they will have a positive effect on your business and productivity. A quality call center will be your partner in business, not just a vendor. Partnering with a call center will help you provide the ultimate customer experience, while continuing to grow your business, and achieve your best bottom line.
Ready to Compare Call Center Services Price Quotes?