Tell Me More: Choosing a Laptop Projector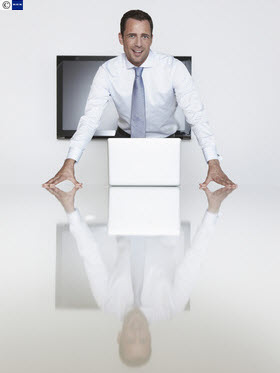 The right laptop projector is one of the best tools for the modern salesperson. Lightweight laptop projectors keep lugging to a minimum, while giving you the ability to give a polished, professional presentation.
Here are the basics of what to look for in a laptop projector:
Laptop projector weight
The lightest laptop projectors from a year or two ago were lucky to get under five pounds. Now, the latest models come in under three pounds; some affordable models, advertised as "LED pocket projectors" can weigh as little as 1.1 pounds. When shopping, remember that the listed projector weight won't equal what you'll be carrying: Ask about the total weight of the package, including the carrying case, cables, and other peripherals.
Also, while having a lightweight projector is important, don't get carried away. A difference of six ounces will hardly be noticeable when you add the projector to your laptop, suitcase, and other materials. You will pay a premium for the very smallest models.
Laptop projector brightness and resolution
In most cases, 2000-2500 lumens should be enough for an average on-the-road presentation, although larger conference rooms with bright lights may require up to 6000 lumens. (Fun fact: A lumen is measured as the amount of light a birthday candle shines within a square foot area.)
The two most common resolutions for laptop projectors right now are SVGA (800x600) and XGA (1024x768). Presentations with detailed images, HD video, or technical blueprints may require HD (1920 x 1080). You won't need more than that - do make sure that your projector and your laptop both run the same resolution.
Image quality can also depend on your projector input; for this reason, HDMI input is recommended.
Laptop projector features and usability
Most laptop projectors are straightforward and easy to use, even for a computer novice. However, investing in and researching additional projector features can make your next presentation even more professional to impress customers or clients.
Popular laptop projector features may include:
iPhone docking to stream directly from a smartphone.
Wireless projector compatibility; no cable input necessary.
Lamp-free projecting to eliminate the cost of replacement lamps.
Digital lens shift and keystone correction to provide more alternatives in projector placement.
Both high white and high color brightness measurements.
Portable projectors with USB flash drive compatibility; no PC needed.
Multiple on-screen menus with ease in navigation.
Remote control operation with built-in pointer.
You can further customize your laptop projector with a number of add-on accessories to support a presentation, including projector mounts, cables, and projection screens - available as pull-down, portable, electric, or fixed.
Final considerations: Laptop projector warranties
At a bare minimum, most manufacturers offer at least a one year warranty on projector models, with extended two and three year warranties available. Understanding the available warranty before you buy will help you to prepare for any technological issues or the need to replace a defective device in a worst-case scenario.
Taking into account weight, brightness, resolution, features, and warranty will help you to make the right buying decision in a laptop projector. If you plan to use a projector often for business meetings, hand-picking features to improve your presentation will ensure your money is well-spent.
Ready to Compare Projectors Price Quotes?