Introduction to Pest Control
From cockroaches and termites to birds and rodents, unwanted pests can wreak costly havoc on your home or business. Countless do-it-yourself treatments exist, including poisons and traps available at almost any home improvement store. But these solutions often only provide temporary elimination. In some cases, new offspring can hatch in a matter of days. And if the root of the problem isn't addressed, you'll be right back to square one.
Professional pest control starts by addressing the source of your pest problem. The provider you choose will select the safest, most appropriate form of elimination that will keep you pest-free for a minimum of three months (on average).
Licensed pest and pesticide inspectors undergo rigorous training, regulated by national and state bodies including the National Pest Management Association and the Environmental Protection Agency (EPA). This training enables them to use specialized equipment and provide certain pest control products that may not be available through standard retail stores. More importantly, it ensures they provide the results they promise and do so in a way that is safe to people and animals in the area, as well as the environment.
Pest control treatment process
Pest management regulates specific chemicals as well as certain types of pesticides. As you compare providers, one of the terms you'll hear used most often is Integrated Pest Management (IPM). We'll go into the specifics of the program in the Brands section. But it's important to know up front that these standards dictate the approach many providers now take.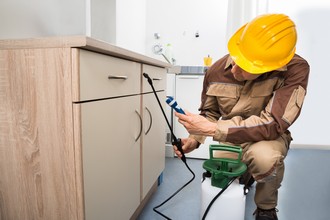 While each infestation will be a little different, the basic process of finding a pest control provider includes the following:
Identification: Many universities and county agricultural commissioners partner with the United States Department of Agriculture in a Cooperative Extension Service. The program offers identification and solutions for a wide range of common pests. Though not always the case, some infestations can be controlled simply by changing the way you handle trash, prepare food, or landscape your yard or surrounding area. In these instances, it may not be necessary to treat the infestation with chemicals or pesticides.
Contact pest inspector: If the infestation is not something you're comfortable with or capable of handling on your own, you'll contact a professional. Getting in contact with a top provider will ensure you have an inspector contacting you ASAP after submitting a request, this will ensure your premises are secure for your family or employees.
Site visit: Ask for a site inspection. Many top providers include this as part of their service, but some may charge for the site visit if you don't move forward with the extermination contract. The result from this inspection is that you'll have a written analysis of the infestation, where it's concentrated, and a plan of action for treatment, including any chemicals that will be used.
Treatment and follow-up (if necessary): In many cases, the exterminator will be able to perform the recommended treatment during the initial visit. For larger properties or more extensive problems, a scheduled time may be set for a team to complete the task. Most treatments are guaranteed from 30 days to 3 months. If the infestation reoccurs, a follow-up will be required.
Using this guide
This Buyer's Guide explains the difference between the types of services an exterminator will offer. We'll also let you know what to expect in terms of cost based on the square footage of your location and the type of pest you're confronting.
As you read through, answer the following questions:
What is the importance of working with a licensed extermination company?
What do the major providers specialize in?
Are there concerns about dogs, animals, small children, or the environment when it comes to pest extermination?
What "green" options exist for pest control?
Types and costs
Though many pests are incapable of causing damage immediately, rodents, termites, and even birds can eventually damage the property they infest. Depending on your line of business, any presence of flies, ants, or cockroaches is unacceptable. So it's advisable to call immediately after you notice the pests themselves or their residual signs, including dust, excrement, or debris from burrowing through walls.
Depending on the level of infestation, there are three different options for pest control:
One-time extermination
Recurring service
Fumigation
One-time extermination
Smaller infestations or pests that cause minimal damage such as common, non-poisonous spiders can often be taken care of with a one-time treatment. Although this may not completely eradicate the presence of that particular pest for good, it can often last for years.
One-time extermination services are often guaranteed for 30 days but are often not recommended for the more serious property-damaging pests including fire ants, termites, and wildlife. The reason is that these species tend to leave eggs behind, often buried deep within walls, cracks, or foundations. A one-time extermination service will typically catch all of the visible pests but may fail to penetrate deep enough to reach eggs.
As-needed extermination services are an extension of one-time service. Without requiring the cost involved with a recurring contract, they allow you to set up an account and simply call when pests resurface. This can be a cost-effective option for some homes and smaller businesses as it saves time involved with re-inspection.
Estimated cost: On average, you can expect to pay between $150 and $300 for one-time extermination services.
Recurring service
Consider for a moment that cockroaches have been around since before the dinosaurs. So for any of the more than 4,500 species of cockroaches on the planet, as well as flies, termites, ants, and bed bugs, a one-time extermination probably isn't going to solve your problem.
Recurring extermination services set up a service plan that routinely sprays to maintain control of an infestation. The frequency of the recurring service you select will depend on:
Your geographic location: Southern states often require more frequent service than northern states
Pest type and density: Cockroaches, ants, and silverfish require more frequent service than flies, birds, and rodents
Your extermination professional will advise you on the best frequency for your situation. But on average, most recurring pest control services are conducted on monthly, bi-monthly (every two months), or a bi-annual basis (twice a year). Among these options, bi-monthly service is often the most popular, especially for treating infestations of ants, silverfish, wasps, and other stinging insects. The reason is that most sprays are effective for about two months. Bi-monthly treatment ensures that any active pests are eradicated and also catches the offspring of eggs that hatch within that time frame.
It's worth noting that recurring service contracts often carry a guarantee between service points. If a pest should resurface between your dates of service, some providers will come out and take care of them free of any additional charge. When comparing providers, be on the lookout for this aspect of service.
Estimated cost: On average, you can expect to pay between $40 and $55 for monthly service, $70 and $90 for bi-monthly service (billed bi-monthly), and quarterly to bi-annual costs of $65 to $85.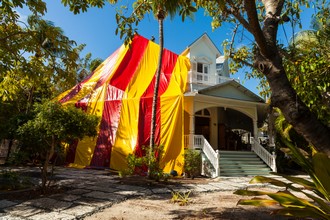 Fumigation
Fumigation is often the recommended course of treatment when the infestation is too widespread within the interior of a structure. Common examples include termites, cockroaches, and rodents.
In these cases, exterminators tent your entire home or building with fumigation tarps, sealing up most windows and access points (though it's common practice to leave some widows open for circulation). They will then use fans to circulate gas throughout the entire structure, allowing it to penetrate into areas that would otherwise not be accessible to an inspector.
Fumigation is typically a three- to four-day day process. Gas is released on the first day, ventilation on the second; and days three and possibly four are reserved for airing out the structure and checking for any pockets of trapped gas. During this process, only licensed inspectors with specialized breathing apparatuses are allowed inside the building. All people and pets have to vacate.
Estimated cost: On average, you can expect to pay between $1,350 and $2,800 for fumigation services depending on the size of your location.
Cost per square foot
How large is your home or facility? If you're trying to break down the cost of pest control by square foot, plan for the following:
1,000 to 3,000 square feet – $275 to $350 total or about $3 to $8.50 per square foot
3,000 to 5,000 square feet – $350 to $500 total or about $6 to $12 per square foot
6,000+ square feet – $650 to $800 total or about $7.50 to $9 per square foot
Pests
Pests don't know the difference between a home and a business - they infest them all with a relentless level of equality. But what does vary among them is the cost, with insects and similar pests that frequently crawl into bed with you commanding double or triple the cost of wildlife to exterminate.
Consider the following pests, weighing the cost of control versus the risks they represent.
Cockroaches
As already mentioned, cockroaches are tenacious to say the least. They tend to gather in areas with a prevalence of unclean surfaces or an abundance of loose or open trash. Kitchens and restaurants are two of the most common places. Far from harmless, cockroaches spread diseases including dysentery, gastroenteritis, diarrhea, and salmonella. Extermination costs average $300.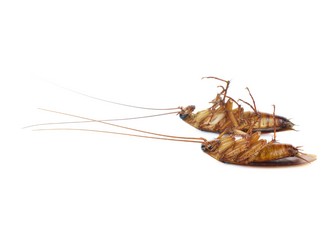 Rodents
From rats to mice, rodents tear up the interior of walls and burrow through the flooring, establishing nests that breed countless offspring. Both species also carry and spread additional pests such as fleas, worms, and mites. They are responsible for the spread of salmonella, typhus, and Weils disease through droppings and urine that are left in areas used for human food preparation. Extermination costs average $200 to $350.
Bed bugs
Among the most unsettling of pests, bed bugs are also one of the trickier to eradicate. Though they're not considered poisonous, their bites leave red welts that can cause allergic reactions in some people. Treatment often requires a three-stage process and a reorganization of the infested area, including eliminating or rearranging certain furniture or belongings. Extermination costs average $600 to $2,000.
Stinging insects
This category includes bees, wasps, and similar insects that swarm and sting when agitated. Most healthy adults can withstand up to 10 stings per pound of body weight and suffer only minor pain and discomfort that fades within a day or two. However, some people are allergic to the stings of these types of insects and may experience severe reactions that can be life-threatening. Extermination services for stinging insects are commonly advertised as "treatment, not removal," meaning they'll spray a nest but not take it from your property. Treatment costs average $200 to $575.
Wildlife
Snakes, squirrels, moles, skunks, bats, and gophers embed themselves in and around your home and property. Drawn to cool, dark places, their nests are commonly found in basements, attics, and storage areas that don't get a lot of foot traffic. Though snakes bites can be highly poisonous depending on the species, the real danger for most of the pests in this category is to your property. Bait and traps are frequently used to remove them. Extermination costs average $200 to $2,000, with most rates driven by the size of the pest and the difficulty involved in removing it. Pests that have nested in the interior of a structure (snakes and bats) are always more costly to remove than those outside (moles, squirrels, and opossums).
Termites
Though not poisonous, termites are by far one of the most costly pests on this list. With mature colonies that average in the millions, they can tear through one foot of standard lumber (2' x 4') in less than six months. In this time, they can cause significant damage to the siding, walls, furniture, and interior of a structure. Extermination costs average $1,200 to $1,700, not including damage repairs.
Flies
House flies, fruit flies, and horse flies are common throughout the United States. More prevalent in warmer climates and from spring to autumn everywhere else, flies are both a nuisance and a spreader of certain diseases, including salmonella, dysentery, and tuberculosis. Extermination is often focused on the handling of trash and food, making sure trash is contained and all fruit and similar items are kept off counters. Extermination is typically focused on aspects of sanitation and therefore negligible in terms of cost associated with professional services.
Birds
Pigeons and seagulls can nest in structures, blocking chimneys or ventilation ducts. Treatment often takes the form of prevention through products that include spikes, netting, visual deterrents, and ultrasonic devices. Available through a professional as well as many hardware stores, products range in cost from $20 to $240 for spikes depending on the length of the strip; $60 to $370 for nets depending on size; and $40 to $50 for visual deterrents and ultrasonic devices.
Pest Control Providers
Pest control companies often specialize in a particular type of service or supplement their offerings with added levels of service. Depending on your unique situation and whether you need pest control for your home or business, some brands may work better for you than others.
When comparing pest control services, whether it's a local provider or a national company, be on the lookout for their adoption of Integrated Pest Management (IPM). Equally applicable to homes and small businesses as they are to large industrial operations and agricultural applications, IPM standards address pest control through four steps:
Action thresholds: Establishing pest levels that, when met, require action. Levels are typically motivated by a threat to persons or property.
Identify and monitor: Pests are identified through provider resources or a Cooperative Extension Service that will then offer a proportional response to the infestation. This enables exterminators to avoid the use of unnecessary chemicals.
Prevention: This is often the first action taken by professionals with an IPM focus. By managing the surrounding environment (both indoors and outdoors), prevention can provide a highly cost-effective solution to pest control while all but eliminating risks associated with chemicals and pesticides.
Control: After passing each of the three steps mentioned above and failing to achieve the desired results, control methods are targeted and used in gradually-increasing steps to ensure the minimal amount of environmental toxins.
Leading pest control providers
We've included some of the major providers below. Though they provide a variety of individual services and specialize in various aspects of pest control for home and business, all of the companies on this page are similar in that they employ IPM practices.
Rentokil Pest Control
With operations in more than 50 countries, Rentokil is another dominant pest control brand. Offering specialized services for both commercial and residential customers, they're part of Rentokil Initial plc, which also includes Ehrlich Pest Control, Western Exterminator, and Presto-X, among others. This network of integrated expertise allows them to provide the strength and resources of a national brand with the personal touch of a local exterminator. They are also Green Pro Certified by the National Pest Management Association, a distinction that means their services represent the least amount of risk to people, property, and the surrounding environment.
Terminix
In business since 1927, Terminix has the distinction of being the first pest control provider to acquire a patent for termite control. They employ a range of experts, including entomologists and certified members of the Entomological Society of America. The depth of knowledge this provides enables them to stay at the forefront of IPM standards, focusing specifically on prevention through the removal of conditions that facilitate the breeding of pests. Among their notable services is EcoControl, a program that adheres to the standards of QualityPro Green and the Leadership in Energy and Environmental Design (LEED) program.
Orkin
Orkin has dubbed their IPM initiative "A.I.M.," focusing on prevention to reduce the use of pesticides and similar chemicals. In businesses since 1901, Orkin is one of the most widely recognized pest control brands. With more than 8,000 employees and 400 locations throughout the world, they supplement their pest control services with consultation on insulation and moisture control. Training is another key element at Orkin. Exterminators are schooled through their in-house certification program that incorporates credited class work through Purdue University.
Copesan
Copesan focuses on commercial accounts and, in particular, larger national organizations that support multiple locations. They have also developed processes that are geared to the needs of specific industries. Copesan maintains more than 325 service centers and is the largest pest control organization in North America, according to information obtained through their website. Their IPM practices are referred to as CARE, highlighting a commitment to Consistency, Accountability, Responsiveness, and Effectiveness.
Ecolab Pest Control
Ecolab is primarily focused on industrial treatments, specifically including the food & beverage and hospitality industries. They are a subset of Ecolab, a large conglomerate that offers services designed for a wide range of large industrial specialties including foodservice, food processing, healthcare, and the industrial oil and gas markets. With pest control services broken into three levels of service (Base, Premium, and Premium Plus), you can choose based on the type of pests and the areas you need to control. Ecolab also provides a variety of educational tools that can be used to augment your employee training.
EcoWise
Based out of Oakland, CA, EcoWise has established a reputation for providing one of the most comprehensive non-chemical pest treatments available. However, they don't provide the services directly, but rather certify those who do. EcoWise-certified companies must be licensed for Branch 2 pest removal by the Structural Pest Control Board of California and adhere to EcoWise's guiding principles. Among the more notable of these principles is the use of pesticides according to necessity, not a service schedule.
Hiring Tips
In addition to the differences between providers, there are distinctions to be considered when hiring a pest control professional. These include:
Are there concerns about dogs, animals, or small children when it comes to pest extermination?
Treatments for insects and other small pests use chemicals and pesticides in lower doses. These are considered safe for adults and most household pets. The method used to distribute the pesticide produces a spray that passes through the air rather quickly, settling on the surface of floors, walls, and objects in the room. This prevents the inhalation of the chemicals, posing no threat to people or animals through surface contact.
That said, children can be susceptible to some pesticides. According to the EPA, "children's behaviors, such as playing on the floor or on the lawn where pesticides are commonly applied, or putting objects in their mouths, increase their chances of exposure to pesticides." If children have been playing in areas that you suspect may have been treated with pesticides, wash their hands, toys, and any other objects that have come into contact with the treated surface. Also watch for posted signs that warn of chemically treated lawns and other areas, avoiding them whenever possible.
While pesticides are relatively harmless to pets, bait and traps used for the extermination of wildlife and rodents can also attract dogs, cats, and other household animals. If you have free-roaming animals, prevent accidental poisoning by keeping them away from areas with active traps . Also ask your neighbors to warn you if they plan on using similar pest control methods. Even if a dog or cat does not eat from a trap directly, they can still suffer from secondary poisoning if they eat a poised rat, mole, or other pest.
What options exist in terms of "going green" with pest control?
More than almost any other industry, the practice of pest control is highly focused on providing environmentally sustainable products and services. The adoption of IPM principles, taken on by most of the major providers, is an indication of this desire. Most IPM programs advocate prevention above all else, using pesticides only when preventative measures don't achieve the necessary result.
But pesticides aren't the only option. Pest control manufacturers have produced a number of products that are non-toxic yet work to eradicate a specific pest through a targeted reaction. Products such as microbial insecticides, insecticidal soaps, and insecticidal oils work by causing the target pest to become sick, commonly affecting the digestive system. These products are not toxic to humans or animals. However some of them may damage the foliage of crops, plants, or trees – so always read the directions carefully before application.
What is the importance of working with a licensed extermination company?
Given the nature of the chemicals used in many pest control treatments, licensed professionals are a must. It's also worth noting that in many states, pest control companies are required by law to be licensed and carry an identification card with expiration date. This includes companies and individuals that provide services to households and businesses as well as those that are primarily landscaping professionals but also offer yard pest control.
In addition to the standards set forth by the EPA, a licensed provider has demonstrated their knowledge of and adherence to the safe application of pesticides. This includes application techniques, preventing exposure, and cleansing techniques should exposure occur.
Most exterminators have also trained with the company they represent for a period of time (three months on average). This provides experience with a range of different scenarios and also ensures they have a working knowledge of the company's approach to specific pest control issues.
What is the difference between residential and commercial extermination?
When comparing pest control companies, it's important to note that not all of them provide services to homes and businesses. While most companies offer IPM solutions based on prevention regardless of the location, the types of pests encountered in a home often differ slightly from a business. For example:
Residential pest control is designed for houses, apartments, condominiums, and related living spaces. Within these areas, common pests include bed bugs, termites, rodents, and spiders.
Commercial pest control serves businesses and facilities of every size. Depending on the line of business, these scenarios tend to have different needs. As a result, commercial treatments are frequently designed to be industry specific, catering to niches that include food & beverage, food service, hospitality, healthcare, pharmaceutical, schools, and retail operations.
Most major providers offer both types of service. Those that do specialize, tend to specialize in commercial applications.
Ready to Compare Pest Control Services Price Quotes?