Sales Force Automation Introduction
Providing your staff with "the right tools for the job" is a mantra often invoked for technology-reliant staffers like developers or designers.
It also applies to your sales team - and this does not just mean giving them a fancy telephone. To get the most out of your salespeople, you should consider sales force automation (SFA) software.
Sales force automation software makes your sales efforts more efficient by combining very specific sales-focused tools with a wide range of features commonly available in separate pieces of software. By bringing them all together, sales force automation applications simplify management and tracking of your sales efforts, give you a better understanding of your marketing successes and weakness, and facilitate better teamwork and sharing of information throughout your organization.
In this BuyerZone Contact Management Software Buyer's Guide, we'll show you how to select and evaluate both sales force automation software and sellers. Once you know what to look for, BuyerZone can help you find SFA sellers in your area.
Benefits of SFA
Installing SFA software can solve many business needs. One of the keys to ensuring that the software is actually used is to focus your efforts on addressing one particular challenge. lifts to do.
The most common reason businesses opt for SFA is to give their sales managers more control. With an SFA system in place, managers can carefully track their sales team's activities through the entire pipeline. This is not a "big brother" type of application - sales managers already know which employees are selling and which are struggling. However, with the detailed tracking SFA provides, managers can locate choke points in the sales process and work to overcome them.
Another common business need addressed by SFA is creating and implementing a consistent sales process. By defining a series of steps (e.g., follow-up calls at specific intervals, sending demos or literature) for each sales rep to follow, you help standardize your best practices and ensure that important steps are not overlooked.
Other benefits to SFA:
Improved collaboration - Your salespeople will be better able to work with each other, your sales managers, and if appropriate, other departments, thanks to built-in workflow and routing, shared contact databases, and improved reporting.


Enhanced sales productivity - You could see 15% to 35% gains in sales productivity due to improved efficiency and better targeting of leads. This increase is larger in sales organizations that deal with lots of paperwork or high volumes of prospects.


Improved reporting - SFA systems typically include reports that analyze revenue, forecast opportunities, rate sales campaign effectiveness, and track each sales rep's success.


Prospect security - An SFA system will make sure that if any of your sales reps leave the company, you will still have detailed information on all their leads and clients.


Repeat sales opportunities - Existing customers are often a great source of new sales. SFA systems can help you capitalize on this opportunity by improving ongoing communication.
CRM vs. SFA
Customer relationship management (CRM) and SFA systems are often confused. Here are some tips on when they're appropriate.
With fewer than five salespeople, you can probably get by with an off-the-shelf contact management application for $100 or $200. These systems are good for handling a database of customers and prospects and simple scheduling of meetings or check-in calls. They do not include the reporting and workflow features that make SFA systems so valuable, nor are they customizable. If you go this route at first, make certain that you do not continue to use an under-powered or inflexible solution just because it's already in place.
The next tier up is implementing your own solution, using SFA software like industry leaders Goldmine and ACT. You can easily purchase the software and install it yourself - but you will either have to live with the built-in reports and workflow options, or learn how to customize it yourself. This is an economically sound choice - until you start figuring in the time it takes your staff to learn and optimize the system. Many businesses that try this route find themselves turning to consultants to customize the software to fit their needs.
If you want an SFA system that is customized to your business, you should turn to a seller who specializes in providing tailored sales force solutions. These sellers build their products using SFA platforms like Goldmine and ACT or with enterprise-level software like Siebel. Whatever engine is used to power the solution, the seller's expertise in creating a solution that's right for you is most important.
If your business plans call for rapid growth, it makes sense to go with an SFA system that provides more than you need right now, with an eye toward the future. You'll pay considerably more to expand a limited system later than you will to purchase that extra capacity at the start.
Some SFA purchasing decisions are made because an existing system is failing - or never really worked correctly to begin with. Expanding sales teams can overwhelm basic contact management software, and even million-dollar custom packages can rapidly fall into disuse if the sales team fails to latch onto the new software.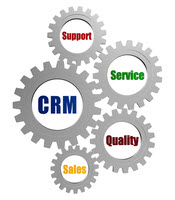 Do you really need CRM instead?
Sales force automation combines business information and process management into one compact package. It includes campaign management, lead assignment, contact management, information sharing, proposal generation, pricing and configuration engines, calendars, to-do lists and opportunity reporting.
You should make sure you understand the difference between SFA and customer relationship management (CRM) applications. CRM packages are designed to handle every aspect of a customer's interaction with your company, including the sales process, order history, support questions, and any other communication they have with you. SFA is really a subset of CRM, focused solely on the acquisition phase of the relationship.
CRM systems are more complex, more comprehensive - and considerably more expensive. For that investment, though, they can provide outstanding business process improvement. If you are interested in CRM, we can connect you with CRM sellers in your area.
Common SFA components
Asset manager
Reserve and track LCD projectors, laptops, training rooms.


Campaign Management Sales campaign design and tracking, email generation, mail merge, multiple channel support.


Contact Management Organize and manage multiple contacts per company, order history, process tracking, integration with PDAs.


Lead Management Lead assignment and management, response capture and analysis for web or mail marketing, reminders, transfers, web integration.


Knowledgebase Stores product brochures, pricing, other literature. Automates sending information.


Opportunity Management Forecast, track, and report on opportunities.


Task Management Manager and employee editable task lists, appointment scheduler, workflow rules and processing, reporting.
ASP vs. Client-Server SFA
An important decision to make when choosing sales force automation software is where you want the software hosted. If you run it in-house, the solution is usually referred to as a client-server system; seller-run applications are referred to as application service provider (ASP) solutions.
Client-server solutions
Most of the software used today is locally hosted - the program runs on your computer and stores the data either on your hard drive or on a network server in your office. This familiar setup gives you the greatest control over every aspect of your SFA system.
Having this total control can be a drawback, though. It takes considerable expertise and effort to maintain the customer information database and keep it secure - and often requires significant expense for consultants and hardware. In addition, keeping the data in-house gives you the responsibility of making regular backups in case of a system crash.
Client-server proponents point out that SFA applications are built on proven software that is highly stable and requires little database maintenance. And you can create scheduled backups that copy your data to off-site computers fairly easily. (Interested in remote backup services? Get a free quote today) Plus, there is the bonus that because the data is local, overall application speed tends to be higher, especially when dealing with large amounts of data.
If you choose a client-server route, you are more likely to pay a lump sum to buy your software outright, then a small ongoing monthly fee for support. You'll also have to buy a high-capacity server to run the application, which can add a $5,000 hardware bill to the total cost of ownership of your SFA application.
ASP solutions
In an ASP solution, both the application and data reside on the supplier's servers, and your sales staff gets access through a regular web browser. In some cases, client software on your computer is used instead of a browser, but the critical data still resides on the seller's computers.
Both ASP flavors provide the same main advantage: the database is maintained by IT professionals at the seller's office. Multiple layers of firewalls and security, uninterruptible power supplies, fail-over (instant switching from one computer to another in case of a crash) and reliable backups are all standard operating procedures for these sellers - and they combine to virtually guarantee that your data will always be secure and available.
The biggest risk of online solutions is that they require an active Internet connection. Since no Internet connection works 100% of the time - your internal network may fail, your ISP may experience an outage, or an Internet worm may cause congestion - you may not be able to access your data at all times.
With online providers, payment is more likely to involve a small setup fee and then ongoing monthly payments based on usage.
Which is right for you?
Right now, many business executives are more comfortable with in-house solutions. However, next-generation IT staffers who are most familiar with the benefits of ASPs are gaining more of a voice in many companies, so the balance is expected to swing towards ASPs in coming years. Here are some areas you should consider:
IT staff. If your business has an in-house IT resource, a client-server solution may be your best choice - but make sure you involve the IT staff in the purchasing decision. Smaller businesses with little to no computer expertise are probably better off choosing an online solution.


Customization. ASPs can make basic changes in appearance and functionality in no time, in effect giving you more control over the application than you would get from an internal IT team. However if you need extensive customization and development - more than just naming fields and changing screen layouts - client-server can provide more flexibility, although you will likely wind up paying a premium for the extra work.


Sensitive data. If your sales information includes sensitive data such as Social Security numbers, banking records, or other information that you are legally required to protect, you may want to keep it in-house so you can be directly responsible for it. However in some cases, ASPs can provide better security than you could in your own data center, thanks to more layers of security and larger IT staffs.


Distributed sales force. ASPs are definitely the right choice if you have a widely-distributed sales force: your entire team will have access to the same data and applications from wherever they are, without any hassles of logging into the company network or setting up VPNs.
Since both options provide secure, reliable tools for your sales force, a final way to make the choice is to consider which of the potential downsides you fear more: being unable to access your data while your Internet connection is down, or losing data and time because your server crashes.
Evaluating Sales Tracking Software
With so much riding on your sales tracking software, it is important that you try it out yourself. Come up with a list of your more frequent sales activities and use that to evaluate different sales tracking software packages.
We recommend conducting your evaluation with and without the seller's sales rep. It is to your advantage to have them looking over your shoulder so you can ask questions about what can be easily customized and to let them show you the bells and whistles of the sales tracking software; it is to your advantage to have some time alone with the sales tracking software so you can simply run through your common tasks and get a sense of how easy they are to accomplish - without a salesman looking over your shoulder and prompting your actions.
When investigating ASP solutions, you can often get a free 30-day trial that will allow you - and your sales reps - to spend some time getting to know the application.
Demos may be harder to come by for client-server systems. Some sellers will give you a standard version that you can install and try out, just like an ASP version. Others may find it too complicated to set up a full working version before you commit to purchasing it. In those cases, a salesperson may walk you through a "canned" demo that simply mocks up the sales tracking software, or may provide you with a video or web cast that demonstrates how the product works.
Customization
Any system you buy will require some work to make it match your unique sales process. There are two different types of work you'll need done. First is simple configuration: creating data fields to match the customer information you collect, setting up and naming the steps of your sales process workflow, establishing user accounts, incorporating your sales literature, and other basic adjustments. These changes do not alter the way the sales tracking software works, and are typically changes that your administrator should be able to do on his own.
True customization is a more complicated process, such as writing scripts that add new functionality, or creating connections to other specialized sales tracking software applications. You may or may not need this level of customization, but be sure the sellers you interview are aware of any potential customization needs so they can include that in their pricing.
Ease of use
Of course everyone wants their sales tracking software to be intuitive and easy to use. However, "ease of use" is somewhat subjective. Here are some specific components you should consider:
Information display - Well-designed applications present a large amount of information in a clear and organized manner on the main screen, allowing users to see more detail without clicking through to multiple screens.


Number of clicks - Compare how many clicks it takes to update a record, create a new prospect, or fulfill an information request.


Logical flow - Do different parts of the application connect in easy to understand ways? Does the workflow match yours?


Flexible navigation - Consider real-life situations: what happens when a user is in the middle of editing a record and gets another phone call? Does the system allow for quick jumps from one spot to another, outside the typical flow of work?


Built-in help - Users will always have questions. How much contextual help is included? Are there pop-up "tool tips" to explain various buttons? Is the "F1" help system . helpful?
Having an easy-to-use application is critical to successful implementation. If your salespeople do not feel comfortable using the product, they may never get the full benefit of it, no matter how much training you provide - and your ROI will diminish.
Reporting
Reporting and statistics are a key component of SFA applications. Most solutions include several standard reports. In many cases, these basic reports provide sufficient detail, and a built-in editor allows you to make minor adjustments to the structure and look of the reports. Compare the standard reports to your existing reports and you will quickly be able to spot any important omissions.
For more in-depth analysis and reports, there are two common approaches. Some SFA systems are linked to industry-standard reporting systems, such as Crystal Reports. Others allow you to export the data and do the analysis in a separate spreadsheet or database.
Integration
The sales tracking software should either include or be easily integrated with other common applications, such as a task/reminder system and an email client. Depending on your company's standards, you may want a system that can export data or records in Microsoft Word, Excel, or Outlook format. And for the best integration, look for a system that can connect to your accounting software.
Reliability
Salespeople are interested in a sales tracking software system that works as it should all the time. What might seem like a minor annoyance during evaluation can cause salespeople to stop using the application altogether.
Choosing an SFA Seller
Choosing the right SFA seller to customize your application is just as important as choosing the right software. Here are some ways outstanding SFA sellers distinguish themselves.
Emphasis on learning your business
The SFA application will need to match your sales process. Look for sellers who ask detailed questions about the way you work today, then explain how they can customize their system to your needs. Be wary of sellers who promise that their system will fit your business out of the box.
High quality customer service and support
If you ever have questions or problems with your SFA system, you want a seller who is able to respond quickly and resolve the problems. Ask about service level guarantees and ongoing support costs.
Relevant experience
As with any major business purchase, potential sellers' experience is important. However with SFA systems you can go one step further: investigate how much experience the seller has in supplying systems to other companies in your line of business. Every industry has different sales tactics and needs, so a seller with experience serving your industry may have a distinct advantage.
A developer's experience with the software that runs their application is also important. If they build on an industry-standard engine like Goldmine, how familiar are they with that package? If they build their own from scratch, how long have they been releasing their own software? Ask about the seller's commitment to the technology in either case.
Check references
You can learn a lot by visiting one of the seller's current customers. Ask to be put in touch with a local business similar to yours so you can bring your team for a visit. During your visit, have these questions ready:
Why did you get this software? What was the primary problem you were trying to solve?
How responsive is the seller when you have problems?
Does the software do everything they said it would do?
Were they able to customize the application to your specifications?
Did the seller provide adequate training?
How much downtime have you experienced in the last year?
If you were starting over, would you work with the same seller again?
What do you like least about the program?
If you can't get a site visit set up, you can still ask these types of questions in a phone call. Calling three to five references will give you the broadest understanding of the seller's strengths and weaknesses.
SFA Software Installation and Training
Even if you choose the right seller and the right product, the success of your SFA project is far from guaranteed. The right SFA software implementation ensures the system is tailored to your organization's specific needs, and proper training is essential to getting your sales team up and running.
Training and rollout
Once the system has been customized (and installed on your servers, in the case of a client-sever system), your SFA seller will conduct training to teach your salespeople how to use the new system. In some ways, training is the most critical step of the entire process.
Training can range from minimal - an hour or two over the phone plus some manuals - to extensive, where the seller brings trainers to your office for multiple-day training classes. Many sellers only do phone training. While many people prefer to learn in person, the advantage of phone training is that the users are at their own desks, using the actual system in the right environment, without the costs of bringing trainers in.
On the other hand, if you choose a local seller who does on-site support, having someone who can look over people's shoulders, answer questions, and troubleshoot any rough edges for the first day or two can be a big plus. Many sellers offer multiple training options, including phone, webcasts, on-site, and classroom training. Work with your seller to get the training you feel most comfortable with.
One tactic that has proven successful for several BuyerZone customers is to train one or two "superusers" first. Superusers are those people in any organization that simply are more comfortable using new applications, and often become the first person their peers turn to with basic usage questions. By training a couple of superusers, the seller can work very closely with them to make sure that all the configuration and customization work matches expectations. Once the superusers are on board, the training is rolled out to the rest of the sales force, and the superusers become the first line of support for their coworkers.
Ongoing support
For the first 30, 60, or 90 days, you should get free telephone support for your new system. Most sellers will include this in the contract. Some will extend the support out to a full year; others will charge a annual support fee. You should inquire about different levels of support for user questions and administration issues, as well as policies on upgrades and expansion.
Sales Force Automation Pricing
Pricing should not be your most important consideration when comparing sales force automation systems. The system will pay for itself in time through increased sales, so you should be making sure you get a system that truly meets all your needs. It is particularly important that you have confidence in the seller you choose.
That said, we can still provide some basic guidelines. ASP based SFA systems are priced per user, per month, and can range from $50 to $100. Client-server solutions are typically priced $200 to $1000 per license plus an annual support and maintenance fee. You can expect volume discounts - the more seats you purchase, the better pricing you will receive. Basic contact management software can be found for under $100 per user.
These per-user charges are just the tip of the iceberg, however. Pricing for customization, installation, and training varies considerably. Some sellers charge higher per-user fees and simply include all the setup work at no extra charge. Others may lowball the per-user fees, and charge more for training and customization work. Because of these differences, it is important to make sure that the seller gives you a complete breakdown of all the costs associated with getting you up and running.
Other pricing elements to be aware of include total monthly minimums - some sellers are not interested in deals worth less than $1000 per month - and per-call support charges. Make sure to carefully review all pricing details before making any decisions.
Contact Management Programs Tips
Whether you chose a full SFA system or more basic contact management programs, here are a few tips to consider:
Expect customization work.
Do not be afraid to buy a contact management program that has to be configured for you. Because flexibility is so important to these applications, many are designed to be easily customized. It will be better for your business to spend a little extra for a custom solution than to try to force-fit an out-of-the-box solution.
Keep it simple.
Sales managers and executives often over-complicate requirements. Be sure to include a couple of sales reps in your planning and evaluation process to make sure you stay focused on your core needs.
Add a line to your budget.
You will incur ongoing costs whether you choose the client-server or ASP contact management program - make sure you have money and staff time budgeted to maintain and improve the system
Compare apples to apples. When reviewing multiple companies, make sure you compare similar services and dealer attributes. When looking for the right company, find out if they can offer what you need and then determine who can do the job the best.
Ready to Compare Contact Management Software Price Quotes?