How to Buy a Hosted Phone System
By Sylvia Rosen
If you are a business that is looking to make a mark when it comes to your customers and clients, choosing to get a hosted phone system is often a great choice. With the ability to make a business appear larger than it really is, improving customer response, increasing efficiency and boosting the bottom line, getting this type of system is a very easy choice.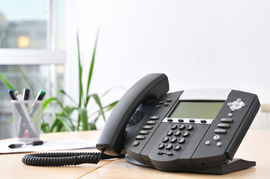 How hosted phone systems work
A hosted phone system is often compared to PBX, or private branch exchange systems. These, however, are IP based and allow the voice communications to go through a computer network. When using a hosted phone system, you will be able to lease basic equipment and pay a low monthly fee to the hosting company.
This equipment usually includes a router, which will connect to the local network of the hosting company, and sometimes a private link for added security. When a call is made from inside of the company, it is connected via the router to the central hosting office where it is processed. The call is also transmitted via Voiceover Internet Protocol (VoIP) when appropriate. If calling a traditional phone, the call is routed to the regular phone network.
Pros and cons of a hosted phone system
There are many advantages to having a hosted phone system, with the three biggest advantages being cost, scalability and features.
Cost - Upfront costs for this type of system are typically much lower than choosing to buy new phone hardware. The hosting company will be responsible for upgrading the technology in this case as well, so you won't have to worry about upgrades, which can be quite costly over time. Typical costs of a new PBX based system can run as high as $3,000 and costs run an average of $8-$9 per user per month. A hosted system costs roughly a third in monthly costs.


Scalability - This is another benefit of going with a hosted phone system, particularly when a business may suddenly need to add more phone lines. With this system, the hosting company can handle this request with very little effort.


Features - There are great added features to these systems that you can't really get with other types. Some of the features include auto attendant, soft mobile, virtual numbers, updates to desk phones and follow-me calling. This makes a hosted phone system a very powerful choice for a small price.
Though these advantages look great, as always, there may be some disadvantages as well:
Lack of control - When your phone system is hosted offsite, you will lose the control you have over the system. Everything will be housed off site, so you will not be able to have that hands-on experience.


May need complete upgrades - Though most of the hosting firms out there will take care of network standards, if you choose a host that has its own protocol, you may need total and complete upgrades should you ever change.


Could go down - As with all internet connections, there is always the possibility that your connection could go down at any time. If your business needs a phone that is available at all times, this may not be the system for you.
The thing to remember is the more you add to any phone system, the more your system will cost. Adding traditional, analogue phones will cost more per user, the same is true with a PBX or VoIP system. The biggest advantage with VoIP, or hosted systems is the ability to control those costs more effectively.
Ready to Compare Hosted PBX Phone Systems Price Quotes?