Business Communications Thrive on PBX Phone Systems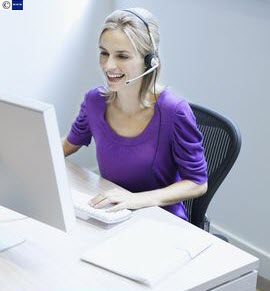 From their simple beginnings in the 1960s, Private Branch Exchange (PBX) phone systems have taken leaps forward to adapt to the changing needs of modern business. Intelligent business communications require not just any PBX telephone model, but one that ensures seamless connectivity within and outside enterprises.
The need for PBX
Increasing mobility and continuing technology advancements are driving businesses to find communication solutions that meet their needs. When interfaced with the Internet in an IP, or Internet Protocol, mode, PBX networks significantly improve business communications and collaboration as people virtually communicate with each other face-to-face wherever they may be.
How big does it need to be?
When buying a PBX phone system, business owners need to make sure they're getting enough capacity without overpaying. It's vital to know your requirements in advance, so you're in a better position to negotiate with vendors. These two categories will determine the size of the system you need:
Lines. Also called "trunks," lines are the total number of outside phone lines used your company will use.
Extensions. Extensions refer to every device in your office that needs to connect to the phone system. Most will be telephones; however, you also have to count fax machines, credit card terminals, modems, and any other equipment that requires a phone connection.
Most PBXs define size in terms of "ports," which are the total number of connections you can make to the system. You have to take into consideration any outside lines and internal extensions, as well as phone system accessories — these include voicemail or automated attendants.
Even if a PBX will be able to handle your current phone traffic, you need to think toward the future. Will it be able to handle your needs as the company grows? Another benefit of PBX systems is that they allow you to increase capacity by adding ports easily and cost-effectively.
Which features does your office need?
PBX systems usually provide popular extras such as an auto-attendant, dial by name or extension, conferencing, voicemail, and music on hold. For additional costs, you can add advanced features such as computer-telephony integration (CTI).
These features are important, but it's also vital to make sure you can access them easily. No employee wants to spend tons of time learning how to use a phone system, so make sure that learning these functions is a simple, intuitive process.
Pricing
When you're buying a phone system for your business, make sure you're thinking in terms of "total cost of ownership," or TCO. Focusing solely on price is often misleading: reliable, expandable systems may be pricier for each user up front, but their long-term savings make them worthwhile.
For larger PBX phone systems, total prices start at roughly $800 per user, but usually wind up more in the $1,000 per user range. Remember, also, that there are significant economies of scale: very small offices will find it hard to stay under $1,000 per user for any system, and companies with 100 or more employees save considerably.
Ready to Compare Business Phone Systems Price Quotes?