Real-world Phone Systems Prices From Recent BuyerZone Users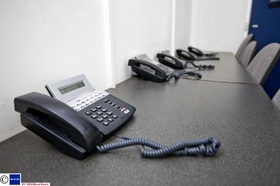 Every year, BuyerZone helps over 10,000 businesses buy phone systems. Here's a sampling of the prices they paid, as reported to us.
Remember that you may have to pay an annual fee for maintenance and service of your phone system. Some dealers may include that cost in the purchase price, as some of these buyers mention, but others may invoice you annually.
Very small phone systems
Our buyers with fewer than 10 employees report prices from about $2,000 to $5,000. These also include voicemail and auto attendant phone features.
"DS2000 NEC telephone system. 5 phones and installation: $2,200."

-- Manufacturing, Colton, California

"$1,915 for a Nortel Norstar CICS with Call Pilot 100 voice mail, caller ID, and five phones (Nortel T7316E)."

-- Lawyer, San Francisco, California

"$4,500. Merlin Legend, 15 phones, 8 lines, Voicemail, auto attendant, hold music."

-- Marketing consultant, Parkville, Maryland

"$2,399 for switch, voice mail, and 8 telephones."

-- Mortgage lender, Orlando, Florida

"$4,933, nine display speaker phones, voice mail, auto attendant phone system, remote access, unified messaging, caller ID, radio (for music on hold), installation and perpetual service, maintenance and back-up of the system."

-- Business services provider, Pasadena, California

"$3,500 with individual voice mail and 8 phone lines. They also worked with the local phone companies and helped set up the lines."

-- Retailer, Miami, Florida

"Norstar system with voice mail - 5 handsets, 5 year parts and labor warranty for approximately $2,720."

- IT consulting firm, Houston, Texas

"Phone system, maintenance, speakerphones, voicemail systems, installation, programming, and training for $4,864."

- Mortgage Company, Springfield, Missouri

"Starplus STS - 10 phones, 4 lines, 2 analog lines. Installation and training. Recording voicemail, etc. Warranty - 10 years. Approximately $5,500."

- Advertising agency, Downers Grove, Illinois

"Total system: $3,750. Includes 4 Toshiba 10-button phones, cabinet, CIX processor and expansion card for up to 6 lines and 16 extensions, 4-port voice processing unit, and battery back-up. Also includes 2-year parts and 1-year labor warranty."

- Strategic consulting firm, Alexandria, Virginia

"We got NEC IPK II System - 8 outside lines and 8 phone sets for $2,348 (including a $789 BuyerZone discount) with installation & training included and 1-year warranty on parts and labor.

- Insurance company, Philadelphia, Pennsylvania

"NEC, 9 phones, 3 VoIP phones, intercom system, fingerprint door unlock system, recording software, etc. for approximately $10,000."

- Law firm, Edmond, Oklahoma

"$4,650 includes a small business phone with 8 phones (DX-120), voicemail system, 3 year service contract, installation, training, backup system."

- Equipment Sales, Cincinnati, Ohio

"$3,895 and I got 8 phones (AT&T) and voicemail and other bells and whistles too new for me to list. Very pleased. Included installation and service warranty."

- Real estate company, Pryor, Oklahoma
Small phone systems
Businesses with 10 to 20 employees that need only basic phone services such as direct dialing, voicemail, and music on hold can usually find adequate systems for $3,000 - $10,000.
All of these buyers reported getting voice mail with their phone systems, and most included auto attendant phone and music on hold features as well.
"$3,950. 9 phones, voice mail, automated answering."

- Real Estate Office, Bellingham, Washington

"$6,000 -- 16 phone system."

-- Credit Association, Trevose, Pennsylvania

"We paid $3,620 plus installation for the phone system upgrade."

-- IT consulting, Salem, Massachusetts

"$6,200; basic voice mail system, conference phone, 10 6-button phones; 14 18-button phones; 1 34-button receptionist phone; backup battery, surgemax, installation, etc."

-- Physician's office, Newburgh, New York

"$5,000 entire phone system hardware, service contract, and line set up."

-- Church, Kissimmee, Florida

"Toshiba, 4 lines, voicemail, 12 phones, 1 dual speaker phone, 5-year warranty (parts & labor) for about $8,000."

- Construction company, Medfield, Massachusetts

"About $10,000 for NEC Aspire system, installation, training."

- Non-profit business, Columbus, Ohio

"We paid $5,800 for 13 phones (1 reception, 2 wireless access points.)"

- Outbound Call Center, Portland, Oregon

"$12,378 after tax. That includes 22 12-button phones, one 24-button phone, Panasonic TDA-100 Digital Superhybrid telephone system, KX-TV A50 4-port/4-hour voicemail system, 2-hour battery backup, with installation and training."

- Consulting Firm, Emeryville, California

"$4,838, Toshiba CIX 40 telephone system for 6 company lines and 16 digital stations including Toshiba cabinet, expansion card, (3) 20-button digital speaker display phones, nine 7-button phones, voicemail system with 4 ports and 20 hours of storage. No service contracts. Promotion included one free short range cordless phone."

- Accounting Firm, Sullivan, Indiana

"$4,675. Eight 3rd generation phones, 2 large screen phones, auto attendant, 3-key extension unit. 6 lines."

- Government office, Fairmount Heights, Maryland

"Roughly $7,500. Includes six handsets, a Polycom conference phone, licenses for integration with Microsoft Outlook, VoIP setup, training, and 5-year product warranty."

- Integration Services, Monterey, California

"About $7,100 for 10 34-button phones (3 of which are upgraded), 4-hour voicemail capability. Can handle 10+ lines, cabling for voice and data, 2-year warranty."

- Law Firm, Carle Place, New York
CTI and mid-sized systems
The most expensive phone system purchases involve larger systems or computer telephony integration (CTI). CTI is the technology behind applications such as "screen pops," the automatic display of callers' information as calls are answered.
These larger systems all include voice mail, messaging on hold, and auto attendant. They cost tens of thousands of dollars, often running around $1,000 per extension.
"$18,000. 25 phones, 3 Engenious cordless units, and a 6-speaker paging system." (20 - 29 extensions, CTI)

- Manufacturer, Gearhart, Oregon

"$41,000 for phone system, voice mail, PoE switches, cabling, training, 3 years of support." (50 -69 extensions, CTI)

-- IT consultant, Chicago, Illinois

"$32,000 - Phones, supporting hardware, support software." (20 - 29 extensions, CTI.)

-- Medical data provider, Nashville, Tennessee

"$14,000 - 12 phones, system software, etc." (10 -14 extensions, CTI.)

-- Shipping company, Millbrook, New York

"$40,000 - hardware, software, wiring." (30 - 49 extensions.)

-- Publishing consultant, Englewood, New Jersey

"Approximately $5,000, includes phones, installation, and training." [20-49 employees]

- Government office, Burdett, New York

"$47,980 for 14 digital phones and PBX/key system. Full installation." [50-99 employees]

- Construction business, North Las Vegas, Nevada

"$12,000 - this included 19 Starplus STS handsets, a PBM, and installation and service of total system." [20-49 employees]

- Insurance company, Layton, Utah

"ESI: voicemail, VoIP, presence management, and access control for about $18,000." [50-99 employees]

- Agriculturist, Cedarburg, Wisconsin
Want more information on choosing a phone system? Read our Small Business Phone Systems Buyer's Guide. For hosted PBX phone systems without the typical hardware and installation process, read our Hosted PBX Phone Systems Buyer's Guide. To review in-depth phone system company profiles, use our instant provider comparison service.
Information was provided by BuyerZone.com users. Quotes have been edited for clarity only.
Ready to Compare Business Phone Systems Price Quotes?