BYOD Business Concerns
The term BYOD means "bring your own device" and currently refers to smart phones, tablets and compact laptops. These devices are often used in the workplace and are connected via the company's network connection. These connections can be established on a secure or non-secure WiFi or sired connection.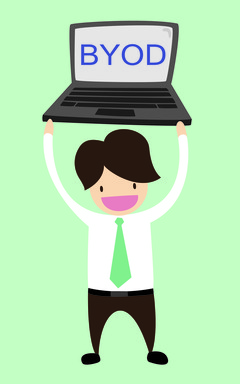 The use of personal devices on a company network to perform day-to-day tasks first saw prevalence in the early 2000's with the release of Blackberry and Palm Pilot phones. Both offered solutions to allow for internet access through a network or third party services. Later, as smartphones and tablets became more sophisticated, employees began to use them more and more in the workplace. There is a perception of increased productivity as employees are using a device they are familiar and comfortable with.
Globally, BYOD policies have become an industry standard with nearly 80% of all countries engaging in BYOD activities. While cost effective, there are some policy and security issues that must be addressed when thinking about a BYOD solution.
Concerns
Mobility security
BYOD devices often access sensitive information or can allow access to sensitive areas of a business. Unlike machines that are issued at the business and reside there full-time, these devices tend to travel with owner; be that from office to home or on vacation. A lost smartphone can lead to someone accessing information or even a VPN without authorization.
Competition
Phone number ownership can be an issue as well. If a smartphone is in use and the owner uses it for business, they might very well build up a client list that will go with them when they leave. This means clients could be calling on an employee long after they have left your company; thus creating undue competition.
Grey lines
While BYOD is becoming more and more common in the U.S., this doesn't mean all legal and best-practice concerns have been addressed. An all-encompassing policy regarding usage and dos and don'ts can be a challenge to draft and implement.
When drafting a policy, one must consider that personal files, browser habits, and entertainment programs might reside on a device being used as part of a BYOD program. While this might not be acceptable if an employee were using a company-provided machine, it is perfectly fine on a personal device.
A functional BYOD policy has to set a clear definition as to what types of functions can be accessed from a personal devices on the company's network. Telling an employee they can't have pictures of their grandchildren on their hard drive, for example, is a breach of personal space. Telling someone they cannot upload those same pictures to someone else using the company's network, is strict, but perfectly acceptable.
Infrastructure
Knowing if your infrastructure can handle multiple devices could be an issue as well. Allowing employees to connect to your network via Wi-Fi sounds like a no brainer until you consider what your Wi-Fi capacity is. If your business' last infrastructure upgrade concentrated on wired infrastructure, there could be a wireless bandwidth issue as more Wi-Fi connections are added to your network.
Industries that Benefit from BYOD
Large tech companies such as IBM, Microsoft, and even Google benefit greatly from BYOD programs. These industries often have positions that do not require their employees to always be physically present to perform their tasks. This is especially true for those employees that offer up a support role or fill a technical support position.
Out of Office (OOO) positions such as realtors, insurance claims adjusters, delivery personnel, and independent contractors also benefit from a BYOD policy. The three hardest aspects to manage in relation to OOO positions are:
The passing of information/data
Accountability for time
Management of collaterals such as paperwork, photos, and any number of other metrics needed in the "home office" on a daily basis
These types of professionals are always on the move outside of the office. Allowing them to use, or making provisions for equipment they are familiar with increases the likelihood that they will comply more effectively with a communication plan.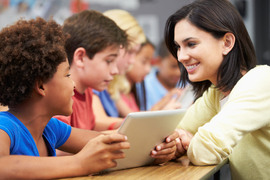 Educators are using their own devices more and more as well. Many school systems are using an internet or VPN (virtual private network) for assignment submission by their students. While this means the teachers/ professors are no longer buried under a mountain of paperwork, it also means that there is more of a reliance on technology than ever before in the average school district.
BYOD in schools doesn't just end with educators either. Some schools and universities have already begun to implement classroom BYOD programs in an attempt to increase student output. This poses some fairly interesting social and economic challenges to parents, teachers, and students as well. The mainstream consensus is that eventually education will be paperless, and BYOD will be the prevalent option for students, faculty, and staff.
Brands that support BYOD
Cisco among others have expanded their products to be Wi-Fi inclusive. For example, the latest generation of Cisco switch offers power over Ethernet (PoE) already built in to compliment wireless access points (WAPS). These switches are also more in tune with wireless switching making them more agile and able to handle more traffic.
Software help is available as well. Services such as RingCentral also offer software solutions to what were traditionally hardware challenges. Call forwarding, call control, and direct calls can all be handled through an easy-to-use smartphone app without impacting customer service performance.
While there are challenges in implementing a BYOD policy, the payoffs in productivity, savings, and flexibility make the challenges worth addressing. Moving forward, businesses might adapt more BYOD policies, refine those currently in place, and acquire even more tools to increase the advantages even further.
Ready to Compare Business Phone Systems Price Quotes?