How SIP Trunking Simplifies Your Business Telecommunications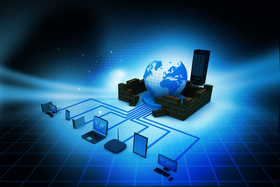 A SIP trunk is a direct connection between your organization and an Internet telephony service provider (ITSP). Having one of these connections allows for the client to extend their VoIP telephony system directly to the ITSP without the need of a firewall. This connection configuration is easier to set up and more secure than traditional network configurations.
The advantages do not stop at VoIP either; SIP trunks can be used to implement a host of real-time services such as instant messaging, conferencing and security features. The potential to unify services now as well as in the future make SIP trunks an exciting and efficient technology.
The benefits of "SIP trunking"
Deploying a SIP trunk means simplifying your business' telecommunications and having options later as technology expands beyond IMs, teleconferences and monitoring. Here are a few more reasons to look into deploying a SIP trunk.
A SIP trunk eliminates the need for built-in network redundancy. When you connect your business directly to the ITSP, it means your business will be using your service provider's servers rather than its own. Your ITSP will provide your business with backup virtual machines, eliminating the need for extra switches, routers and firewalls at your place of business.


Equipment consolidation is important to business. Walking into a backroom brimming with switches, routers, firewalls or even a telephone backboard isn't desirable. A SIP trunk connects to your ITSP without having to connect to publicly switched telephone networks. This makes the need for an IP-PSTN gateway obsolete. Less equipment means less overhead as businesses no longer need to hire someone (or a service) for upkeep of equipment that a SIP trunk eliminated.


Connecting directly to an Internet telephony service provider also means not having to pay for extra switching equipment to handle the extra bandwidth. This is generally handled on the service provider's side.


Purchasing bandwidth is much, much easier with a SIP trunk. Instead of buying bandwidth in batches of 24 or 32, businesses can buy the bandwidth they need as they need it. This type of incremental buying means savings.


Cost efficiency is definitely a factor. Long distance service typically costs 30% less than a VoIP solution and up to 70% less than landline based international long distance.
Concerns to consider
An IP-PBX is more agile than a traditional analogue telephone system - but there are some shortcomings. Security is usually the biggest issue with IP-PBX and should be addressed by every business using digital telephony systems. A SIP trunk is more secure without having to invest in encryption protocols or line monitoring.
The services offered by the ITSP is also a consideration. Like many other types of services, not all offer the same pricing and level of service. Researching which service provider best fits your needs is crucial. When asking questions, be sure that you are satisfied with the price.
Typical savings in long distance are 75% over analogue long distance charges and 50% of VoIP or IP-PBX costs. Installation and setup fees are dependent on your needs, current infrastructure and availability.
Ensure that the service you are considering has a good service record with little to no downtime. Also make sure your new service will have proper and secure back up services to negate any impacts upon your business. That is to say, that if your service has an outage, your telephone system will run on a backup.
Deploying a SIP trunk is a giant step towards business tool unification, communication security, and reducing overhead cost in the long term. The technology associated and implemented in SIP trunking is impressive and flexible. Expansion will be even more effective as upgrades and process changes come about.
Ready to Compare Business Phone Systems Price Quotes?