How Small Business PBX Phone Systems Can Benefit Your Business
If you are the owner of a small business that is growing, you probably find that it is getting more challenging than ever before to keep up with your telephones. Instead of remaining frustrated and missing potential customer calls, using small business PBX phone systems may be the perfect solution to your telephone needs.
By choosing this type of system, you will not only be able to better meet the needs of your customers, but you can also give them a much better experience than they may have if you do not have a system such as this in place.
Benefits of small business PBX phone systems
There are many great benefits to small business PBX phone systems. Some of the immediate benefits that you will receive include: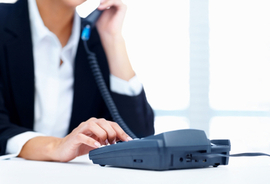 The ability to choose an auto attendant phone system
Streamline the customers' experience
Choose from systems that will allow you to custom record messages
"On hold" music
Multi-party conferencing abilities.
Consider your auto attendant phone system script and options
Once you choose your small business phone system, you will be able to write a script and choose options that will help you to enhance the experience of both the customer who is calling in and your employees. If you have between five and 25 employees, like most small businesses, you probably don't have a lot of time to spend on the phone. This is one way that you can make an impression and still place your time where you need it.
Do's for setting up an auto attendant phone system
Use options that people know. For example, to speak with an operator, many companies simply use the number "0." Though you can use any number for the operator, since most people know the "0" is for operator, it can cut down on confusion and lead to a better customer experience.


Let your callers know that they can dial an employee extension early in the automated message. You should realize that your customers are likely on time constraints as well, and want to speak to the person they are attempting to reach as quickly as possible.


Give the description of the option before the dialed number. For example, "For sales, press four."
Don't for setting up an auto attendant phone system:
You should be polite in your message, but there is no reason to say "please" before every option. For example, saying, "For the sales department, please press four," is lengthy and unnecessary.


You cannot assume that everyone has a touchtone phone. Make sure you quickly say at the beginning of the automated message that they can hold for an operator if they have a rotary phone.


Do not give more than six options at a time. You want to make the process as easy and as simple as possible.
Costs
While savings are great, initial costs for startup and long term costs are always going to be a factor in purchasing anything for your business. The initial cost of setting up a small PBX includes the following considerations;
Phones- Yes, you will need to purchase new phones if you wish to take full advantage of the scalability and flexibility of your new PBX system. Costs range for $35- $200 depending on your needs. Remember, you can mix and match phones; not everyone needs a huge $200 phone, but your receptionist/operator might appreciate your investment.


The cost on onsite PBXs- While one can purchase a PBX for as little as $250, the software bundles associated with these systems can run from $250- $1,000. Additionally, bundles might limit the number of users you can have. For a company of around 50 or so employees, these software packages can become cost prohibitive. Open source software is available that has unlimited extensions, but there is little in the way of support.
If you have chosen to use one of the small business PBX phone systems, make sure that you keep the above in mind. You will gain many benefits from this type of system and will certainly improve your level of customer service.
Ready to Compare Hosted PBX Phone Systems Price Quotes?