IVR Call Centers Offer Customer Service and Sales Innovation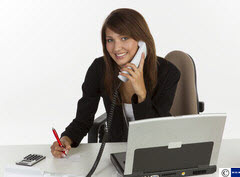 Conducting business can often be overwhelming. Businesses constantly struggle to balance labor costs, innovations in technology, and the need to serve their customers. An IVR call center can help streamline your customer service and sales practices.
IVR, or interactive voice response, is used by businesses as a first line of support when customers contact them. Using touch-tone technology, customers work with a computer database to have their questions answered or to get more information on products and services for sale. Should the customer prefer human contact, the IVR system can route the call to a real person.
Advantages of IVR call centers
IVR call centers allow smaller companies to seem larger than they are and help larger companies outsource and automate their call centers for greater profitability.
IVR services are customizable and scalable to fit any business model. The scalability of this technology allows companies to expand their call center services as their business grows. IVR companies are integrated to the company's business model, even making allowances for consumers who prefer human communication. Newer technologies offer speech recognition to create even more call center features and sales opportunities, including yes/no, numeric digit, and short phrase recognition.
IVR companies that offer text to speech technology make it virtually effortless to update prompted information in each call. Regularly changing information in a call center menu can be automatically converted from text to speech. Information will then be spoken to a caller from text conversion to eliminate the need for pre-recorded prompts.
Some notable advantages of IVR technology include:
Compatible with multiple industries, like insurance, market research, financial service, healthcare, and more.
Capable of handling high call volumes.
Provides customer service after standard business hours.
Lowers call center staffing costs.
Prioritizes urgent customer calls to expedite service.
Can be used to automate an outbound telemarketing campaign.
Key IVR call center features
Click to talk. Allows companies to integrate their call center into their company's website; can better direct customers through e-mail, instant messaging, or voice. One popular use of this feature is for billing collections and reminders; IVR payment support can issue automatic bill reminder calls placed before and after billing due dates.
Direct response. Quick and direct response is essential for customer satisfaction. IVR companies have call center agents on demand should the customer wish to speak to someone. These agents manage calls, answer product questions, take orders, set up appointments, and can even refer customers to other products or services the company offers. An auto-attendant feature can also prompt callers to choose their desired extension via voice recognition by speaking a department or employee name.
Electronic response. In today's highly technical world, customers often contact companies using cell phone texting, e-mails, and instant messaging. Progressive IVR companies offer services to respond quickly to such inquiries. Texting, email, and IM can also be used to bridge the gap between IVR call center data collected from patients or customers; doctors often use text, voice message, or email to communicate with call center administrative staff and address patient issues based on level of urgency.
Marketing. Many IVR call centers have a dual role of customer service and sales; many IVR companies now offer various services by training call center staff to sell products and services. These call center agents can also generate leads through live chats on the Internet to visitors on the company's website. Call centers can conduct telephone surveys after order or delivery using IVR for automated feedback.
Cost-cutting benefits of IVR call centers
Smaller companies benefit because they no longer have to bear the cost of setting up the technology or employing staff to service the center. Larger companies can eliminate costly upgrades to existing systems to keep pace with communication innovations and can eliminate internal labor costs and responsibilities.
Once an IVR company is retained, the liability of hiring, payroll, call center monitoring, technology upgrading, and accountability becomes its burden. An IVR company helps businesses free up resources for tasks that will increase profitably and create new revenue streams.
Businesses can save even more money on IVR costs by opting for hosted IVR instead of a traditional on-site system that requires a larger upfront investment. Hosted IVR is quicker to integrate than on-site IVR in hours versus months. Hosted IVR will also cut out maintenance and support costs completely and eliminate the need for costly IVR hardware managed by a company's IT department.
Finding an IVR company
Before seeking an IVR company:
Analyze your call center requirements and create a "wish list" for your ideal call center.
Use that list as a guide when you interview IVR companies.
Ask to talk to prospective IVR companies' current and past clients for references.
Call these companies via their call centers to get an exact idea of the level of service offered.
A company that chooses to outsource its call centers automatically increases efficiency, lowers costs, and increases customer service and sales productivity.
To get connected to the right solution for your company, submit a request for IVR call center price quotes. We'll connect you to multiple IVR providers who will carefully review your options and present you with proper solutions.
Ready to Compare Interactive Voice Response (IVR) Price Quotes?