Project Plan for IVR Implementation
Many U.S. and international companies are developing a project plan for IVR implementation. The actual use of IVR technology (interactive voice response) might not be used for years, but in covering such tasks as scripts and IVR server setup, business owners can prepare their companies for the future.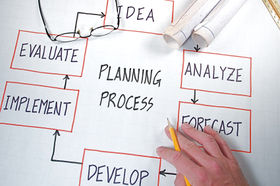 Overview of a project plan for IVR implementation
A project plan for IVR implementation can be developed:
Internally. Internal implementation will require the skills of an expert IT staff that is familiar with IVR technology. In-house IT staff may also consult with a third-party IT service for internal integration.


With third-party assistance. Ideally, a third-party can help your business answer important questions and allocate necessary resources; employing a professional can reduce the risk of making mistakes.
The goal of this planning process is to:
Determine the hardware, software, and manpower needed to create an IVR system for your business.
Decide how it will ultimately bridge the gap between the business and its customers.
Additionally, a project plan for IVR implementation will include testing and screening for every aspect of the system. When you first install an IVR server and set up your equipment, the learning curve can be steep. The service provider or third-party consultant can help you determine that every facet works properly to avoid delays in response times.
IVR project phase examples
There are several steps in a project plan for IVR implementation:
Consult - May include application feasibility study.
Design - Specifications created for design application.
Develop - Designate a development team with assigned tasks.
Program - Perform or outsource IVR coding.
Test - Test new IVR application before going live.
Implement - Install a new IVR program in an office or call center environment.
Manage - Maintain, troubleshoot, and improve upon in-house IVR support.
First, you will need to determine hardware and software requirements as well as the overall design of the system. Your service provider or consultant can work with you to help identify your needs.
You will also need to write scripts for every aspect of your IVR system, test all the equipment, install hardware and software at your call center or office, and train employees. There should also be quality control efforts involved in documentation to ensure everyone's needs are met.
Common IVR applications for business use
IVR is far more sophisticated than automated attendants and other technological options in the telecommunications industry. Therefore, it provides businesses with a virtually limitless array of applications, from cold-calling prospects to collecting past-due bills to offering test results to patients in a hospital or clinic.
Some of the most common IVR applications in a business setting include:
Routing calls to the correct department/extension.
Retrieving real-time data for customers from a company database, i.e. checking personal account information.
Prompting inbound or outbound sales.
Filling orders, including prescriptions.
Conducting telephone surveys.
Expediting urgent customer/patient calls to quickly manage issues.
IVR implementation is widespread amongst multiple industries, including insurance companies, banks, real estate firms, phone service providers, airlines, product retailers, and much more.
When you incorporate IVR into your business, you take your business further toward cost management. You will not require as many employees to handle telecommunications, and your employees' time will be spent talking to actual people rather than answering machines or voice mail services.
How to choose an IVR provider
When choosing an IVR provider, it's important that you interview many candidates. Some businesses prefer individual consultants, while others would rather work with a team of experts. This largely depends on the size of your business and the complexity of your IVR needs.
Ask about the steps required to create the project plan and what the end result will look like. Find out if you will be given support once the IVR server is installed and the system is online, whether for training or troubleshooting purposes.
Make no mistake that a subpar IVR system can hurt rather than help your business. Customers looking for a quick response with helpful information will be immediately turned off by an ill-functioning IVR program that doesn't recognize their answers.
For this reason, IVR should be linked to all other service channels in a business to provide the most accurate customer information; a customer checking their flight schedule online and over the phone should be provided with the same flight times to promote cohesion and consistency.
Ready to Compare Interactive Voice Response (IVR) Price Quotes?