Increasing Margins & Other IVR Benefits Explained
Interactive voice response (IVR) is a system that enables a computer to respond to a human voice or touch tones from a phone. While businesses should offer human services to customers for complex issues, there are ways of increasing margins with the use of both techniques. If your business hasn't implemented an interactive voice response system (IVR), you may be missing out on numerous benefits of IVR for your company. With the right system, you can increase business, save money, and be more efficient.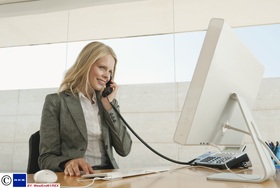 Save on costs
Many customer phone calls are in pursuit of simple information, such as location, phone numbers, pricing, and hours of operation. If a business provides a lot of that basic information over and over to customers, it can benefit by automating it in an IVR system; the system can also provide simple responses to other commonly asked questions. It's much more cost-effective than paying a receptionist or administrative person to answer these calls.
Another one of the benefits of IVR is that it also reduces the number of interruptions that staff must deal with. When they can focus on their tasks without dividing their attentions to these phone calls, they'll be more productive.
Increase business
An effective IVR system can improve customer service by reducing customers' wait time when they call for information. It also allows a large number of calls to be answered at the same time, which prevents customers from getting either a busy signal or a message to wait on the line.
An IVR can also collect essential information from callers for the person who will be assisting them. That means the employee doesn't need to spend that time collecting simple information, and when he or she gets on the line, both caller and employee can launch right into the discussion. A smooth call-in process reduces customers' frustrations, and encourages them to promote the company to their friends.
Extending business hours
Another benefit for businesses using an IVR system is that it allows the company to provide service to customers outside regular office hours. They can call to find out the balance on credit accounts, where to mail a payment, and many other types of information that doesn't need to be handled by a live person.
This is especially beneficial for a company that works with vendors or customers across different time zones. It's also helpful when other countries or even states do not recognize local holidays. Instead of customers becoming frustrated when they are delayed, they can take care of it when it is convenient for them.
An IVR system provides many benefits to businesses, including lowering operating costs and improving the quality of customer service. It can help the bottom line by increasing new and repeat business, which makes a company more successful.
Ready to Compare Interactive Voice Response (IVR) Price Quotes?