Common Misconceptions about IVR Implementation
Even in this digital age, your phone remains one of the key business investments your company has. The automation and intelligence response features available in modern interactive voice response (IVR) solutions have clear cost-benefit advantages.
Old automated answering services tended to annoy as many customers as they helped. Prerecorded messages could only give brief greetings. Routing and service calls often devolved into unhelpful mazes that led to consumer frustration. What many businesses do not realize is that today's intelligent systems solve many of the old-fashioned problems by implementing voice recognition.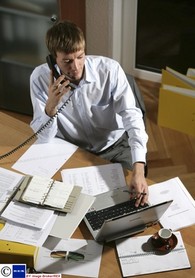 Voice recognition eliminates waiting and routing mazes by accurately interpreting customer voices and converting voices to data. This allows systems to quickly find solutions to problems, answer specific questions, and record individual customer orders, all without requiring a live employee. Modernizing answering services can also pave the way toward more flexible, customizable IVR systems that offer greater lead generation with fewer long-term costs.
Implementing a queuing system can be done fairly easily by choosing a solid voice over Internet protocol (VoIP) phone provider to handle your business phone needs. If you are hesitant because of negative aspects you have heard or believe are associated with implementing IVR for your business, here are some common misconceptions about IVR:
Misconception #1: You Have to Be a Programmer to Set Up IVR
This is simply not true. You also do not need to pay someone to set it up for you unless you want to go that route. If you opt for a hosted IVR provider, you can configure your IVR via the provider's website. All you need to do is:
Decide how many menus the provider will set up
Figure out how many items per menu you will have
Record your voice to navigate callers through each menu you set up
Misconception #2: It's Difficult to Set Up
Some believe setting up an IVR is difficult. This is probably because you heard from business owners about how long and cumbersome it was to set up their systems. But while some older systems may have been poorly designed, plenty of new options are extremely user-friendly and there's no need to assume that you'll struggle with setup.
With a web-based designer, IVR implementation can take minutes. The key is to keep menu options short and intuitive. A good rule of thumb is to have no more than three IVR menus that have less than seven options per menu. Try to shoot for four options per menu if possible.
Misconception #3: One IVR Fits All
Your electric company's IVR system was designed to meet their needs, not your business's needs. Using another business's IVR as the template for your own may not work for you. Doing so could leave you with a system that:
Has too many menus
Too many options within each menu
The combination of the above will leave you with frustrated customers. Plan out what you need to be automated before implementation begins.
Misconception #4: My Customers Will Have to Talk to a Machine
When you think about IVR systems, you probably think about people complaining that they can't get a human voice on the phone. Some IVR systems use a computer-generated voice to guide customers through menus, which can feel impersonal, but you can record your voice or an employee's voice as the "human" navigating customers through each IVR menu.
These four myths about IVR implementation are now busted. No longer should they be a reason for you not to set up an IVR system for your business. So start figuring out what you need from an IVR system so you can begin shopping around for one today.
Ready to Compare Interactive Voice Response (IVR) Price Quotes?