On-Premise vs. Hosted IVR Solutions
Choosing an interactive voice response (IVR) solution for your business is an important decision. Some solutions offer on-premise IVR, or an in-house answering service that is directly under the control of the company. Others offer hosted IVR services where a vendor takes care of the details. Both have their advantages, but there are also trade-offs.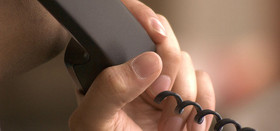 On-premise IVR
An on-premise IVR system belongs entirely to the business, and is part of the call-distribution or customer-relationship strategy of the company. Typically IT departments or specialists will purchase a specific type of phone-based technology and use it to build the voice recognition and response system.
Pros: The in-house approach has its benefits. With direct control, the company can create an intensely customized service that adjusts call flows constantly to give the customer a better experience and adapt to any internal business changes. New announcements or promotions can be smoothly incorporated into the IVR system, and long-term costs are typically low if you choose a solution with enough scalability to meet your needs. Another bonus is the easy integration with company data-management and CRM software. An on-premise solution has no formatting or coding trouble when accessing databases. This means some flexibility where it is needed in all areas.
Cons: The advantages of an onsite IVR come with a price. In-house systems require a large initial payment and must be constantly managed by IT specialists. Widespread training and preparation is needed with implementation. Upgrades to the latest IVR technology are necessary as well. Depending on how your company decides to manage outside call transfers and more complicated calls, the system could also grow confusing or unwieldy if not properly designed.
Tip: One way to gauge if your business is ready for an onsite IVR system is to interface with your IT team. Realize that while an IT team (or individual) will have to work with the IVR, the needed attention is not more than a few hours a month. Consult with your IT solution to make the right choice.
Hosted IVR
A hosted IVR system is entirely managed by a vendor that specializes in voice recognition and call-flow technologies. These companies will offer several tiers of service and pricing varies drastically from service to service.
Pros: Several benefits to this approach are immediately obvious: The company does not have to worry about updating the system, improving security, or worrying about behind-the-scenes logistics. Scalability will not be an issue even in the face of fast-paced growth and numerous calls. Third-party vendors can also implement systems very quickly and offer advice on how to customize them to specific needs.
Cons: A hosted system does have limitations and is not for everyone. You may have a tough time finding a high-quality vendor that will meet all your needs with an ideal price, especially if you have little experience in the IVR world. If you find a poor vendor, you may find you are stuck in a contract that limits your service options for a couple years. Even the most high-quality systems will not be as customizable or adaptable as an in-house IVR setup, making it difficult to change the system on the fly. For business environments where there is a constant need to adjust on the fly, a hosted solution, even a good one, will not work for you.
Tip: Finding the right vendor is the key. Some of the questions you should be asking are:
Service times for moves, adds, and changes to your phone system.
Rate of downtime the service has had and their back-up capacity.
Explore plans that are larger than the one you will need. I.E. If you are a 25 person business, explore the 50 person alternative. This means if you do expand you will know the costs of that expansion ahead of time.
Integration may also prove a challenge, since the vendor's software and your own customer data-management programs need to interact flawlessly for the system to work. This does not always happen and may require a significant overhaul to help the systems match so they can trade data easily.
Ready to Compare Interactive Voice Response (IVR) Price Quotes?