A Virtual Call Center Can Streamline Sales
Would streamlining your sales department increase revenue for your business? One way you can improve the results you get from your company's sales department is by adding an interactive voice response system, or IVR, to your virtual call center. Many businesses and government offices use IVR self-service systems to enhance customer satisfaction, and the same principles work when it comes to the sales department in your business. Read on to learn how your company's sales staff can take advantage of this form of call-center technology and use it to increase productivity.
Inbound calls
When customers call your business, they expect the phone to be answered quickly and they expect to speak to the right person without a lot of misdirection. When a customer wants to talk to someone on the sales staff and does not get the right person quickly, there is an increased chance the customer will take his business to another company. An IVR system: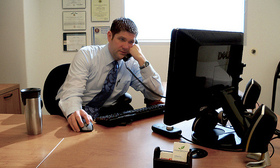 Routes calls about non-sales matters to other departments, allowing sales staff to focus on closing sales.
Increases customer satisfaction by reducing wait time and getting the right person on the phone faster. A happy customer is more likely to purchase from your company and is also more likely to be a repeat customer.
Can offer multilingual sales messages when needed.
Allows customers to call in at their convenience, even after office hours, so they can leave messages for sales staff.
Outbound calls
The outbound call feature of an interactive voice response system of a virtual call center also offers powerful impact for your sales department. Outbound IVR systems deliver sales messages quickly and accurately to large numbers of potential customers. With the initial contact about a new product or service succinctly delivered by the IVR system, your sales people can focus on their core competency — selling. The sales staff is freed up to close sales, and this cuts the massive amount of man hours that your sales staff would normally spend delivering the message.
You have two types of IVR systems to choose from when trying to streamline the efforts of your sales department: hosted or on-site IVR. As far as the sales department goes, it does not matter which type you choose. Either type will smoothly transition calls to the right sales personnel and will help to increase customer satisfaction. The cost is the biggest difference. Hosted IVR is set up and functioning in hours instead of months, cuts the cost of maintenance by your IT department, and takes away the need for expensive IVR hardware.
Ready to Compare Interactive Voice Response (IVR) Price Quotes?