An IVR Is the Perfect Virtual Receptionist
Staffing is a large expense for many businesses. You're paying for not only wages but also for benefits, insurance, and taxes on all employees. Many companies need customer service personnel and receptionists to answer phones and handle customer inquiries. Staffing enough employees to handle multiple phone lines can become expensive.
However, using a virtual receptionist is one solution. You can easily have one once you understand how an interactive voice response system works, which can be even more effective in saving your company time and money.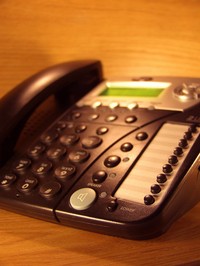 How can an IVR help?
An IVR as a receptionist makes a lot of sense. Consider: An interactive voice response system is a telephone answering and routing program dedicated to taking incoming calls - the exact job of a receptionist. Everyone at one point or another has called into a IVR system, yet many business owners have not realized the benefits that these systems can provide. And they have many other benefits in addition to reducing staffing needs.
Interactive voice response systems can be tailored to cover a variety of functions and have many benefits, including:
24-hour service. An IVR can give information to customers day or night, including prompts for directions and store hours, and can provide personalized account information.
Routing. IVRs can be programmed to route calls to the correct department or location based on the information that is provided by the customer through programmed prompts.
Customized messages and prompts. Recorded messages and prompts provide assurance that your customers always receive a clear, courteous greeting every time they call.
Collect information. An IVR can be programmed to prompt customers to give account numbers or security information to save time once they are patched through to a live employee.
Handle high volumes. Every customer's call will be answered, and the IVR can even prioritize the calls by value, depending on the information gained through the prompt system.
Any size of business that has incoming calls from customers and clients can benefit from using an IVR system as a virtual receptionist. Although large businesses understand that IVRs are a necessity in today's fast-paced world, many medium and small businesses can also become more efficient by utilizing this technology. It can give a business the edge over their competition while saving them time and money.
When IVR trumps the virtual receptionist
Interactive voice response offers callers more flexibility than the auto-attendant, with the help of features including IVR speech-recognition technology. The technology recognizes and responds to certain words the caller says, and appropriately redirects the call based on the spoken commands.
An IVR platform can also offer text-to-speech capabilities if your business desires the customizable option. The feature turns text into spoken words for the caller. The spoken component of the system enhances your customers' phone experience by simulating a human connection.
IVR technology has an incredible range of data types it can provide to callers. Callers can look up bank balances or product details, or search a directory for business hours or event times. In addition to the inbound call scenarios, your business can also gather information from callers through outbound calls. The IVR can also be used to retrieve information on an overdue bill or to conduct a survey or poll.
An IVR success story
As with AA, IVR lets callers choose to talk with a live agent or to transfer immediately to a given extension. When Texas-based CPS Energy moved to an IVR platform, the benefits included increased productivity and better customer service. After a year, while traffic to the call center had increased by 11 percent, calls routed to agents actually decreased by 10 percent, according to an Avaya post.
Interactive voice response is a technology that helps your business provide an efficient and easy call experience for your customers. It can work within your existing phone infrastructure; telephone lines can be standard analog or digital lines such as an integrated services digital network (ISDN). As with any phone system, your business needs to update the IVR platform for technology upgrades and the changing needs of both your customers and the market.
Ready to Compare Interactive Voice Response (IVR) Price Quotes?