IP Communication Systems Opportunities
IP telephony systems enable revenue-generating opportunities for the hotelier who understands how to leverage the technology.
Quite a fuss has been made over the last few years about how IP communications systems enable enhanced guest service. From phones that know guests' names and calculate currency exchange rates to systems that enable unified messaging and automated wake-up and housekeeping status, forward-looking hoteliers see IP phones and telephony systems as service differentiators. Many such systems integrate with property management systems, and in some cases, even CRM databases.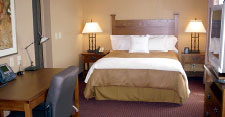 The Homewood Suites in Amherst, New York, hopes to see additional revenue from the conferencing features available through its IP telephony system.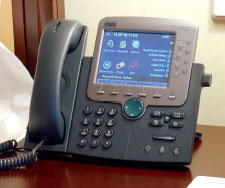 The Crowne Plaza Dublin expects to see additional revenue from local advertising as it upgrades its guestroom IP phones to a model with a color, touch-screen display, as seen here in the Sheraton Krakow.
But while IP telephony has the potential to get customers to start using guestroom phones again, and while nearly every supplier touts the fact that their systems enable revenue-generating applications and opportunities, hoteliers are lagging on capitalizing on such opportunities.
Why is this?
Perhaps they have become accustomed to guest-room telephones not generating revenue, so they are overjoyed with the cost-savings achieved from the converged infrastructure of an IP network, and, thus, are not concerned with additional revenue. Or perhaps good relationships with suppliers have allowed for IP system installations at a similar cost to that of traditional PBX systems. Either way, these are not reasons to ignore a potential boost to the top and bottom lines.
Just because an IP communication system is new, or did not require the huge outlay of capital originally expected, is no reason to wait on marketing its advanced features to guests—the features that can bring in more money. For those who do not understand what such systems are capable of, or how to market their advanced features, it is important to meet with the supplier and have someone in the know break down the possibilities.
Lorica Solutions Case Study
Lorica Solutions is a provider that has done just that for Buffalo Lodging Associates LLC. Lorica recently implemented its IP telephony solution at the company's new Homewood Suites property in Amherst, New York. The system includes two Cisco IP phones in each guest-room, one on the nightstand and one on the desk. The phones enable the enhanced guest service through wake-up and do-not-disturb features, as well as operational efficiencies through a direct connection to the property management system, in this case, Hilton's OnQ system. And Lorica's Joe Bartelo, senior sales executive, will be the first to say, "We put in the phone system to be a phone system."
But Bartelo is also talking to the property's General Manager David Zeplowitz about on-screen phone advertising from local establishments. "That's the gravy on top of the phone system," Bartelo says. He notes that the hotel has seen some soft cost savings and ROI from housekeeping efficiencies enabled by the system, but at the same time, he focuses on another source of revenue: conferencing. Because this particular property is a Homewood Suites, "these folks are extended-stay, so they are setting up a secondary base of operations for their business," he says. "We can assign them the same phone number for every time they come back to the hotel, whether it is five times a year or every other week for three months." Bartelo talks about the ability to have group collaboration, with executives receiving group voicemails about scheduling, and features such as call-forwarding from guestrooms to conference rooms, so that the executives will not lose any connectivity to people trying to reach them. Still, Zeplowitz admits that "we really haven't gotten to the extra features," and that he is "still learning the system as we go."
Zeplowitz would do well to talk with the team at the Crowne Plaza Dublin Airport, Dublin, Ireland, where the Nevotek V/IP Suite application combined with Cisco IP phones in the guestrooms is generating revenue from advanced features including voice e-mail and local advertising, according to Thomas Coleman, IT director. "Our voice e-mail system is the most popular [feature] of the lot," Coleman says. A minute-and-a-half long voice e-mail, which will costs guests "a couple of Euros" can be sent to up to 20 recipients at once, Coleman notes.
As for advertising via guestroom phones, "we've got three to four companies lined up—mobile networks and local car rental companies—the main touristy type of services," Coleman says. "Guests can dial them directly without going through us at the front office." He says it is difficult to charge "big bucks" to put such ads on guestroom phones, so the hotel charges on a per-room, per-year basis, and the price depends on the advertiser and how long they want their ad to last. "We try to have six to seven ads per minute," Coleman says. He believes strongly in short run-times for such ads, asking, "Who's going to sit and watch the phone for 15 minutes?"
Coleman hopes to expand the local advertising initiative as the hotel upgrades its phones from the basic Cisco 7940 model to the 7970 model, which includes a high-resolution color, touch-screen display. "Once we go with the 7970s, the presentation is absolutely fantastic," he says. He also notes the potential for internal advertising—promoting events within the hotel. "You basically have an info-caster right at your bedside. If you can capture guests for a minute there, it is revenue coming in for advertising space."
Case Study Takeaways
Despite the success the hotel has had with the system generating revenue, Coleman notes that there needs to be a cap. "There is no point in charging for every little service," he says. "If you charge for everything, no one will use the phones." The hotel is even thinking of canceling the charge for voice e-mails as an incentive for guests to continue their high use of the phones.
Overall, the hotel has had good feedback from guests and an excellent experience with the IP system. "The services are fantastic," Coleman says, and "we're seeing increased revenue from people making calls—we have another similar site with regular phones and we're seeing almost twice as much revenue coming in." He says it's hard to figure out why the call volume is so much higher in relation to occupancy, but he believes the novelty factor attracts people to the phones and gets them to watch the advertising and use the services.
Still, he is aware that when guests come in, they do not usually go straight to the phone. So the hotel promotes the system through a light indicating a message waiting for guests, which welcomes them to the hotel, explains the phone's services and suggests giving them a try. "The ideal situation is the receptionist saying, 'By the way, use your phone, it's got great services,'" Coleman says. "But you can't rely on busy desk people doing check-in [to do that]. So we attract guests via the message."
Coleman says his team has been quite pleased with the Nevotek/Cisco solution, and plans to roll it out at other properties. "Sure, you spend money at the beginning," he says, "but with the different revenue streams and the look and feel and professionalism, we're very happy."
Ready to Compare VoIP Phone Systems Price Quotes?