VoIP Conference Software for Your Business
When switching to VoIP for your business, be sure to spend time comparing and evaluating multiple VoIP conference software options. Because so much of the system is controlled by the software, you'll want to make sure that the user interface (UI) is intuitive and that you'll be able to do everything you need to manage your VoIP system.
What are your conference needs?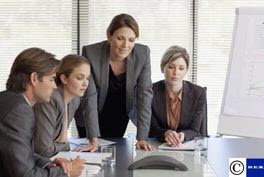 VoIP conferences are easy ways for multiple people to connect on your own VoIP network. The purpose is to bring together multiple calls onto one Conference Bridge for meeting, technical support, and any number of other uses.
The first step to finding the right software for you is to establish your needs. Ask yourself the following questions:
How much will I use my conference bridge? If you conference daily or several times a week, this is a no brainer. What you have to establish is how often you conference in minutes and not instances. Once you have done so, run a comparative to any of the popular services available. This dollar and cents approach will help you establish whether you truly need a VoIP conference line or not.


What is my call volume? How many people will be on your conference at a time? VoIP systems are robust, but you might encounter issues with multiple callers on the line at the same time (more than 15 with a small phone system), particularly when some or all of the calls are on the same phone system.


Is there a conference solution already available to me? If you already have a VoIP solution in place, there is a better than average chance that you already have the capability to set up your own conference line. Consult your service provider or software manufacturer for further details.
Software considerations
You may be tempted by online offers promising free VoIP conference software. Tread carefully with such offers. While you may initially get the software at no cost, the provider may tie you in to long-term service contracts that can become costly and are difficult to break.
As with other complementary service offerings, you may get more than you bargain for with free VoIP conference software. Even if the service really doesn't cost anything, it could be very difficult to get service and support when you need it most. If your business relies heavily on VoIP conference software, you can't afford to lose the functionality for any length of time.
Users confirm that a number of free VoIP conference software packages are difficult to set up and implement without the help of a skilled IT department. Paying for a commercial package may offer easier installation with advanced features and reliable support. Nonetheless, commercial VoIP conference software may still incur extra charges with setup fees and potential conference room access costs. Still, this is much more cost effective than paying a conference host service, if you have a high volume of conference calls.
Ready to Compare VoIP Phone Systems Price Quotes?