VoIP Market Reaches a Record High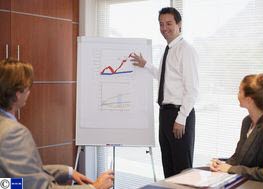 This helpful report encompass an analysis of industry trends to calculate how the VoIP market is expected to grow worldwide from 2012 to 2017. Researchers used the report to assess five different regional voice marketplaces to provide projections for worldwide growth.
VoIP popularity rises as landlines become obsolete
In a supporting study conducted by Ovum, researchers confirmed that 75% of all voice traffic was tracked through VoIP services in 2010. This same study projects that VoIP communication will make up 100% of voice traffic by 2015.
Most of the growth will be driven by businesses filling in their PBX seats with IP-enabled phones, said principal analyst Keith Nissen. On the consumer side, a combination of residential VoIP phones and dual-mode cellular/Wi-Fi handsets will drive growth.
The growth in IP-enabled handsets will mirror the rise in camera-equipped cellphones, Nissen said. Consumers or carriers may not even choose to use the Wi-Fi functionality (as many ignore their phone's camera) but the chipsets costs will decrease to the point where phones makers will build IP-enabled phones away, Nissen said.
Industry experts like TMCNet take it one step further to project that landlines may soon become a thing of the past. Residential phone owners may use VoIP or cell phone calling primarily; business VoIP customers may switch over to VoIP phone systems in lieu of traditional telephone landlines.
VoIP user predictions for the future
Research firm Juniper Research estimates that mobile VoIP users are expected to surpass 1 billion by 2017, estimated at one in seven mobile subscribers. This continues to place pressure on circuit-switched voice service providers in a traditional telecommunication marketplace.
While subscriber growth is steady, service provider market share is slightly more volatile. Vonage is losing market share to both cable companies and the PC service Skype, the firm found. Of current VoIP users, 29 percent use Skype, unchanged since July, while 16 percent reported using a cable-delivered service (up 1 percent from July). Conversely, 24 percent say they use Vonage, down 2 percent from the previous survey.
According to ChangeWave, 20 percent of respondents who plan on signing up for a VoIP service indicated a preference for Skype, 17 percent for a cable-delivered service and 15 percent wanted Vonage.
The research firm also found customer satisfaction improvements, with 90 percent of respondents saying they were "very" or "somewhat satisfied" with their home VoIP service. Skype tops the list of contented customers with a 94 percent satisfaction rate followed by cable (89 percent) and Vonage (87 percent).
Cable companies have enjoyed the best success. Only 9 percent of cable VoIP customers say they'll switch providers while 22 percent of Vonage customers said they were likely to change service providers.
CHANGEWAVE SURVEY:
Which one of the following provides your VoIP service?
10/06
7/06
4/06
12/05
6/05
Skype (SkypeOut)
29%
29%
23%
19%
17%
Vonage
24%
26%
27%
31%
36%
My Cable Company
16%
15%
15%
16%
10%
SunRocket
6%
6%
5%
NA
NA
8X8 (Packet8)
2%
3%
3%
6%
8%
AT&T (CallVantage)
2%
2%
1%
1%
2%
Lingo
2%
2%
2%
NA
NA
Yahoo! Messenger
2%
1%
2%
NA
NA
Net2Phone (VoiceLine)
1%
1%
1%
1%
2%
Verizon (VoiceWing)
0%
1%
1%
1%
0%
Don't Know / NA / Other
16%
15%
19%
25%
22%
Ready to Compare VoIP Phone Systems Price Quotes?