How does video conferencing work?
Many business owners ask how video conferencing works before they commit to bringing the technology into their offices. This is understandable, especially since the hardware and software seem to change on a daily basis. Here's a quick answer to the question, "How does video conferencing work?"
How does video conferencing work?
The purpose of video conferencing is to facilitate effective communication between people who live or work in separate locations. This could mean discussing a project with a client in China or conducting a virtual meeting with the Los Angeles office of your firm.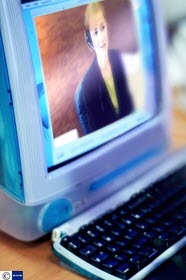 In broad categories, video conferencing may be used for:
Business meetings
Telecommuting
Telemedicine
Distance-learning
Legal support
Of course, in addition to a visual connection, video conferencing also includes audio hardware so that parties can talk with one another. A camera is used at each location, as well as a monitor.
Finally, a wide array of software can be used to make communication easier and more effective. Data compression software, for example, reduces the size of data transferred across the connection. Echo cancellation software makes talking in real time possible. Most businesses use a multipoint connection, which means that more people can conference at the same time.
Once you have a system in place, you'll find that it improves comprehension and allows a more thorough transfer of ideas. Staff meetings, check-ins with sales representatives, brainstorming sessions with new clients and meetings with employees are just a few applications in which this technology can be effective. Many business owners find themselves using it just as often as they use the telephone and e-mail.
Yes, the majority of offices rely on video conferencing to conduct impromptu or scheduled meetings, while reducing travel costs considerably. This technology can help to improve productivity in the workplace by maximizing employee and executive time and speeding up the decision-making process.
Thanks to its wide scope of use, video conferencing is here to stay. Information Week has gone so far as to estimate that 75% of enterprises will use video conferencing technology by 2013. The remaining 25% of companies plan to integrate the technology within the following two years.
How can video conferencing benefit business owners?
Video conferencing technology can provide numerous benefits to your business. For starters, other businesses will be equipped with this technology; when you have it, you will be able to work with them more effectively.
You will also find that video conferencing reduces communicator errors. When you can both see and hear the people with whom you are conversing, misunderstandings are less common and all parties become more efficient. For anyone who's tried to conduct a complex negotiation or sensitive conversation using only a telephone conference call, the advantages of being able to see the other participants should be clear.
Once the hardware and software are set up in your office, the technology works seamlessly and intuitively, so most business owners will have no difficulty catching on.
Video conferencing will improve communication and cut down on travel costs as a bottom line. Yet it can offer several unexpected advantages to a business after its integration, like:
Connect remote workers. Video conferencing can be used to promote inter-company unity between a main office and telecommuters or branches scattered throughout the country when used for daily communication.
Multimedia presentations. Remote employees working from home or in different office branches can see marketing and product presentations firsthand with visual content in a video conferencing suite.
Employee training. Video conferencing has long been used for distance learning; it can help to facilitate a companywide training program, while eliminating travel costs altogether for remote employees.
Break corporate boundaries. Many corporations find it easier to communicate with clients in different areas of the country using video conferencing for a sales pitch or meeting.
Ready to Compare Video Conferencing Price Quotes?