Introduction to Bucket Trucks
From facilities maintenance and utility services to road construction and forestry, bucket trucks have become one of the most versatile pieces of heavy equipment for working at extended heights. They are engineered to hoist a single worker and a variety of tools and supplies from 35 to 125 feet in the air. Sometimes referred as telescopic articulating aerial lifts or even cherry pickers, many models also feature an arm that can swivel up to 360 degrees.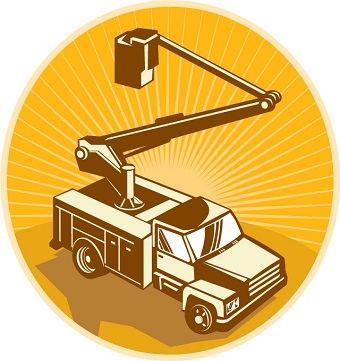 This combination of reach and maneuverability allows the positioning and repositioning of the work platform through operator controls mounted within the bucket itself. Not only does this design provide access to areas that would be off-limits to scissor lifts and other heavy equipment, it also saves considerable time and expense associated with having to reposition the bucket by moving the vehicle.
The buckets themselves are mounted to the bed of a work truck that's supported by 4-wheel drive on smaller trucks and up to 6-wheel drive for larger models. Leading manufacturers such as Dur-A-Lift, Terex, Altec, and Stamm often pair their truck mounts with name brand vehicles such as the Ford F-Series and General Motor's Chevrolet or GMC.
Purchase Considerations
There are a number of purchase considerations that can greatly affect the type and size of bucket trucks you should be considering. As you read through this guide, apply your needs to the following factors:
Intended use. The type of work you routinely perform will determine the body type, size, weight requirements, and working height. Among these concerns, weight and height are the two greatest factors - they provide access and stability for extended reach and material handling capabilities.
Additional features. Jib and platform height aren't the only design features that contribute to productivity. Within some work environments, they're not even the most important. Leading dealers point to lighting and cargo space as two of the most popular buying considerations among operators and fleet managers. Lighting serves two critical purposes: it illuminates the work area and ensures the safety of workers in dark or rural areas. Storage and cargo space provide convenience and cut the time required to complete tasks by having items close at hand. Before speaking with a dealer, make a list of any possible modifications you might need. Additional upgrades include hydraulic overload protection, rust protection, and GPS.
Certification and licensing. Bucket trucks are classified as boom trucks by the Occupational and Safety Health Administration (OSHA). This results in a range of licensing and certification requirements that vary from state to state. These requirements have the potential to increase the overall cost of purchase when factoring in the expense of training and administration.
Dealer support. Whether you plan on buying a new or used bucket truck, having a reputable dealer behind you can increase the return on your investment while minimizing downtime and accidents. This aspect of service is beneficial to most buyers and critical within smaller operations that don't have the in-house expertise necessary to maintain each of the vehicle's systems. Plus, bucket truck dealers offer a variety of service level agreements (SLAs) tailored to your industry and intended use. These SLAs ensure reliable maintenance intervals, timely response to service requests, and mechanical expertise that is often specific to the model you purchase.
Types and Costs
Bucket trucks are designed to lift personnel, tools, and supplies into high and often awkward locations. To accomplish this goal, they're engineered with a telescopic boom that safely extends and positions the bucket at the required working height.
Bucket trucks can often be compared based on the working heights they offer. But the boom also presents another central consideration. It usually features one or more design elements that facilitate maneuverability. These elements further segment bucket trucks into the following types:
Telescopic
Telescopic articulated
Elevators
Overcenter
Non-overcenter
Cable placers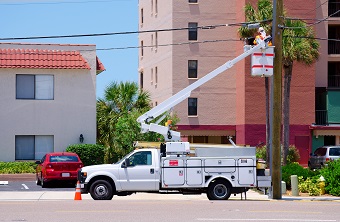 Telescopic
Commonly used by utility crews for working with cable and distribution lines, telescopic bucket trucks feature a non-continuous rotation boom that lifts the bucket from 30 to 60 feet in the air. Popular models feature joystick operation that includes driver and brake controls mounted inside the bucket, a side load capacity of 600 to 800 pounds, and a communications system that allows the operator to communicate with crew on the ground.
Expect to pay $35,000 to $140,000 for new and recently manufactured used models.
Telescopic articulated
Extending reach capability, telescopic articulated bucket trucks feature 'joints' within the boom that enable the operator to position and reposition the work platform into odd angles and hard to reach locations. Models in this type often provide greater heights of 45 to 70 feet and are ideal for reaching out of the way work areas that may otherwise be restricted to work trucks.
Examples include locations with costly grounds and work areas that are situated away from an access road - often the case in forestry and new construction as well as signage and lighting maintenance. To compensate for the extra reach, these bucket trucks are built with heavy-duty chassis, durable outriggers, and enhanced jib capacities to support bucket weights of up to 2,000 pounds. It's also common to find hydraulic platform leveling and safety systems that monitor and control the outriggers and boom.
Expect to pay $43,000 to $150,000 for new and recently manufactured used models.
Elevators
Elevator booms provide some of the highest reach available within this equipment category. Often employed within forestry applications, many models reach between 60 and 75 feet high. Booms are usually split into two sections (upper and lower). And many models feature insulated components, allowing the boom to be used for a variety of electrical tasks, with at least two outriggers for added stability.
Leading models support a single man bucket and a weight capacity of around 350 pounds. Added customizations for this type of boom truck include sign storage, lighting hookups for added visibility, and a pole pruner scabbard for stowing saws and other equipment - keeping items safely out of the way yet easily within reach.
Expect to pay $71,000 to $130,000 for new and recently manufactured used models. It's worth nothing that older used models (manufactured from 2002 to 2007 with 56,000 to 80,000 miles on the odometer) can be found for $30,000 to $45,000.
Overcenter
Overcenter lifts are another version of an articulated bucket truck, often incorporating articulation into their design. They enhance maneuverability for work crews that need to access hard-to-reach spaces by allowing the boom to travel over the center of the truck. Common in forestry, landscaping, and construction, this allows personnel to reposition the bucket without moving the truck itself.
Most overcenter bucket trucks offer 35 to 55 feet in height. When comparing these models, there is an additional variable related to the boom: side reach. You'll find max horizontal reach capabilities of 31 to 50 feet from overcenter.
Expect to pay $70,000 to $250,000 for new and recently manufactured used models, with a large number of 2015 models in the $105,000 to $145,000 range.
Non-overcenter
Non-overcenter bucket trucks are essentially a bare-bones model that is primarily suited to basic aspects of maintenance. Essentially filling the same role as a scissor lift, non-overcenter models make up for their relative lack of maneuverability with extended heights. In fact, they offer one of the highest work heights available within this category, hoisting buckets from 30 to 100 feet in the air.
Designed for wide open areas with convenient vehicle access, non-overcenter bucket trucks do not allow the boom to pass over the center of the vehicle. However, they do still include articulation on the lower boom, with many models offering up to 90 degrees of articulation from center. Platform leveling also comes standard and is powered by hydraulics, as are tilt functions and the materials handling system (if included).
Expect to pay $56,000 to $130,000 for new and recently manufactured used models.
Cable placer
Cable placers are a subtype of bucket truck designed specifically for the telecommunications industry. They feature a cable stringing system that simplifies construction and maintenance of aerial telecom installations through strand reel and full stringing capabilities, automatic bi-directional capability, and a stringing bull wheel and tow line.
Similar to most other bucket trucks, cable placers incorporate a built-in intercom system, allowing the operator to speak with crew members on the ground, a variety of convenient storage and tool trays, and joystick operation. You'll find working heights that average about 40 feet, with horizontal side reach up to 32 feet. Bucket capacities are typically between 300 and 500 pounds.
Expect to pay $40,000 to $190,000 for new and recently manufactured used models.
Options
With overall functionality decided, you can further narrow your search by stacking your needs against available options. Power, performance, and operational costs are often dictated by technological developments in the following categories:
Platform height
Boom classification
Driveline
Fuel type
Transmission
Platform height
Bucket trucks can be divided into three categories depending on the platform height (also known as working height) they offer. It's worth noting that the widest range of options are available in the 40-foot range, possibly due to the standardized heights associated with aerial cables, rooflines and buildings, and outdoor signs and lighting.
Nevertheless, you'll find bucket trucks available in the following three height ranges:
Less than 50 feet, commonly including non-overcenter models
50 to 59 feet, commonly including overcenter and articulated models
60 feet or more, commonly including overcenter, articulated, elevators, and telescopic models
The higher the reach capability, the more you can expect to pay. For example, costs for bucket trucks offering less than 50 feet of height are in the $37,000 to $140,000 range. Trucks offering heights from 60 to 100 feet will cost between $70,000 and $375,000.
Boom classification
The type of boom you select will largely depend on whether or not your tasks require the handling of electrical cables. Bucket truck booms come in two types:
Insulated: Intended mostly for utility construction and maintenance as well as electrical contractors, insulated booms provide the same capacity for height and articulation as their non-insulated counterparts. They're constructed from fiberglass and similar dielectric components that prevent the conduction of electricity. Modern designs feature two insulated gaps, one in the boom's elbow and one between the mount and the chassis. Older models may only have one point of insulation in the upper boom, something to keep in mind if purchasing an older used bucket truck.
Non-insulated: As the name implies, non-insulated bucket trucks provide no protection against electric shock, and are therefore not suited to working with power lines. It's worth noting that, due to substantially higher costs associated with insulated components, most bucket trucks fall into this latter category.
An insulated boom could increase the cost of the truck you buy by 30% to 100% in comparison to non-insulated models. The minimum cost for new to recently manufactured insulated bucket trucks is between $60,000 and $230,000, with some models going as high as $375,000.
Driveline
Driveline, also known as drivetrain, is a representation of the power supplied to the wheels of a bucket truck. Depending on size and height capacity, you'll find the following configurations:
4x2: Four wheels, with two that distribute power (also known as two-wheel drive or 2WD)
4x4: Four wheels, with four that distribute power (also known as four-wheel drive or 4WD)
6x4: Six wheels, with four that distribute power
6x6: Six wheels, with six that distribute power (also known as six-wheel drive or 6WD)
Tracks: Constructed of rubber and steel, tank-style tracks are designed for better handling on uneven or shifting terrain such as gravel or loose dirt and perform on gradeability of up to 60%.
In general, larger bucket trucks that provide greater combinations of material handling and extended height or side reach will require 4WD to 6WD. Smaller models, offering heights of 40 feet or less, are often found with 2WD or 4WD.
Fuel type
Given the performance demands placed on this type of equipment, most bucket trucks are powered by diesel engines that offer horsepower from 170 to 310 hp. Less common are gasoline powered engines - though they do exist. Gas engines are most frequently used to power the smallest trucks, as well as service vans equipped with a small boom arm and bucket.
In addition to gasoline and diesel, hybrid models are gaining in popularity, especially among companies and fleet managers committed to curbing their carbon emissions by investing in electric vehicles. This option combines either a gasoline- or diesel-powered engine with a plug-in battery that's used to power non-propulsion functions of the bucket truck.
When comparing costs, diesel and gasoline engines are essentially equal. But the same cannot be said of hybrid models. Recent findings point to a fuel savings of up to 40% when comparing hybrid engines to gasoline and diesel options.
Let's look at that in perspective: On a service vehicle that logs 15,000 miles annually, with a fuel efficiency of 10 miles per gallon and a diesel fuel cost of $2.52, this calculates out to an annual fuel cost of $3,780. Using these same figures, a hybrid model could save you up to $1,512 per vehicle, per year.
In addition to their ability to conserve fuel, cut emissions, and reduce noise, hybrid bucket trucks also reportedly get up to 99 miles per gallon within some fleets.
Transmission
Bucket trucks are available in either automatic or manual transmissions. This is another area where your intended use and work environment factor heavily into the purchase decision. While some drivers prefer one type of transmission over another, the transmission on a bucket truck can impact productivity and safety in some instances.
Manual transmissions force the driver to take their foot off the accelerator every time they shift gears. This can lead to a cost of 16 to 28 seconds of productivity per mile. Manual transmissions also increase the danger of rollbacks, especially when operating on uneven terrain or gradients.
Depending on the work conditions of your jobsite, automatic transmissions may be able to boost performance while eliminating rollbacks through continuous torque applied to the wheels.
The cost difference between the two isn't substantial. But given the improvements to convenience and safety, automatic transmissions tend to be $1,000 to $3,000 more expensive in terms of upfront cost than their manual counterparts.
Industry Uses
Depending on the scope of work you routinely complete, a single bucket truck can service a wide range of construction and maintenance tasks. This makes them a valuable addition to almost any fleet. As you continue to narrow your options, take a moment to review the following uses common among leading industries, as well as the models that are shown to be most effective within these operations.
Signs and lighting
From billboards and banners to warehouse lighting and arena flood lights, bucket trucks ensure efficiency and safety. They eliminate the need for ladders, simplifying tasks and enabling a single individual or service team to complete a job without additional support.
Your best bet: As these settings tend to offer open, unrestricted space, telescopic bucket trucks and elevators often provide the best combination of cost-effectiveness and performance.
Utilities
The process of working with electrical wiring requires an insulated bucket truck. This added protection prevents the transference of electricity if a component of the bucket or boom should come into contact with a live wire. While utility service crews are the most common example of this application, large manufacturing processes may also have in-house teams that require this added protection in their day-to-day duties.
Your best bet: Cable placers are a specific subcategory of bucket truck designed especially for utility services, including maintenance and construction.
DOT and road maintenance
Whether used within a densely-packed urban city or a deserted country road, bucket trucks are a cornerstone of road construction and DOT services. Common applications include tree trimming as well as the repair and maintenance of street lights.
Your best bet: While cable placers should be used for any services involving electric cables, telescopic articulated bucket trucks tend to be popular for their ability to extend the boom into out-of-the-way work areas. Another must for DOT and road maintenance crews is the inclusion of extra lighting to alert drivers to the presence of the work crew.
Public works
Financed by local and state governments, the services of a public works department often involve the construction and maintenance of projects related to public recreation, employment, and health and safety. Parks, roads, bridges, beaches, and municipal buildings are all examples of instances that require the use of a bucket truck.
Your best bet: Within these settings, a telescopic bucket truck may work well for the standard maintenance of trees and lighting. But construction projects would be better served by an overcenter bucket truck. They provide efficiency through a wider range of movement that allows an operator to complete each tasking without having to reposition the truck itself.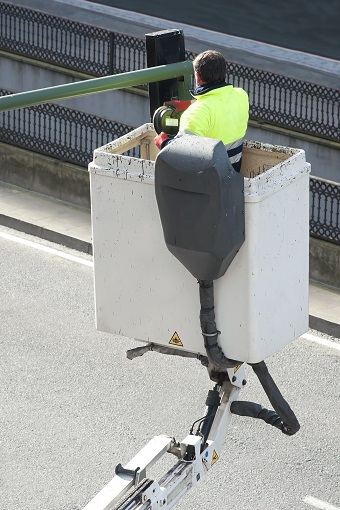 Electrical contractors
From new construction to remodels, bucket trucks provide access to those hard-to-reach spots within commercial and residential buildings. Electrical contractors often find themselves using a bucket truck for two purposes: running cable or wiring, and using the truck for its material handling capabilities.
Your best bet: Insulated telescopic articulated lifts tend to provide the best overall performance within this niche. The insulated joints offer protection against electric shock, and the articulated joints are ideal for safely positioning the operator in work areas that would be inaccessible or too dangerous with standard scissor lifts or ladders.
Mining
Frequently used to extract iron, coal, and other precious metals, bucket trucks equipped with material handling capabilities are ideal for transporting geological materials and dumping them into other trucks for removal. They're also frequently used to hoist large banks of light over a work area, providing visibility in areas without permanent lighting.
Your best bet: Overcenter and non-overcenter bucket trucks support up to 1,000 pounds of weight, reinforced by outriggers that ensure stability. This makes them well suited to material handling, as well as the side reach often required in mining environments.
Oil & Gas
Similar to mining, the exploration, extraction, and refining process involved with oil and petroleum requires the hoisting of personnel and materials into unreachable spaces around a jobsite. The extended reach of a bucket truck provides access to areas with uneven or dangerous terrain that would otherwise be impossible to reach on foot or with standard vehicles.
Your best bet: Overcenter and non-overcenter bucket trucks are built to support platform weights up to 1,000 pounds. Outriggers provide the necessary stability on trucks that are often six wheel drive. The weight capacity and heavy-duty driveline are ideal for harsh work environments and wild terrain.
General construction
Bucket trucks offer an extensive range of functionality and performance that is difficult to replicate with other lift equipment. Within construction applications, they offer 650 to 1,500 pounds of material handling capabilities and accommodate a variety of tools through hydraulic hookups with reduction valves supporting up to 2000 psi. In addition, joystick operation simplifies platform rotation and jib operation, minimizing the time required to complete each task.
Your best bet: Articulated overcenter bucket trucks are one of the most popular for general construction, supporting both heavy-duty weights while offering extreme maneuverability.
Railroad
Railways often present unique challenges for the service and maintenance of facilities and railroads. A bucket truck can easily navigate a packed rail yard, hoisting personnel above fixed cars or storage containers. Tracks often pose another problem, especially when crossing bridges or other locations inaccessible to vehicles. In these situations, the side reach capabilities of a bucket truck are invaluable for safety and efficiency.
Your best bet: Telescopic articulated bucket trucks offer the best combination of overall reach, often up to 70 feet. Overcenter models are also popular for their horizontal reach capabilities that extend up to 50 feet from center.
Buying Tips
Now that you've narrowed down the type of bucket truck you're interested in, as well as its associated specs and accessories, you're almost ready to begin comparing dealers. But before you do, it's important to be aware that the dealers themselves are often as unique as the trucks they offer.
Buyers and fleet managers often consider quality dealer support a cornerstone of any bucket truck purchase. That's because the post-sale services provided through a reputable dealer have the potential to dramatically cut costs and improve your bottom line through the greatest possible up time and efficiencies that are only achievable through properly-serviced components.
But dealer support extends well beyond mechanical issues. It also frequently includes a variety of elements that have the potential to reduce soft costs associated with training (essential in areas where licensure and certification are required) and simplify EPA compliance.
Keep the following services in mind when considering bucket truck dealers:
Operator training
Safety resources
Financing options
SLA and maintenance agreements
Consultation on EPA regulations
Operator training
This is one of the best ways to minimize costs associated with employee training. Bucket truck operator training programs vary widely from dealer to dealer. Some are willing to travel to your location while others host training seminars in a centralized dealership within the area. If you have high operator turnover, make sure the dealer you select provides operator training on a regularly scheduled basis or, better yet, on-demand.
It's not unusual to find leading manufacturers that provide these types of seminars throughout the year. Many also provide customized trainings that can be geared to address your unique line of business and operational setting.
At minimum, the training program should cover mechanical operation, basic maintenance, and safety. It's important to note that training standards are unique to each state, with certification and specialized licensing required in a variety of forms throughout the United States.
In general, any bucket truck that has a gross vehicle weight rating (GVWR) of 26,000 pounds or more requires the operator to hold a commercial driver's license. In addition, the National Commission for the Certification of Crane Operators (NCCCO) may also require certification in your state. And by 2017, OSHA is expected to require certification of all crane operators (bucket trucks fall into this category as well).
Safety resources
Safety resources and training are often an extension of a good bucket truck operator training program. In some cases, they represent a more standalone approach geared to a wider range of users and support personnel.
For bucket truck certification, OSHA requires verified knowledge of established safety and operating procedures. These address issues related to worksite inspections, tip-over prevention, and improper use that can lead to collisions or electrocution. Buckettrucks.org puts out a complete list of safety procedures, as does OSHA.
If you are unaware of the exact safety procedures required for operation, your bucket truck dealer should be able to offer guidance and may even have leads on preferred training programs that can simplify the process.
Financing options
There are a number of different ways to finance the purchase of a new or used bucket truck. Some dealers partner with finance companies or offer direct commercial financing through an extension of their corporate structure (this is usually only the case with authorized dealers for a particular manufacturer).
Available options for this type of loan often include deferred payment structures, low or no upfront cost loans, and seasonal programs that offer flexible payments during expected periods of slow revenue.
Be sure to allow yourself some time to shop around and compare rates. And don't forget to factor in the soft costs for your purchase, including any necessary training and shipping or delivery fees.
SLA and maintenance agreements
A service level agreement (SLA) or maintenance contract establishes the level and frequency of your post-sale service. Typically aligned with the manufacturer's recommended service schedule, an SLA is viewed by many buyers and fleet managers as one of the most valuable aspects of dealer support. It removes much of the worry and burden of your fleet maintenance – essential for smaller operations without the expertise or in-house mechanical staff required for such tasks.
SLAs are also a great way to effectively compare the service quality of a bucket truck dealer. Look for details related to the following service aspects:
Interval maintenance: How often are they conducted and what do they include? At the very least, bucket truck service intervals should include dielectric testing and a thorough inspection of the aerial boom, platform leveling system, and hydraulic cylinder.
Availability: The best dealers are available 24/7, with live support provided during off-hours. Be sure you know (and get in writing) response times for weekends and holidays.
Facilities: If the dealer does not offer on-site service, how many service bays do they offer at their facility? An average of 40 to 50 bays indicates an established service operation.
Locations: How many service facilities do they have in your area? Do they offer pickup and drop-off services?
Service techs: How many mobile technicians do they support? How many do they support within their facility?
Response time: Be sure the SLA includes guaranteed response times for every situation: business hours, off-hours, weekends, holidays.
Consultation on EPA regulations
In addition to all of the safety and training regulations that have to be tracked and monitored, emissions represent another primary concern for bucket truck buyers. Regulations vary from state to state. So it's best to partner with a local bucket truck dealer who has working knowledge of all EPA regulations specific to your area.
Though smaller service vans may be exempt from these classifications, in general, most bucket trucks are powered by diesel engines that fall within the EPA's hydrocarbon (HC) regulations, ranging from Tier 1 through Tier 4. Verify compliance with your dealer before purchase.
Ready to Compare Bucket Trucks Price Quotes?