Digital Copiers Buyer's Guide
How to compare copiers for your business
Table of Contents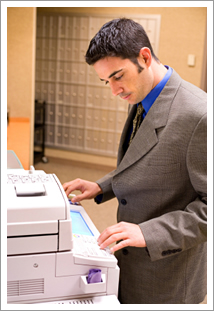 An office staple for the last half century, the copier has come a long way since Xerox introduced the first fully automated plain-paper photocopier in 1959. Compare copiers from that era to today's modern machines and the differences are amazing: current models have more in common with computers than they do with that first Xerox 914, combining copying, laser printing, faxing, scanning, and more into one networked machine.
With $24 billion in revenue on the line and over 1.5 million new copiers sold each year manufacturers are driven to constantly improve their offerings; meanwhile vendors who offer installation and service operate in a highly competitive market. This means you, the customer, need to know exactly what you are looking for when shopping for a business copier.
This BuyerZone Copiers Buyer's Guide will help you learn everything you need to know about buying a business copier -- from deciding what you need, to choosing a dealer, to interpreting copier reviews, to knowing how much you should pay. We can also put you in touch with several highly qualified office copier vendors so you can get competitive price quotes.